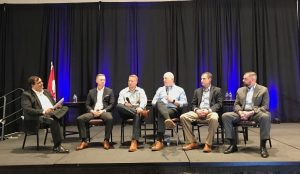 The first full day at the 19th annual Used Truck Association (UTA) Annual Convention kicked off Thursday in Orlando with a panel discussion featuring representatives from every North American heavy truck OEM on the used marketplace.
The five-member panel, moderated by Michael Cox of SelecTrucks, touched on a number of topics during its 45-minute conversation. Among the most discussed topics were used vehicle volumes and supply projections moving forward, how each OEM is working with its dealers and the independent dealer market to help move used assets, and how spec'ing changes in the fleet community continue are forcing technology adoption in the used truck marketplace.
On the topic of used vehicle inventories, the OEM panel remains bullish on the used vehicle market despite recent increases in volume.
Navistar's Brock Frederick, director of wholesale, national accounts and training, says his company is anticipating a minor correction for the used market in six to nine months but that it is unlikely to be as long or as damaging as the last time the market hit a trough (2016-2017). Frederick says OEM production backlogs across the industry are forcing fleets to accept new units gradually. Brian Howard, director of sales and distribution at Daimler Trucks Remarketing, agrees. Speaking for Freightliner and Western Star, Howard says his dealer channel actually continues to have issues with used truck acquisition. Howard says new truck deliveries have ramped up from the standstill the industry saw this summer, but that the rate hasn't reached a level that would require a major dump of units into the used market.
"We've had periods where we couldn't get trucks quickly enough to fill our needs," he says.
A strong economy is helping to stabilize the industry as well, adds Bo Johnson, Kenworth used truck manager. Johnson says Kenworth also has struggled to find quality used trucks in 2018 because fleets are running every truck they can find. Volvo Trucks North America Vice President of Remarketing Operations Brent Rottweiler says at some point the economy will slow, but "guessing when" isn't something any OEM can reasonably do. In the meantime, each company says they continue to work to take advantage of the strong seller's position that currently exists.
One way Peterbilt is working to capitalize on current sales conditions is by working with branded and independent heavy truck dealers to provide high-quality product training and marketing content to move vehicles, says Jeremi Guditis, Red Oval and used truck sales manager. Guditis says Peterbilt and Paccar have invested heavily in their online training libraries and are working to educate truck salespeople on how the sites can be used as knowledge centers to guide customers through sales purchases. Other OEMs are doing the same. Johnson says Kenworth also is proactively reaching out to independent dealers to offer training, while Daimler has created training designed specifically to educate a sales person on how to educate a customer, says Howard.
And this comprehensive, consultative selling approach is necessary for moving a used truck population that is becoming increasingly outfitted with advanced technologies. Every OEM represented on Thursday's panel say at least 70 percent of the new units exiting their manufacturing facilities include automated manual transmissions. Other fuel-efficient technologies, such as downsped axles and aerodynamic devices, and safety systems like collision mitigation technology and air disc brakes, also are on the rise in adoption.
Frederick says Navistar is working with its dealers to ensure customers understand the systems and technologies available on their available used units and how they are built to work in unison. Howard says this guidance is imperative, because all too often used customers fail to understand that updating a used truck to acquire more horsepower will ultimately reduce fuel economy and performance.
The good news, the panel says, is at least the used truck market is no longer penalizing trucks with advanced technology. Some technologies are even selling for a premium. But Guditis says that doesn't mean dealers should no longer worry about a spec's residual value. He says Peterbilt works to educate its new truck dealers to be aware of configurations that are harder for their used truck colleagues to move, and warn new truck purchasers when they request a spec' that might not have value down the line.
"We want them to make sure they understand what they're doing when they are spec'ing," he says. "We want something that works for them but will still work in the secondary market."