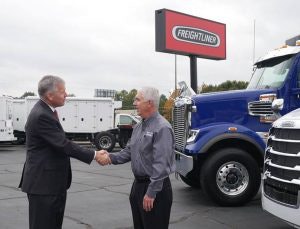 U.S. Rep. Rob Woodall (R-Ga.) visited Peach State Truck Centers earlier this month to discuss challenges that face commercial truck dealers and their customers with the dealership's staff, including President and Dealer Principal Rick Reynolds. Rep. Woodall also took a tour of the facility and rode down I-85 in a Class 8 over-the-road commercial vehicle, according to an announcement.
Some of the topics discussed during the visit included the current demand for commercial vehicles, especially the Freightliner brand, labor challenges facing dealers and trucking companies and the future of trucking with the introduction of autonomous and electric-powered vehicles. Another important issue discussed is the high federal excise tax placed on heavy-duty trucks. A current piece of legislation has been drafted to repeal this tax.
After the discussion, Reynolds led Rep. Woodall on a tour of the Norcross, Ga., facility. Rep. Woodall took time to speak with one of the service department's technicians, learning what it takes to work on trucks for a living and how one becomes trained to do so.
Rep. Woodall then took a ride in a Freightliner Cascadia down I-85. Reynolds spoke to the congressman about the state-of-the-art technology that goes into trucks on the road today, and the congressman was able to experience "real time" examples of the latest driver assist and safety alert features within the new Cascadia truck.
"We were honored to have Congressman Woodall at our Norcross dealership today to talk about issues that matter to us as a family-owned local business in his district, as well as the issues that matter to our industry as a whole," says Reynolds, who was named Truck Dealer of the Year for 2018 by American Truck Dealer. "It shows us that he takes his job seriously as a representative for the people and businesses in our area."