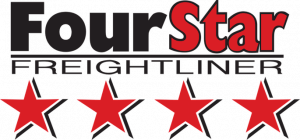 Four Star Freightliner Inc. recently recognized employees during the company's annual year-end employee celebration. Several awards were given out, including the Top Tech Award, Quick Draw Champs, Location of the Year and Employee of the Year.
For the second year in a row, Kenneth "Woofie" Woodruff, who works as a road technician out of the Tifton, Ga., location, was named the top revenue-producing technician for 2018. Rounding out the top 10 were Josh Nichols, Cliff Shiver, Jason Scroggins, Grant Crabill, Paul Kora, David Lockett, Jamie Davis, James Willis and Donald Roy.
"Woofie is on-call 24/7," says Scott Dixon, Four Star Freightliner operations manager. "It takes a large commitment to do this job including time away from his family and even managing calls while on vacation. His hard work and dedication is the reason he has maintained his high ranking."
A new award was added to the mix this year called the "Quick Draw Champs." Four Star Freightliner wanted to recognize the parts department that had the shortest ring time and who was eager to answer the phone and help customers. This award went to the Montgomery, Ala., parts department headed by its manager Judson Coburn.
"This new parts recognition is a great way to reward our team members and ensure our customers receive quick, efficient and professional attention," says Jerry Kocan, Four Star Freightliner dealer principal. "The competition was very close but our Montgomery team was chosen the winner and they also produced the most volume."
Also new for 2018 was the Location of the Year Award. Among other criteria, the award was based on the largest net profit growth of all six locations. This award went to the Midway, Fla., location.
"Growth is a result of great management," says Dixon. Service Manager Michael Todd and Parts Manager Jamie Hargrove both had a record-setting year."
Kocan adds, "Our Midway Team did an absolutely amazing job relocating to our new location (From Tallahassee to Midway, Fla.) without missing a beat and they have grown every month and added to our already great team of people."
The 2018 Four Star Freightliner Employee of the Year was Art Wallace, the company's IT director.
"Art makes everyone's life easier because of his professionalism and the way he approaches his responsibility," says Kocan. "When his name was announced, he received a standing ovation from his peers which confirmed to me he was the right person to win this award."
Wallace received June's Employee of the Month Award and won the Employee of the Year Award by a large margin.
Employees from all six of its locations were invited to the Sandestin Golf & Beach Resort in Miramar Beach, Fla. Each December, Four Star Freightliner holds its annual recognition celebration to recognize, encourage and thank employees for their hard work throughout the year.