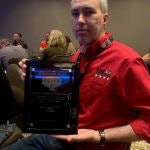 Two Four Star Freightliner associates were recently honored at the annual Elite Support CIC summit in Austin, Texas.
The Elite Support CIC summit features 325 Continuous Improvement Coordinators from across the country. Four Star Freightliner dealer principal Jerry Kocan, who is a member of the Elite Support Dealer Advisory Group, addressed the group and discussed the process in forming the 2019 Elite Support criteria.
"We are very proud of our group of leaders (CICs) that represent Four Star Freightliner," says Kocan. "Two of our locations were awarded with special distinctions at the summit with our Montgomery leader; Sonny Hartley and our Tifton leader; Jason Guess representing their teams."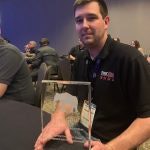 Jason Guess, who is also the Tifton parts manager, received the Elephant Award that recognizes excellence in change management and process improvement. Sonny Hartley, Montgomery service advisor, accepted the Achievement Award on behalf of that location for its commitment to operational excellence in pursuit of a superior customer experience.
As a certified Elite Support dealer, Four Star says it is committed to delivering unmatched customer service and efficiency every time a truck comes in for maintenance or repair.
Every dealership earning the Elite Support certification must meet more than 130 specific criteria across 22 customer service areas. To maintain these high standards, Four Star Freightliner has an CIC at each location that works with the staff to ensure that those standards are met.