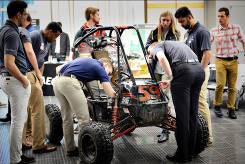 Volvo Group North America recently hosted the Society of Automotive Engineers (SAE) Carolina Section's Student Night at its Greensboro, N.C. facilities. The annual meeting gave students an opportunity to present their design projects for various SAE student competitions, including AeroDesign, Baja SAE, Formula SAE and Formula SAE Electric, which were then judged on merit by a panel of eight local Volvo Group employees.
"The students' projects encourage them to display true teamwork, as each team member must apply knowledge from their area of study or expertise in order to be successful," says Stephanie Borne Prieur, manager, Volvo Group North America engineering project office. "It's the same way we work in business and is a great preparation for the students as they build skills that will help them achieve their career goals."
Nearly 100 students among seven teams presented 12 project vehicles for judging, with the top performing teams taking home grant money to help offset project costs. Beginning in April, all seven teams will enter their project vehicles in SAE's nationwide competitions.
The SAE Carolina Section's student chapters include teams from Clemson University, Georgia Southern University, the University of South Carolina, the University of North Carolina – Charlotte, North Carolina Agricultural & Technical University, Duke University, the University of North Carolina – Asheville and North Carolina State University.
The Volvo Group sponsors the Baja SAE student competition, which challenges teams of engineering students from universities across the county to design and build an off-road vehicle capable of surviving specific events through brutal terrain.
In addition to providing sponsorship and staff to help judge events, Volvo Group seeks to connect with top engineering students and offers co-op and internship positions. To date, the Volvo Group has hired more than 70 co-ops and interns from the Baja SAE program, with eight accepting full-time positions upon graduation.