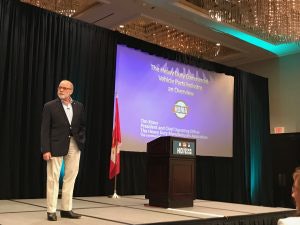 In reviewing the state of the medium- and heavy-duty trucking industry at Wednesday's Heavy Duty Repair Forum in Fort Worth, Texas, HDMA President and COO Tim Kraus spent a lot of time addressing vehicle automation, and advanced driver-assistance systems (ADAS).
The reason is obvious. That technology is coming. But while Kraus is admittedly bullish on the future of vehicle automation, he says today's collision and service providers shouldn't be worried that their businesses' days are numbered.
He says when you put trucks and cars on the road together, physics will always win.
"An 80,000 lb. truck cannot stop as fast as a 3,500 lb. Porsche and, unfortunately, 3,500 lb. Porsche drivers keep pulling in front of 80,000 lb. trucks and slamming on their brakes," he says.
When it comes to automation, Kraus says it is important for collision industry to understand many ADAS systems are already installed on today's new trucks and cars. He says this technology provides what is known as Level 1 and 2 automation — technology that helps support a driver's performance but does not take him out of the vehicle. Kraus references systems such as anti-lock brakes and electronic stability control as technologies that are support those levels of automation. He says the trend from this point to Level 5 automation (driverless trucks) will be gradual, not sudden. Kraus pegs 2030 as the earliest future date in which HDMA foresees Level 5 automation on U.S. roadways, and he says even that date might be too optimistic.
The key to understanding full automation, he says, is recognizing that truly autonomous vehicles don't only need to be able to perform the responsibilities of a driver but also interface with other vehicles and infrastructure (traffic signals, road signage, etc.). The former will be managed by OEMs and their partners, but the latter requires billions of dollars of government investment. And Kraus says right now, "we don't know where that funding is going to come from."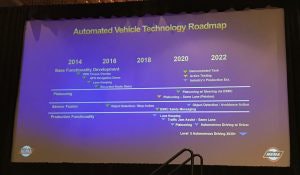 As for today, Kraus says North America's Class 3-8 truck market is growing. New vehicle sales are down thus far in 2019 after last year's boom but the total number of trucks on the road is steadily rising.
He says the future of trucking isn't limited to P&D and regional haul, either. While those markets are undoubtedly growing, the Class 8 long-haul market also is expected to steadily rise in the coming years. He says today's Class 3-8 population includes more than 19 million units.
"The idea that our market is constant is not true. The market is going to grow," Kraus says.