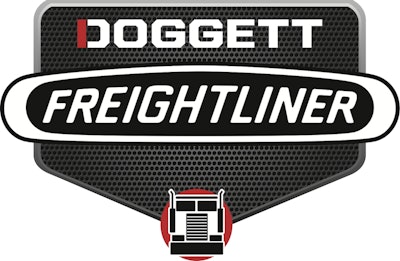 A revolution is underway at Doggett Freightliner of Arkansas. It started last May when the facility was acquired by Leslie Doggett Industries and brought into the Doggett Truck Group family of dealerships.
Before the sale the North Little Rock facility had been a steady, successful Freightliner dealer for 30 years, says General Manager Brett Graves, serving a diverse customer base throughout central Arkansas. When the transaction was announced, Graves says the news was met with excitement but also some apprehension by the dealership's employees. Associates were eager about the new challenge but aware the status quo they'd become accustomed to would shift.
Looking back now, Graves says the transition has been better than any associate could have possibly imagined.
Doggett Freightliner of Arkansas is flourishing.
"Every one of our departments are up and some are up considerably," he says. "All of our key departments are exceeding where they were before [the acquisition]. Employees are happier and more productive … and customers are telling us they can see it."
Parts Manager Lem Wallace attributes the transformational change to Doggett's culture. Every change implemented in North Little Rock over the last 15 months has been executed with customer experience in mind and the result is an invigorated dealership thriving at a level once thought impossible.
But Doggett's culture isn't just helping the North Little Rock facility set performance records. Last month it also helped the facility earn a nomination for the 2019 Successful Dealer Award.
"One of the hardest things I've ever had to go through in my career was an acquisition," says Wallace, who has worked at the North Little Rock facility for 21 years. "Being acquired was scary for us. But Doggett immediately brought in a family atmosphere. The high spirits just rolled off of them."
"The biggest thing they did was they empowered our employees," adds Graves. "That's a big part of their culture. They've allowed our people to take ownership of their own jobs."
The duo says North Little Rock's wins generated by the new organizational structure have been numerous. Customer satisfaction is up across the board, as is performance in the sales department and service bays. And buoyed by the training resources now available to them through Doggett Truck Group, technicians from the North Little Rock facility helped Doggett Freightliner win first place in the team competition at the 2019 Arkansas Trucking Association technician competition.
New Truck Sales Manager Steve Hancock says things are going so well employees have started coming up to him asking, "Is it really this good? I never dreamed it could be likes this."
"For us it's all about the customer," he says. "Our owner Leslie Doggett pushes world class service and believes if we take care of our customers and build those relationships, those partnerships allow both of us to succeed."
"When everybody works together for the customer everybody gets to win," adds Doggett Freightliner Vice President Paul Burk.
Yet Doggett Freightliner's nomination for the Successful Dealer Award wasn't earned exclusively due to its North Little Rock renaissance. The business also invests heavily in customer and staff training — Graves calls the company's technician training center "the finest he has ever seen" — and is working to reduce its carbon footprint with a new lighting system and reusable container program with its suppliers.
The company's community involvement is equally exceptional.
In North Little Rock, the company is an active participant in the Arkansas State Police Department's Truck Convoy for the Special Olympics. More than 60 employees volunteered at this year's event, which the company states is the largest charitable truck convoy in the U.S.
It's an event that "brings our entire community together," says Graves.
The company also donates to local children's hospitals, veterans' associations, scholarship programs, youth sports and Be Pro Be Proud, the Arkansas Chamber of Commerce program that informs the state's high school students about the career opportunities that exist in vocations, including transportation, welding, plumbing, electrical and more. This year Doggett committed to building, ordering and purchasing half of a new 2020 Freightliner Cascadia sleeper, including a driver's lounge, for the Be Pro Be Proud organization.
The North Little Rock crew is optimistic such community involvement and corporate growth will only continue as the facility becomes more enriched by Doggett's culture.
"We believe we live what the dealership model should be," says Hancock.