ACT Research released its monthly used truck industry update and preliminary new trailer order totals during a busy Tuesday.
In the used truck space, ACT reports preliminary used Class 8 volumes, also known as same dealer sales, rose 8 percent month over month in December though volumes dropped 3 percent compared to 2018. Year-to-date volumes were down 14 percent.
Also included in ACT's December report was an update on average price, miles and age of used trucks in the month — price and miles were down 1 and 2 percent, while age contracted by 2 percent.
"As we begin reporting on used truck activity for the last month of 2019, we also start to look ahead to what 2020 is likely to bring," says Steve Tam, ACT Research vice president. "While the new year will probably not be a mirror image of last year, we believe pricing will improve in the second half of the year, but remind those in the industry that 'improve' means 'become less negative.'"
Tam also explained that for this to happen, excess, idle and underutilized trucks will need to be put back to work.
Commenting on individual market channel volumes, he adds, "The retail and wholesale markets both showed short-term improvements, up 5 percent and 36 percent, respectively, while the auction market fell 28 percent month over month. Longer term, the retail market rose 2 percent year over year, but the auction and wholesale markets both reported declines, falling 26 percent and 8 percent year over year, respectively. All three were down year-to-date."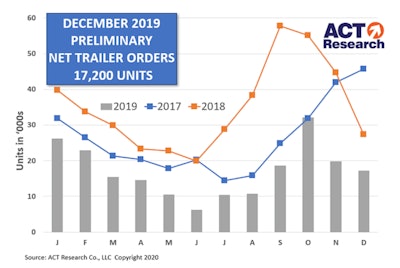 In the new equipment space, ACT reported its preliminary estimate for December 2019 indicates trailer manufacturers booked 17,200 net orders to their orderboards last month, a 13 percent decline from November volume.
The company says activity was 37 percent below last December. For the full year, the industry booked just under 205,000 net orders, a 51 percent decline versus 2018 volume. That annual volume was the lowest since 2011, the company says.
Before accounting for cancellations, ACT states new orders in December were 17,900 trailers, off 16 percent month over month and 39 percent below last year. Full-year new orders of just over 244,000 units were down 44 percent versus 2018. Final volume will be available later this month, the company adds.
"The year closed on a disappointing note, as fleets continue to maintain a very conservative stance toward 2020 capital investment," says Frank Maly, director, commercial vehicle transportation analysis and research, ACT Research. "Backlog declined in 11 months of 2019, with October being the only exception to that trend. The year-end orderboard sets a very soft foundation for OEMs for the new year, as OEMs seek to better balance their production volumes to their existing orderboards."
Maly adds preliminary information indicates that production was reduced in December, the result of both holiday schedules and a reaction to the contracting orderboard. He says ACT will watch levels in Q1 of 2020 closely to see if OEMs have brought their efforts into better balance.
"Inventory levels are another headwind," he adds. "While inventory did decline as the year closed, the reduction in December was less than would normally be expected. That overhang will cause some further challenges to the industry during early 2020."