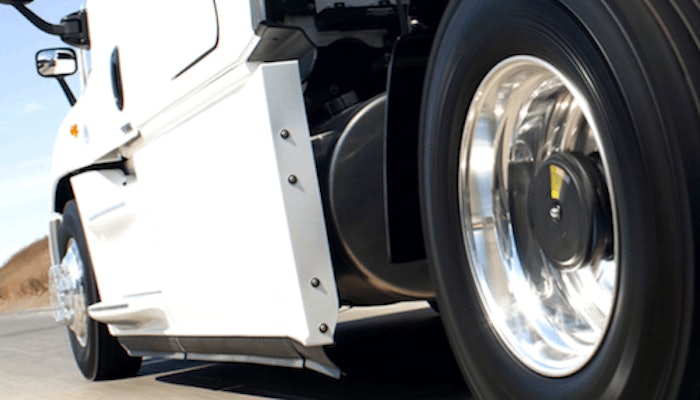 The North American Council for Freight Efficiency (NACFE) has completed a revision of its Tire Pressure Systems confidence report, the council announced Tuesday.
The original report was published in 2013, but NACFE says developments in tire pressure monitoring and inflation led it to revise the report. NACFE Executive Director Mike Roeth adds the update of the tire inflation report is part of NACFE's ongoing effort to update all existing confidence reports. The reports on idle reduction technologies and 6×2 axles were updated in 2019.
"For much of last year we focused our efforts on emerging technologies and published guidance reports on commercial battery electric vehicles, but we also recognize the importance of keeping the industry up to date on developments in existing fuel savings technologies," says Roeth. "Throughout this year we will continue to review and refresh each of the confidence reports on existing technology while continuing our work on emerging technologies."
According to NACFE research, end users experience increased productivity when tires are properly inflated, yet statistics show only 46 percent of all tractor tires and 38 percent of all trailer tires inspected are within ±5 psi of their target inflation pressure. Additionally, research indicates approximately 3 percent of all trailers, and more than 3 percent of all tractors/trucks, are operating with at least one tire underinflated by 50 psi or more.
Therefore, the adoption of tire pressure monitoring technology can provide a substantial benefit for some carriers.
NACFE notes in its updated report it has identified five types of tire pressure systems: tire pressure monitoring systems (TPMS), dual tire pressure equalizers, automatic tire inflation systems (ATIS), central tire inflation systems and passive pressure containment approaches. Two of those systems, TPMS and ATIS are recognized efficiency options in the Greenhouse Gas Emissions Model (GEM) of the Greenhouse Gas Phase 2 regulations, NACFE says.
Most truck manufactures today offer some type of tire pressure system that can be spec'd on a new vehicle, with ATIS becoming the dominant options for most trailers.
"Anything we can do to help protect the most abused piece of equipment in the industry, the trailers, is a significant gain," says Jerry Mastin, director of fleet maintenance, Carter Express. "It makes the drivers more efficient if we can take the trailer tire pressure maintenance responsibility off their hands."
For more information about NACFE's updated report, please CLICK HERE.