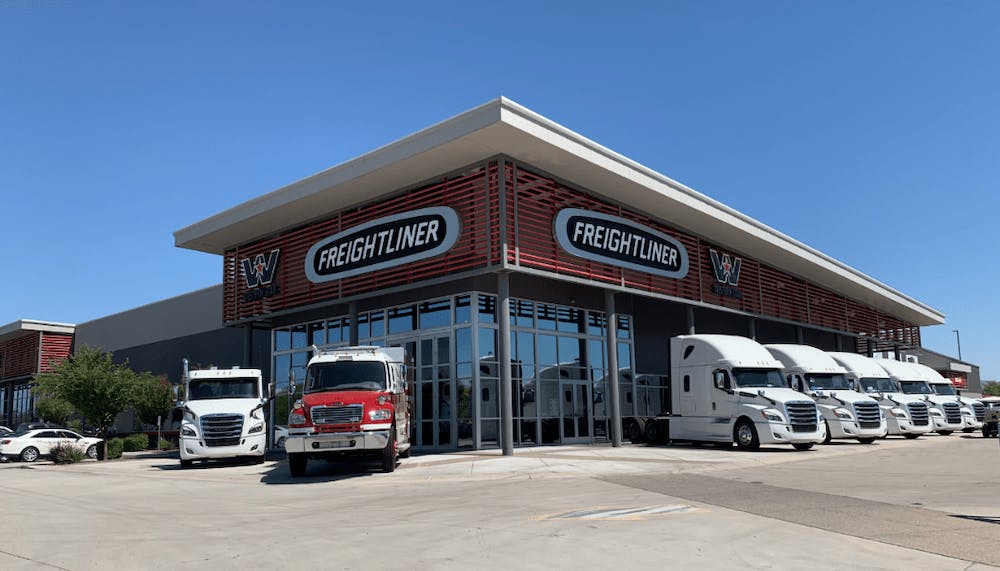 SelecTrucks has opened a new facility in Phoenix. The store is the company's 28th overall.
Like all SelecTrucks Centers, the Phoenix location offers a wide selection of used trucks, industry-leading, comprehensive warranty packages, flexible financing terms and business support. SelecTrucks Centers are staffed by knowledgeable advisors dedicated to helping customers find the right pre-owned trucks for their business.
DTNA says SelecTrucks of Phoenix is a member of the Velocity Truck Center family of dealerships. Velocity states it operates on three principles of speed, value, and trust; speed to keep customers on the road, value to be competitive and drive customer profitability, and trust to be a customer partner in all commercial truck needs, acting with integrity.
"Our sales team at Velocity has been serving truck customers in the Southwest for 50 plus years. We bring customer-focused problem solving to their transportation needs. Our team at SelecTrucks believes in delivering unparalleled service, value and support to our customers and I'm very excited to open the newest store in Phoenix," says Warren Auwae, vice president, Used Trucks, Velocity Group.
"We greatly value Velocity's longstanding partnership along with their unwavering commitment to customer service and we are thrilled to introduce them as the newest SelecTrucks location in Phoenix," adds Mary Aufdemberg, president and general manager of Daimler Trucks Remarketing. "All of our SelecTrucks locations and teams share a passion for helping owner-operators and fleet managers alike and treat their customers as their first and only priority."
SelecTrucks of Phoenix is located at 9899 W. Roosevelt St. Tolleson, AZ 85353 and is open Monday through Friday from 8 a.m. to 5 p.m. and Saturday by appointment only, the company says.