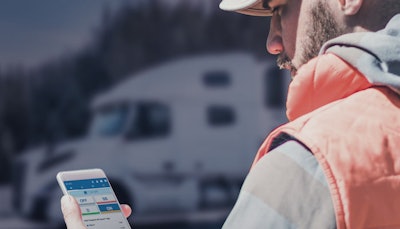 Volvo Trucks North America and Mack Trucks announced an integrated, expandable open telematics platform for fleet managers and drivers that includes access to fleet management, Electronic Logging Device (ELD) and driver compliance solutions.
Geotab Drive + Fleet for Volvo Trucks and Geotab Connected by Mack is an expandable, cloud-based platform for fleet managers and drivers. Fully integrating the Geotab fleet management solution via factory-fit telematics hardware, the latest solution from Volvo and Mack eliminates the need for additional hardware installation. The Geotab platform is compatible with all 2015 and newer Volvo and Mack truck models, the OEMs say.
"As a leader in integrated data technologies for the trucking industry, Volvo Trucks is excited to provide the Geotab platform and its fleet management capabilities to our customers as part of the same hardware that drives our Remote Diagnostics and Remote Programming services," says AshishSadhu, director, connected vehicle uptime services, Volvo Trucks North America. "Geotab Drive + Fleet for Volvo Trucks helps fleet managers and drivers work together to achieve a level of communication, compliance and productivity that is unmatched."
The Geotab platform provides additional functionality by leveraging data analytics and machine learning to help customers improve productivity and efficiency and offers hundreds of third-party data integrations and analytics options.
"Mack Trucks is pleased to partner with Geotab to offer a cloud-based integrated platform for fleet management and driver compliance," said David Pardue, Mack Trucks vice president of connected vehicle and uptime services. "Geotab Connected by Mack enables customers and drivers to generate multiple reports that can help them be more efficient and improve productivity — all through one integrated platform."
The cloud enables reports for hours of service, records of duty status and driver vehicle inspection reports. With no pairing process required, the vehicle will continue to record data regardless of the connection status of the mobile unit. Wireless interference will not impact reporting.
"Geotab Connected by Mack equips customers with access to the data they need to help increase efficiency, monitor compliance and improve productivity," says Scott Sutarik, vice president, commercial vehicle solutions at Geotab. "As a company dedicated to optimizing fleet management, it is exciting to work together with Mack to not only increase value for customers through this robust fleet management offering, but also to help simplify the customers experience by offering one integrated, easy-to-use platform."