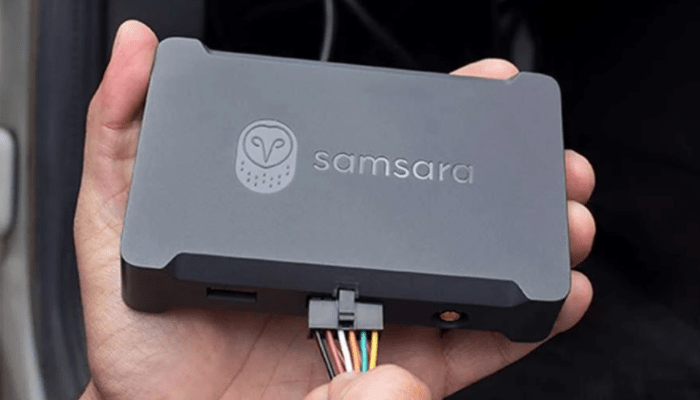 Truck OEMs began nearly a decade ago installing telematics devices at the factory to collect operating data and provide remote diagnostic services and over-the-air vehicle and engine programming.
The embedded devices send telematics data to the OEM's servers, but some also have data sharing agreements with fleet management and ELD software providers.
Navistar announced such an agreement on Wednesday, the first of several anticipated strategic partnerships with ELD and telematics providers. Its first integration, with Samsara, brings embedded telematics data from Navistar's N2 device into the Samsara platform.
The embedded telematics data goes directly to the Samsara cloud-based fleet management platform and includes GPS location, odometer reading, speed, engine hours, fuel level and other data points.
The integration goes both ways, and also brings fault code data captured by Samsara Vehicle Gateways into Navistar's remote diagnostics and predictive maintenance service, OnCommand Connection (OCC). OCC can pull remote diagnostics data from any make or model of vehicle or engine that uses the J1939 protocol to give real-time insights into vehicle health and maintenance needs.
Fleets can also use telematics data from Navistar's N2 device or from Samsara Vehicle Gateways to subscribe, for free, to Navistar's uptime service and dealer communication platform, International 360, for all makes and models.
Navistar embeds the proprietary N2 telematics device in all medium- and heavy-duty trucks. For fleets that already use the Samsara platform, the integration removes the need to install the Samsara Vehicle Gateways in International trucks.
Samsara has a BYOD (bring your own device) platform for drivers and fleets to use their own iOS or Android devices to access the Samsara Driver App.
"This partnership allows our customers access to Samsara's fleet management service and Navistar's connected solutions through one factory-installed device," says Chintan Sopariwala, Navistar vice president, aftersales operations and Connected Vehicle.
Navistar has started to deploy Samsara technology across its internal fleet of vehicles to help with testing and quality assurance efforts.
This latest development marks a significant change in direction for Navistar's telematics strategy. In 2017 the OEM launched an aftermarket telematics platform, also by the name of OnCommand Connection, that fleets could use with International Trucks or models from other OEMs.
The platform had options to use an embedded or aftermarket telematics device that supported an ELD application and other fleet management functions that ran on tablets or smartphones for the driver display. This strategy has changed now that the OEM is partnering with select telematics providers to share data from its embedded N2 telematics device.