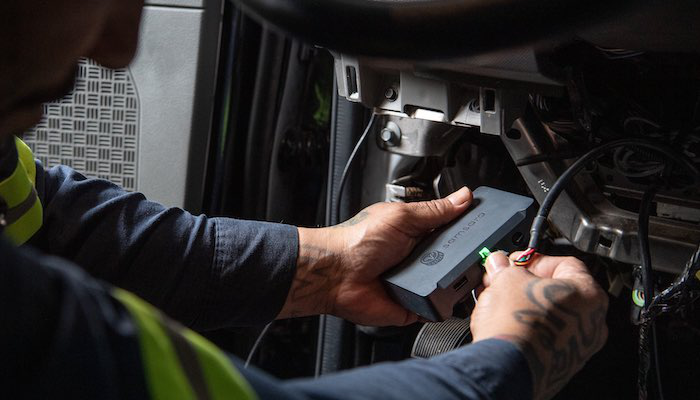 Fontaine Modification announced Tuesday it is now offering installation of Samsara hardware, including Vehicle Gateways, Asset Gateways, AI dash cams, and Environmental Monitors, to help vehicle owners access important real-time data.
This hardware can be installed at Fontaine's nine locations across the United States to provide customers with faster and easier rollout across their fleets.
"At Fontaine, we strive to ensure our customers receive their vehicles 'road-ready,'" says Jamil Young, president, fleet services, Fontaine Modification. "This means working with leading companies such as Samsara to deliver vehicles with the technology that our customers demand installed and ready to go. We're excited to be able to upfit fleets with Samsara's hardware to help them improve efficiency and access information in real time."
According to Fontaine, Samsara Vehicle Gateways are advanced sensor platforms for fleets, providing operators with real-time location and analytics, sensor data, WiFi hotspot connectivity, and ELD-ready hours of service logging. Samsara Asset Gateways are designed to monitor high-value mobile assets, such as refrigerated trailers and heavy equipment, to improve operating efficiency, theft recovery, and more.
The company says Samsara AI dash cams use artificial intelligence and computer vision to detect near-misses, road signs, and high-risk driver behavior. Samsara Environmental Monitors offer wireless and waterproof data-logging with temperature and humidity sensors for environments that rely on this data to maintain quality or compliance.
"At Samsara, our customers are always looking for ways to simplify their implementation process," says Elizabeth Yackley, Samsara senior implementation consultant. "Partnering with Fontaine will make hardware installation even easier and faster for our customers, which gives them more time to focus on their deployment, driver training, and perfecting the processes needed to deliver value to their organization."