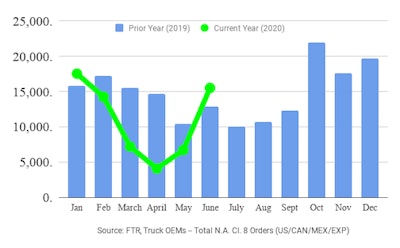 Preliminary Class 8 new truck orders made their biggest jump of the year in June, totaling 15,500 units and 16,000 units, respectively, according to reports issued last week by FTR and ACT Research.
FTR's estimate of 15,500 units was a jump of 130 percent over May and a 20 percent gain year over year; ACT Research's preliminary estimate was slightly higher with month over month and year over year gains of 139 and 23 percent. FTR says Class 8 orders for the last 12 months have now totaled 158,000 units.
"June's order activity is good news, after last month's disappointing number," says Don Ake, FTR vice president, commercial vehicles. "We expected orders to average around 10,000 units for a few months, and now they have averaged 11,000 for the past two months. The Class 8 market is on the slow, steady recovery that matches our forecast."
ACT's President and Senior Analyst Kenny Vieth agreed, adding "Preliminary data show that June orders for medium- and heavy-duty vehicles jumped to a four-month high, rising above the combined April and May order tally. On the back of a rapid improvement in freight rates over the course of May and June, North American Class 8 net orders spiked in June and were up against an easy year-ago comparison, when orders were under pressure from still large backlogs and rising equipment overcapacity."
According to the two firms, June's data further validates the rebounding freight market. Ake says fleets are "showing enough confidence in the economy to begin placing some viable orders," and Vieth adds "June is typically a slower order month, so seasonal adjustment augments the rebound."
And while FTR states June's total may not be sustainable in July — some of the larger fleet orders may be difficult to replicate in the short term — order volume should exceed the 10,000-unit mark throughout the summer as freight volumes continue to improve.
"A significant increase is not expected until October when the big fleets begin placing orders for 2021 delivery," Ake adds.
In the medium-duty space, Vieth says "preliminary data here also show a four-month high and seasonal adjustment provides a lift to June's Classes 5-7 orders."