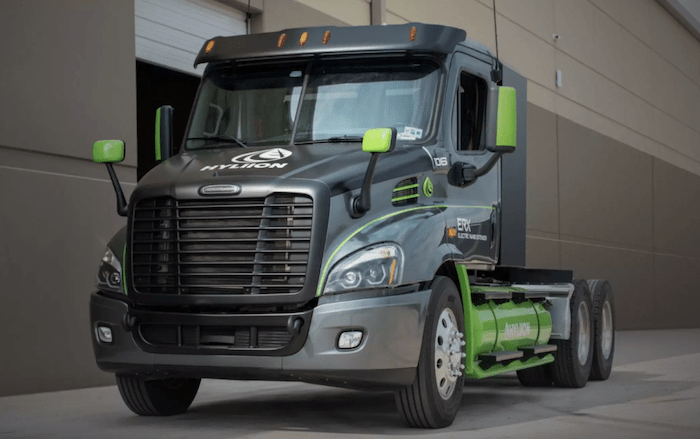 Hyliion announced last week it has launched an electric, carbon-negative Class 8 powertrain with a range of over 1,300 miles that doesn't require charging infrastructure.
The company is powering the electric motors of its Hypertruck Electric Range Extender (ERX) with a battery pack that's charged by an onboard natural gas generator. When fueled with renewable natural gas (RNG), Hypertruck's carbon score actually runs below zero. The California Air Resources Board reported in 2018 that RNG's carbon intensity (CI) score was as low as -303.30 (based on an adjusted estimated energy efficiency ratio) while electric scored between +25 and +38.95, the company says.
And with the push for zero-emission trucking growing, particularly with California's recent announcement requiring phased-in sales of zero-emission commercial trucks and vans, Hyliion hopes it may have struck gold twice with CARB and other tough-minded agencies in other states that often embrace California's emissions regulations.
"Hyliion is leading the way in electrified trucking. Our practical solution addresses the most important needs of today's fleets: cost savings, lower emissions and a fueling infrastructure that can support long-haul transportation," says Hyliion's CEO and Founder Thomas Healy. "We're already seeing robust interest in the Hypertruck ERX from fleets like Agility who are looking for electric solutions that can be seamlessly integrated."
Hyliion reports that Hypertruck can accelerate from 0 to 60 mph in 20 seconds fully loaded at 80,000 lb. Hypertuck is also reported to be lighter than any long-haul diesel or fully electric Class 8 truck. Refueling the truck takes about 10 minutes or less, the company says.
And continuing Hyliion's long-standing partner relationship with Dana Incorporated, the Hypertruck ERX will feature Dana's electric motor, inverter and axle technologies, and Dana plans to provide its manufacturing capabilities to support Hyliion in achieving full volume production of its powertrain systems.