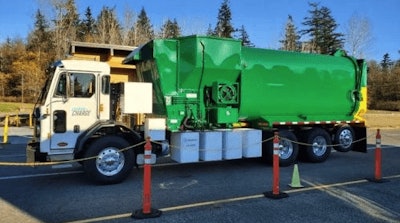 Paccar announced recently its zero-emission trucks continue to go to work with at least 20 new trucks heading to California ports and two heading to Alaska.
Paccar announced this week that Kenworth is delivering 10 hydrogen fuel cell Kenworth T680 trucks to several customers for field testing in the Port of Los Angeles.
The Port of Oakland told Trucks, Parts, Service sister publication CCJ that 10 battery-electric Peterbilt drayage trucks will be heading to the port early next year to Shippers Transport Express.
While California has typically played host to the nascent zero-emission truck segment, Alaska announced this week that it too is joining the growing push towards zero-emission commercial vehicles.
Anchorage, Alaska, made EV history by purchasing the state's first commercial electric trash truck. Plans are in place for the city's Solid Waste Services department to receive a Peterbilt 520EV refuse truck along with a Peterbilt 220EV box truck next year. The purchases were made possible through a $698,659 grant from the U.S. Department of Energy. SWS contributed $600,000 towards the purchase of the trucks while the Alaska Energy Authority chipped in $25,000 for the charger.
Anchorage will be using a unique charger from Canada-based eCamion that incorporates a large battery.
"The addition of a battery allows for a steady charge at a lower voltage, which will reduce demand rates from electric utilities," a press release from the city states. "This system will save the municipality money while still providing fast charging to electric trucks."
Peterbilt reports it has developed three application-specific battery-electric truck models, and many of these vehicles are accumulating test miles with customers.
"Peterbilt Model 579EV trucks are deployed in port and regional haul applications. Peterbilt Model 220 trucks are being utilized in medium-duty pickup and delivery applications and Peterbilt Model 520EVs are collecting and hauling refuse," says Jason Skoog, Paccar vice president and Peterbilt general manager.
On the fuel cell front, Kenworth integrated Toyota fuel cell technology with the Kenworth T680, and Shell provided hydrogen fuel and infrastructure. The trucks were produced at the Kenworth truck factory in Renton, Wash., and the Paccar Technical Centers are providing performance testing.