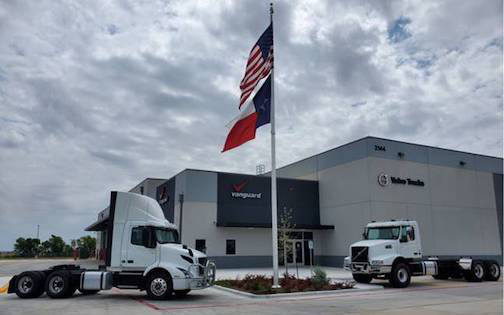 Vanguard Truck Centers, a Volvo Trucks and Mack Trucks, dealer group, has opened a new facility in Georgetown, Texas.
The new location is the company's eighth in Texas and 19th overall. Vanguard Truck Centers operates dealer facilities in six states.
"Vanguard Truck Centers continues to be one of Volvo Trucks' important dealer partners," says Peter Voorhoeve, president, Volvo Trucks North America. "We are proud to be able to serve our customers at this new location in the fast-growing greater Austin area."
"Vanguard Truck Centers is an excellent example of how dealers continue to invest in the Mack brand and offer even more support for customers in the Austin area," adds Jonathan Randall, Mack Trucks senior vice president of North American sales. "We look forward to continuing to support Vanguard and its customers at the new Georgetown location."
Located on six acres at 2144 Interstate 35 Frontage Road, the new Vanguard location in Georgetown provides prominent highway visibility and easy access for drivers traveling north or south. It features 12 drive-through service bays — comprising 11,400 sq. ft. of the 19,288 sq.-ft. site — while another 5,300 sq. ft. is dedicated to parts.
Vanguard Truck Centers first moved to the Austin area in 2007.
The Georgetown facility, which opened in April, will be the first full-service Class 8 truck dealership north of Austin, a clear indication of the area's growing economy and Vanguard's commitment to its local customer base, the company says. The new Georgetown dealership has 16 full-time employees with three master service technicians, one mobile service technician and two master service advisors.
"We're proud of our reputation as a leading dealer group here in Texas and in the region surrounding Austin due to the hard work put in and investments made over the years," says Russell Fields, the Austin region manager for Vanguard Truck Centers. "Our ongoing relationship with Volvo Trucks means that our customer service and support meets the highest standards in the industry."
The company also announced the new location was opened with $500,000 in parts inventory with plans to increase that investment in the months to come.
The Georgetown dealership will be open from 7 a.m. to 5 p.m. Monday through Friday, the company says.