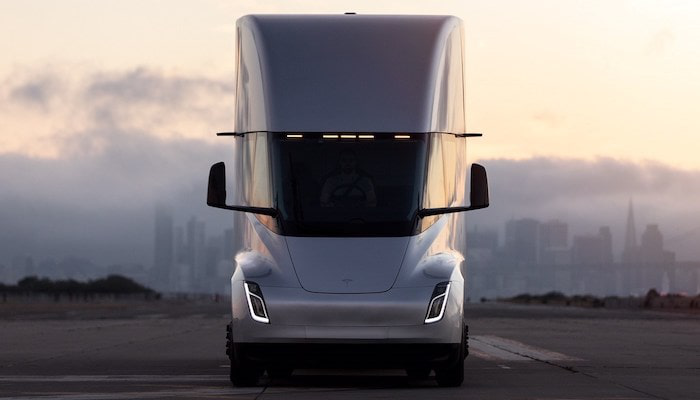 Walmart Canada is more than tripling its reservations of 18-wheeler Tesla heavy-duty trucks as Walmart says it is driving toward its commitment to alternative power.
Walmart Canada is now reserving a total of 130 Tesla trucks, making it one of the largest reservations of electrified trucks in the country. The move comes on the heels of Walmart Canada announcing a major $3.5 billion investment over the next five years aimed to generate significant growth in the business and is aligned with Walmart's global goal to target zero emissions by 2040 announced at Climate Week earlier this month.
The $3.5 billion investment will impact every aspect of the business leading to a faster e-commerce experience, two new distribution centers to speed up the flow of products, re-invented and "smarter" stores, an enhanced omni experience and modern digital tools to ensure associates can best serve customers, the company says.
Walmart Canada has built a best-in-class supply chain and is continuing to put sustainability at the forefront of its business operations, finding new and innovative ways to reduce its carbon footprint while continuing to focus on safety and delivering value to its customers, the company says. Walmart Canada is committed to converting 20 percent of Walmart's fleet to electric power by the end of 2022, as part of the goal of its broader goal to power its fleet using 100 per cent alternative power by 2028.
"Tripling our reservation of Tesla Semi trucks is part of our ongoing effort to innovate the business and prioritize sustainability," says John Bayliss, senior vice president, logistics and supply chain, Walmart Canada. "By converting 20 percent of our fleet to electric vehicles by the end of 2022 and committing to alternative power for all fleet vehicles by 2028, we are putting safety, innovation and sustainability at the forefront of our logistics network."
According to Tesla, the truck will deliver a better experience for truck drivers, while increasing safety and significantly reducing the cost of cargo transport.
"We are tremendously excited to equip our drivers with this next generation equipment. The safety and smart elements in the design are at the heart of our smart transportation ambition which will use technology and data to lower our operating costs and improve safety for associates," says Francis Lalonde, vice president, transportation, Walmart Canada.