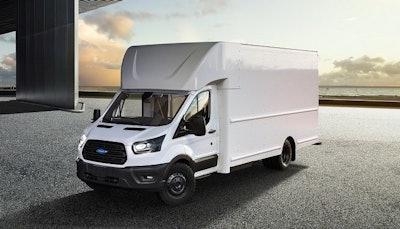 The Shyft Group's Utilimaster has announced its latest production-ready purpose-built walk-in van, the Velocity F2.
Built on a sub-10,000 lb. GVWR Ford Transit chassis, the Velocity F2 combines nimbleness, comfort and fuel efficiency with the cargo space, access and load capacity similar to a traditional walk-in delivery van, the company says.
Utilimaster has expanded its product portfolio to include this Class 2 purpose-built walk-in van to meet the rapidly growing global e-commerce and delivery demand.
"Our vehicle designs have always been a direct reflection of our clients' specific needs and shifting industry requirements," says Chad Heminover, president, Shyft Fleet Vehicles & Services. "Right now, our customers are asking for a solution that allows them to scale their delivery fleets quickly, in light of the ecommerce explosion, without sacrificing load capacity or efficiency. The Velocity F2 gives parcel delivery fleets the flexibility they need to activate a large driver pool, service more customers, and maintain longer routes, consistent with increased demand."
Utilimaster says the benefits of the Velocity F2 supplementing leading parcel delivery company fleets include:
The total cost of ownership and operation is lower than Class 3-6 vehicles.
Drivers of Class 2 vehicles do not need a commercial driver's license to operate.
Ease of compliance with Department of Transportation (DOT) requirements.
Additional features include better fuel economy, improved safety step heights, lightweight aluminum sidewalls, 600-700 cu.-ft. of cargo space capacity and a corresponding payload range of 3,700 to 4,300 lb. Utilimaster is taking production orders for large and small fleets now.
The Velocity is also offered in a Class 3 (GVWR 14,000) vehicle, available on both the Ford Transit (Velocity F3) and the Mercedes Sprinter (Velocity M3) chassis.