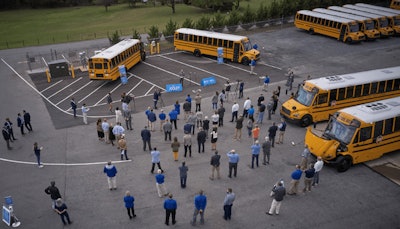 Thomas Built Buses (TBB), its Virginia dealer Sonny Merryman and Proterra recently celebrated the arrival of the first Saf-T-Liner C2 Jouley battery-electric school buses in Virginia under phase one of Dominion Energy's Electric School Bus Initiative.
In December, 2019, Dominion Energy selected TBB as the sole provider of all 50 electric school buses allocated for the initial phase of their electric school bus program, which aims to support Virginia school districts as they transition their school bus fleets from diesel to electric.
The program also will allow Dominion Energy to explore the battery storage capabilities of electric school buses to provide reliability related services on the electric grid. The program represents the largest planned deployment of electric school buses in the United States, according to an announcement.
"Electric school buses provide an innovative, sustainable solution that will help the environment, protect children's health, make the electric grid stronger and free up money for our schools," says Dan Weekley, Dominion Energy vice president of innovation policy and development. "We're excited to see these buses start to arrive in the Commonwealth and we look forward to working with school districts across Virginia to get this new technology on the roads."
Sonny Merryman president and CEO Floyd Merryman says, "Our team has always prided ourselves as innovation leaders in pupil transportation. Dominion's initiative is especially exciting not just for us but also for Virginia's students and our many loyal partners across the Commonwealth's public education community."
The unveil of Virginia's first electric school buses builds on additional recent deployments of Saf-T-Liner C2 Jouley electric school buses across the United States, including deliveries in Alaska, Illinois, Massachusetts and Michigan.
"We are thrilled to pave the way for a cleaner future for the children in Virginia," says Caley Edgerly, TBB president and CEO. "We believe electric school buses to be the future of pupil transportation and with quieter operation, lower operating costs and zero emissions, Virginia school districts should quickly realize the cost and societal benefits of this school bus fleet conversion."
TBB's all-electric Saf-T-Liner C2 Jouley electric school bus is equipped with the same vehicle quality, durability, performance, safety and comfort as the popular Saf-T-Liner C2. Jouley is powered by Proterra electric vehicle technology and is configured with 220 kWh of total energy capacity, a two-speed transmission and an estimated operating range of up to 135 miles. TBB is currently the only school bus manufacturer to offer DC fast charging architecture as standard equipment. Jouley can charge in about three hours and can supply power back to the power grid using vehicle to grid (V2G) technology, the company says.
"Battery-electric school buses offer a safe and reliable mode of transportation that improves air quality and protects the health of our students and communities. Now, thanks to the leadership of Dominion Energy, we're excited to go even further by showing how embracing electric school buses can also strengthen the electricity grid. Along with our partners Thomas Built Buses and Sonny Merryman, Proterra is proud to help power the single largest deployment of electric school buses in the United States with our electric vehicle technology," says Proterra CEO Jack Allen.