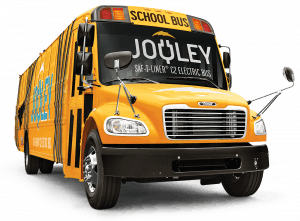 Thomas Built Buses has debuted the Saf-T-Liner C2 Electric school bus, referred to as Jouley. Thomas Built says Jouley is the first generation of Thomas Built's electric series production school bus.
In addition to the same vehicle performance, safety and comfort as the Saf-T-Liner C2, this new electric school bus has quiet operation and produces zero emissions and even exportable power. In this capacity, students riding the school bus will be able to charge their computers and other devices directly from the bus, the company says.
"Jouley is named after the joule unit of energy," says Caley Edgerly, president and CEO of Thomas Built Buses. "A joule is equivalent to the amount of energy that is dissipated as heat when an electric current of one ampere passes through a resistance of one ohm for one second. So we are having fun with Jouley."
The first generation Saf-T-Liner C2 Electric Bus comes equipped with the PowerDrive 7000ev powertrain from Efficient Drivetrains, Inc. (EDI), which the company says provides 100-160kWh of battery energy and a baseline of 100-miles range and an operating range up to 100-miles between charges, with an option for a higher range with additional battery packs. Among its features is the PowerSuite vehicle control software and the PowerTracker telematics and diagnostics system that tracks bus location and provides real-time monitoring of potential issues, the company says.
"Daimler Trucks North America is committed to developing sustainable mobility with an emphasis on battery electric vehicles," says Roger Nielsen, DTNA president and CEO. "DTNA is the industry's leader in alternative energy propelled vehicles, including a broad line-up of CNG-powered trucks and buses, and our series of propane-powered school buses and medium duty trucks. Our commitment to battery electric vehicles continues our strong leadership in matching our customers' needs with the best powertrain for their application and environment."
"We are pleased to debut the first generation Saf-T-Liner C2 Electric School Bus," adds Edgerly. "Continuous improvement and innovation are core to both Thomas Built Buses and Daimler and we are excited to explore additional enhancements and features that can be leveraged with this new electric powertrain."
The Saf-T-Liner C2 Electric is slated to be in early production in 2019, the company says.