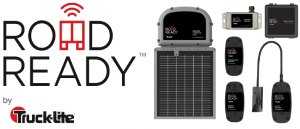 The Road Ready system by Truck-Lite Co., LLC, is now available on Wabash National dry and refrigerated van trailers.
Truck-Lite says the The Road Ready system creates the industry's first true wireless "smart" trailer with its solar-powered Master Control Unit (MCU). With a military-grade solar panel and an up-to-10-year, quick-charging battery, the MCU continually monitors and transmits crucial data from customizable Road Ready sensors to an intuitive user interface without requiring power from a tractor. The network data can also be managed via application programming interfaces, allowing it to integrate with existing fleet systems. The network is designed to maximize fleet efficiency and improve CSA performance while providing a return on investment, Truck-Lite says.
"Wabash National is well known for their industry-leading innovations and diversified range of trailer products," says Jon Stineman, US OEM sales director for Truck-Lite. "With Road Ready being the next generation of visibility systems from Truck-Lite, we are very excited to be a telematics option on new trailer specifications."
Truck-Lite says the agnostic system is designed to be compatible with leading ABS, tire and LED lighting systems a fleet may employ today. Many of the industry's most trusted monitoring systems have signed on as technical partners, such as Hendrickson and PSI, among others. Along with these compatible platforms, Truck-Lite says Road Ready's customizable network of sensors makes it the most comprehensive telematics solution available.