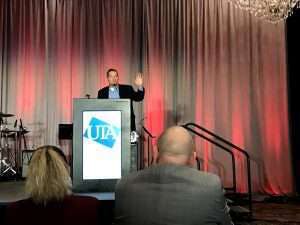 It's probably too soon to predict a recovery, but ACT Research Vice President Steve Tam thinks we've hit the trough. Prices are stabilizing, and with a growing economy and other freight factors trending up, there's reason for optimism within the used truck marketplace.
And while Tam's presentation Thursday at the opening general session of the 2017 Used Truck Association (UTA) annual meeting in Las Vegas didn't force anyone out of the room and into the casino, his positive words and the organization's overall strength should provide comfort for used truck dealers entering 2018.
It's time to start looking up again.
"Things are starting to stabilize," says Tam. "Prices are hanging out in the $40,000 range, we're seeing normal depreciation again … there's reason to believe we've found the balance for these used trucks."
One area for positivity for all truck sellers is the United States' economy. Tam says GDP is tracking to rise from 2.1 percent to 2.4 percent next year. He says for every percentage point GDP rises, the economy requires another 10,000 to 12,000 trucks to service it. Whether these trucks are filled via new or used markets varies by fleet, but regardless, another 30,000 units on the highways plus annual replacement demand numbers—which Tam pegs at about 190,000 per year—shows a strong baseline for truck sales in 2018.
Another positive economic trait for truck dealers is utilization. Fleets have rebounded from utilization rates in the mid-80s earlier this decade back into the sweet spot of the 90th percentile, Tam says. Tonnage is growing, too, both in total hauls and trailer load optimization—which means fleets are better packing their trailers and still requiring more vehicles to move all of their freight.
Then there's the Trump-bump, Tam says. Motivated by favorable business conditions under this administration, Tam says many industries have invested more into the economy in 2017.
The new truck market specifically has enjoyed other positive factors as well. Tam says OEM incentive programs have motivated smaller fleets to reduce their trade-in cycles and in some cases transition their buying habits from pre-owned units into new models. New truck dealers also have seen an uptick in sales thanks to the improved fuel economy of 2018 engines and the ELD mandate.
The good vibes Tam provided the used truck industry Thursday come not from what's happened this year, but the potential of what could be coming in the future.
The surplus of used trucks found on dealer lots hasn't subsided, yet, but it appears the market has adjusted to the new normal, he says. Prices have been steady for several months and Tam says there will be a point in the coming months where the industry's over-supply of late-model sleepers will finally start to fall.
Additionally, the used truck industry has found a friend south of the border. U.S. dealers have already exported more trucks through this point in 2017 than they did all of last year, with most of the vehicles going to Mexico and Central America. Vietnam has purchased a lot of North American units as well.
ACT's used truck regional price index was a 104 for the national market in September, six percentage points over August and the highest single month of the calendar year. The Midwest (111), West (106) and Northeast (105) were particularly strong in September.
UTA honors its founder
Thursday's opening session also began with a tribute to the late Jerry Nerman, co-founder of the Used Association (UTA) and Arrow Truck Sales in 1950. In a short video profiling his life, Nerman based his success in the used truck industry on his honest, humble and hard-working nature.
"Everything we've had we've earned. Nobody gave us anything," he said in the video.
UTA President Craig Kendall also announced a down year for used truck sales hasn't impacted the UTA. Kendall says the group has reached all-time highs in group membership and convention attendance.
"The financial side of the UTA is very strong," he says.
It's training arm of UTA isn't doing too shabby, either. Amy Shahan, UTA training chair, says the group held a series of successful sales and management training programs in 2017. It also trained "more than a thousand people" on it's free online webinars, an association record.
And many of the association's training sponsors have already signed on for 2018, ensuring another full slate of courses next year.
Finally on Thursday, the UTA presented its Member of the Year awards:
Vendor winner: Terry Hebron, HTAEW
OEM dealer: Alan Strickler, Harrison Truck Center
Non-OEM dealer: Al Hess, Wholesale Truck Sales of America