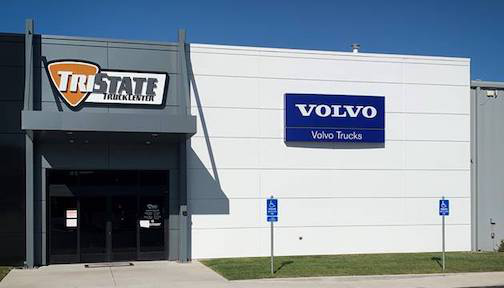 Tri-State Truck Center, a Mack and Volvo dealer, has completed a $3.7 million major rebuild and expansion of its location in Springfield, Mo.
Featuring a new sales lobby and offices, expanded parts department, new service areas and increased warehouse space, the facility's redesign is intended to improve efficiencies while enhancing the user experience for customers and employees. The dealership is located at 2527 N. Eastgate Ave., which is easily accessed off I-44.
The investment included a 10,000 sq.-ft. expansion, bringing the footprint to 35,000 sq.-ft., and the addition of 12 service bays, totaling 24 service bays. Other upgrades included a new customer lounge and driver amenities, expanded truck and trailer parking, a temperature-controlled warehouse, heated flooring and eco-friendly features throughout the dealership. The dealership also now offers $1.3 million in parts inventory.
"Our newly expanded and modernized dealership in Springfield enables us to better serve our customers," says Jim Maddox, dealer principal, Tri-State Truck Center. "We're also appreciative of our long-standing relationship with Volvo Trucks and the support they provide, which allows us to deliver unmatched customer service across the board."
The Springfield facility is one of nine full-service Tri-State Truck Center locations across Tennessee, Missouri, Arkansas and Mississippi.
"Mack Trucks is pleased that Tri-State Truck Center continues its ongoing investments in the Mack brand to provide customers outstanding service and support in its newly renovated and expanded Springfield location," says Jonathan Randall, Mack Trucks senior vice president of North American sales and commercial operations. "Tri-State is an excellent example of the commitment Mack dealers have to our brand and customers, delivering a premium experience that meets all of their parts and service needs."
"Tri-State Truck Center is one of Volvo Trucks' top-selling dealer groups in the central South," adds Peter Voorhoeve, president, Volvo Trucks North America. "We are grateful for and congratulate them on the facility expansion as they continue to demonstrate a commitment to customer service and leadership in every aspect of our industry."
Tri-State Truck Center in Springfield is open 7 a.m. to 7 p.m. CT Monday-Friday and 7 a.m. to 5 p.m. CT Saturday and Sunday.