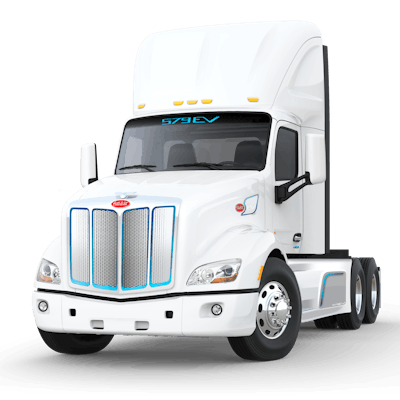 Peterbilt
Berylls Strategy Advisors recently completed a study, "TRUCKING 2030 – How the Truck & Trailer Industry is Being Revolutionized in Just One Decade," that Berylls says highlights revolutionary changes that will take place in the trucking industry over the next decade.
Berylls has accumulated unique findings from more than 50 interviews with senior executives across the trucking and commercial vehicle value chain on the three most important forces that will impact the industry. These include dominant propulsion systems, essential digital business models and the role of autonomous applications.
Propulsion systems
The value propositions and core competencies in electrification have moved from optional to a competitive necessity. Berylls' analysis shows the trucking industry will be dominated by a combination of BEV and hydrogen fuel cell vehicles (FCVs), depending on the use case.
While short and medium distances will be covered by battery electric vehicles, FCVs are the preferred solution for long-haul as well as payload sensitive applications. Within the next ten years, 35 percent of new trucks will be zero-emission vehicles.
Digitalization
Digitalization is revolutionizing all sectors of the economy. To increase productivity and efficiency, the trucking industry must evolve from telematics to digital logistics.
Driven by demand for the connectivity rate of trucks to increase from 50 percent to 100 percent by 2030, Berylls identified an efficiency potential of up to 15 percent by shifting from a business model centered on vehicles to one offering intelligent cargo space, which is characterized by continuous deployment of new features, seamless integration with transport management systems and platform economics.
Autonomous technology
Driverless trucks will provide a transport system with unprecedented efficiency and safety, according to the report. Unanimous legislative standards must account for intra- and international boundaries.
According to the survey, autonomous trucking will be widely commercialized on the SAE Level 4 standard for hub-to-hub regional distribution until 2030 — flexible and international routes will be longer-term. The feasibility of Level 5 is highly contentious. The entry ticket for participation in autonomous opportunities requires players to identify and control the future customer interface and develop new operation models and partnerships ready for automation.
"There is no question the trucking industry revolution will happen, it's just a matter of how and when," says Martin French, Berylls Group U.S. managing director. "Climate change, digitalization and demographic changes are exerting extreme pressure on the industry. Those companies that will succeed must quickly update business models, identify a competitive advantage and establish key partnerships."
For more information about the study, CLICK HERE.