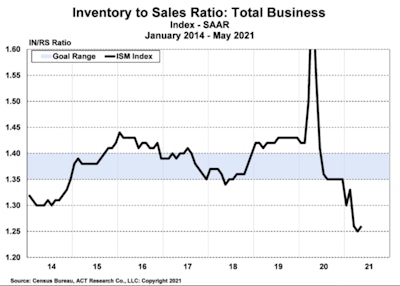 ACT Research's latest release of the North American Commercial Vehicle Outlook reports strong freight data and continued demand for heavy vehicles.
"The Total Business Inventory-to-Sales ratio bounced off the bottom in May, but remained well below the recent range in this era of multiple sales channels, showing that at May's sales rate, it would take $150 billion of inventory accumulation to bring the ratio to the low end of its recent range, and suggesting a good pipeline for freight," says ACT President and Senior Analyst Kenny Vieth.
"Add to that the steamships that are piling up on both coasts and there is a strong case to be made for continued strength in freight activity into the end of the year and beyond. It is often said that freight is not a backlog business. Low inventories and stacked-up ports make this period an exception to that rule," Vieth says.
Vieth adds, "The second chart (see below) shows the just-completed accounting of the publicly traded truckload carriers' performance in 2Q2021. As illustrated, the entire TL group saw profits rise to record levels in the second stanza, to 7.34 percent, 10bps above the previous record quarter for profitability set in Q4'18 and 138bps higher than the comparable quarters in the 2018 run-up.
"With the freight pipeline filled, the commercial vehicle industry unable to accelerate vehicle production, and seasonal considerations, fleet profitability should continue rising into year's end and start 2022 on a very strong footing. While our first chart serves as a proxy for strong freight demand, the relationship between carrier profits and heavy vehicle demand are both obvious and irrefutable. The questions that remain are the speed at which fleets overcome driver capacity constraints and the speed at which vehicle production rises once current supply-chain constraints are overcome," he says.
When asked about commercial vehicle demand and supply chain challenges, he says, "Medium-duty, heavy-duty and trailer backlogs are essentially filled through 2021 and well into 2022, with BL/BU ratios well above traditional ranges and inventories below traditional thresholds. As has been the case since the start of the year, supply-chain constraints, rather than fleet/consumer demand, are the primary driver of how many vehicles will be produced in 2021."
The N.A. CV Outlook is a robust report that forecasts the future of the industry, looking at the next 1-5 years, with the objective of giving OEMs, Tier 1 and Tier 2 suppliers, and investment firms the information needed to plan accordingly for what is to come.