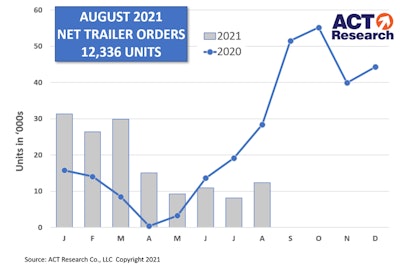 August net US trailer orders of 12,336 units rose nearly 52 percent from the previous month but were almost 57 percent lower compared to August of 2020. Before accounting for cancellations, new orders of 13,400 units were up almost 41 percent versus July, but 55 percent lower than the previous August, according to this month's issue of ACT Research's State of the Industry: U.S. Trailer Report. FTR reported its trailer findings last week.
Year to date, net orders for the first eight months of 2021 were up 39 percent, while new orders grew about 27 percent compared to the same time period in 2020, which included the COVID-stricken spring data.
"While August net orders increased significantly versus July, that's an easy comparison to an extremely weak month, and it is obvious that 2022 orderboards have not yet opened," says Frank Maly, ACT director–CV transportation analysis and research. "While last August had some positive impact from earlier COVID-impacted months, it was more than double this year's pace on a seasonally-adjusted basis."
Maly adds, "The high-volume categories of dry vans and reefers are responsible for the year-over-year weakness, while flatbeds and most other vocational trailer categories are in the black compared to last August. August flatbed orders came in double that of last year. When orderboards do open for 2022, expect a surge that will quickly consume available production slots. Any relief will occur only when supply chain issues are solved, providing confidence for material and components supply and pricing, something that does not appear likely in the short term."
ACT Research's State of the Industry: U.S. Trailers report provides a monthly review of the current US trailer market statistics, as well as trailer OEM build plans and market indicators divided by all major trailer types, including backlogs, build, inventory, new orders, cancellations, net orders and factory shipments.