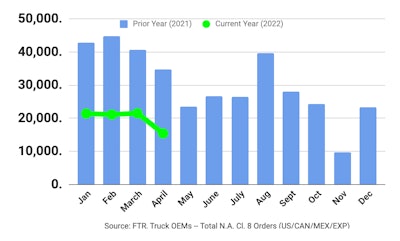 Constrained industry production and a backlog ahead of the 12-month build plan led to new orders remaining largely subdued in April, according to Eric Crawford, ACT vice president and senior analyst.
Preliminary Class 8 net orders in April fell from 21,300 in March to 15,800 units, while Classes 5-7 net orders slid to 19,500 units. ACT Research says the Class 5-7 market had 21,200 units ordered in March.
FTR reports preliminary Class 8 net orders fell in April to 15,400 units, down 28 percent month over month and 56 percent year over year. This is the largest month-over-month change in 2022 with April's total 5,900 units less than the average of 21,300 for the previous seven months. Class 8 orders have totaled 280,000 units over the last 12 months.
[RELATED: Trailer orders increase in March on strength of dry vans]
"April's order total does not accurately reflect the current demand for new trucks, it does however reflect a market that is trying to minimize its exposure to the headwinds it could potentially face in 2023," says Charles Roth, FTR analyst-commercial vehicles.
"As production continues to be significantly impacted by supply chain disruptions, component shortages, labor shortages and increased material costs, the hesitancy to open 2023 order boards stems from not being able to guarantee pricing given the current environment. Once supply chain issues improve, OEMs will be able to substantially increase orders. But until then, conditions remain stagnant," Roth says.
[RELATED: ACT Research reports Class 8 NG truck retail sales gains]
Crawford says, "Recent commentary from the semiconductor industry is discouraging, with ASML, a key supplier of semiconductor production equipment, pointing to a 'significant shortage of semiconductor manufacturing capacity this year and next,' suggesting headwinds to OEM production capacity and by extension, lower-for-longer orders potentially into 2023."
Regarding the heavy-duty segment, Crawford says, "With Class 8 backlogs stretching through 2022 and still no clear visibility about the easing of the everything shortage, April's net orders reflect the ongoing conservative approach by OEMs looking to limit the risk of overbooking and underbuilding that plagued the industry in 2021."
Crawford adds, "Classes 5-7 orders moderated in April, following March's near all-time level of backlogs."