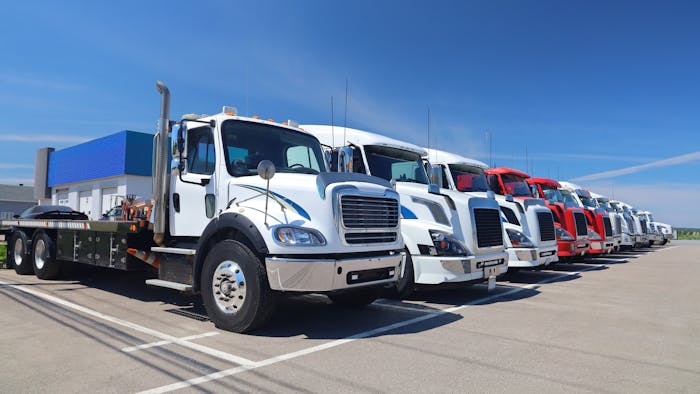 Class 8 truck orders were stagnant again in March, with FTR and ACT Research reporting preliminary orders of 21,500 and 21,300, respectively.
FTR reports this total was up 3 percent month over month but down 47 percent compared to last year. The company says orders have varied by less than 400 units per month during the first quarter, and the market has averaged 21,300 units for the past seven months.
"The March order total reflects a market frozen in place," says Don Ake, FTR vice president of commercial vehicles. "All the OEMs are evaluating the business environment monthly and only entering enough orders to fill in about a month's worth of production in the schedule. March's number indicates that production levels stayed flat.
"This trend began seven months ago and has not varied much. Once supply chain issues improve, OEMs will be able to substantially increase orders. But until then, conditions remain stagnant. Several automakers recently announced computer chip supplies remain tight, but there are still expectations of supply chain improvements in the second half of the year."
ACT Research President and Senior Analyst Kenny Vieth says "long backlogs and supply-chain constrained production activity kept new order activity trending within a narrow range. Based on preliminary March inputs, North American Classes 5-8 net orders were up slightly compared to February, and while orders have been moving sideways for most of two quarters, March's intake was the best since October."
[RELATED: How leasing companies are responding to increased customer demand]
ACT Research says the Class 5-7 market had 21,200 units ordered last month.
Confirming Ake's analysis, Vieth says "Class 8 orders remained range-bound, posting a virtual carbon copy of February's order intake. With Class 8 backlogs stretching through 2022 and still no clear visibility on the easing of the everything shortage, March's net order haul reflects the ongoing conservative approach by the OEMs looking to limit the risk of overbooking and underbuilding that plagued the industry in 2021." 
FTR states OEMs are content to book orders a month at a time, just under current production rates, and keep total backlogs in check. Orders are expected to hover around this range until OEMs have confidence in improved future supply chain performance. Demand for new trucks remains robust but production has been significantly restricted by shortages of semiconductors and other components. The company adds the labor shortages at the OEMs and suppliers also remain an issue.
Vieth adds the ground rules of ACT's OEM data collection remain the biggest constraint on orders presently.
"The OEMs only report orders that are scheduled to be built within 12 months. With the Class 8 backlog-to-build ratio at 11 months in February and the medium-duty backlog-to-build ratio at around 8 months, order volumes since early [fourth quarter of 2021] have largely been mirroring production activity. In both cases, backlog-to-build ratios are essentially double normalized levels," he says.