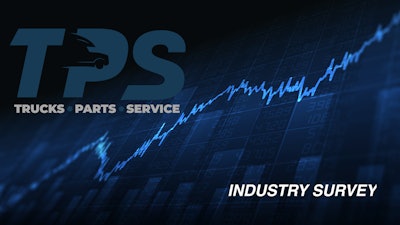 Though equipment sales continue to lag behind historical norms, commercial truck and trailer dealers reported the second quarter was a great one for their businesses in the most recent Trucks, Parts, Service MarketPulse quarterly survey.
Introduced earlier this year, the TPS MarketPulse survey was designed to monitor business conditions and identify trends occurring the medium- and heavy-duty truck and trailer dealers and independent parts and service operations.
In our inaugural survey after the first quarter of 2022, truck and trailer dealers predictions for business conditions in the second quarter to be 7.69 on average (using a 1-10 scale where 10 represents best quarter ever). But in surveying those same responders last month, Q2 business results actually averaged 8.27 — better than the 7.94 recorded in Q1 and more than a half a point better than initially predicted.
More than 90 percent of dealers also ranked Q2 as better than the same period last year, with 40 percent saying going as far as to say the quarter was at least 5 percent better than the second quarter of 2021 (see chart below).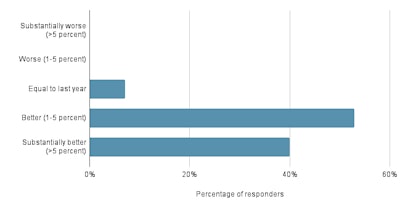 Dealer success came in a lot of areas too. Forty percent of dealer responders said parts sales represented their strongest business segment last quarter, followed by used truck sales (27 percent), service operations (20 percent) and new equipment sales (13 percent).
Dealers aren't quite as confident for the months ahead — July survey responders anticipate business conditions for Q3 to average 7.67 — but more than 60 percent still expect business to be stronger over the next six months than the same period in 2021 (adjusted for seasonality).
That's why 80 percent of dealers are considering an expansion and 93 percent want to grow their workforce.
[RELATED: How parts managers are managing their inventories during this inflationary period]
In the aftermarket, survey responders reported business conditions averaged 8.68 on the 1-10 scale in the second quarter. That was down slightly from the 8.86 in Q1 but still incredibly high. Nearly 40 percent of aftermarket responders said Q2 represented the best quarter in their company's history, and almost 90 percent said the quarter was at least 5 percent better than the same quarter in 2021 (see chart below).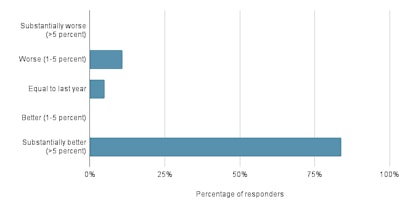 The responders said last quarter also exceeded expectations. Aftermarket responders to the first quarter MarketPulse survey had predicted business conditions to average 8.05 in April through June, well below the 8.68 actual results.
But similar to their dealer counterparts, aftermarket responders expect business conditions to slow as the year progresses.
Responders to our July survey predicted business conditions of 7.32 on average for Q3; 16 percent of responders also think the next six months will be weaker than the same period in 2021 (adjusted for seasonality). Five percent of aftermarket responders also fear they will need to reduce their workforce in the next six months.
TPS will conduct its third quarter MarketPulse survey in October and publish a brief synopsis of the data after it concludes.
Want to read more insights from our second-quarter survey? Or participate in future surveys? We'd love to have you participate.
All truck and trailer dealers and independent aftermarket businesses are encouraged to participate in the TPS MarketPulse survey, and only businesses who choose to participate will receive complete survey results each quarter.
For more information, and to participate in our quarterly survey, please email [email protected].