ArvinMeritor Unveils MPG Series Components
ArvinMeritor, Inc. introduced the MPG Series, which is a new product lineup comprised of eight components that deliver improved value for North American truck operators through increased productivity, maximized payload gains and greater fuel mileage performance, according to the company.
Cumulatively, the line-haul application-focused Meritor and Meritor WABCO components enable end users to realize savings and efficiencies in their daily operations, the company said.
"We challenged our engineering and product teams to optimize our core products, individually and collectively, to provide our truck operators of all sizes an efficiency edge in the workplace – where they make their living every day," said Joe Plomin, vice president – Truck, ArvinMeritor. "Accordingly, MPG Series products are optimized for improved total life-cycle costs, be it in higher productivity or higher miles-per-gallon performance. A sustainable competitive edge is what our end-user customers demand and deserve."
Current MPG Series offerings include the fuel-saving Meritor Tire Inflation System by P.S.I. with ThermAlert option; SteelLite X30 brake drums; Q Plus 250 Cam Brake with stamped steel spider and automatic slack adjuster; PermaLube RPL drivelines; single-piston air disc brake for tractors and trailers from Meritor WABCO; the RideSentry MPA 38/40 Series trailer suspension with Pinloc; Meritor WABCO OnGuard collision safety system; and Meritor WABCO System Saver 1200 Plus air dryers.
ArvinMeritor, Inc.
www.mpgseries.com
Visit tpsdigital.com/info
Snap-on's New Ball Peen Hammers
Snap-on said its ball peen hammers are designed to provide maximum power with minimal effort to do more jobs quickly and efficiently. Available in a range of sizes – 8-ounce (HBBD8), 16-ounce (HBBD16), 24-ounce (HBBD24), 32-ounce (HBBD32) and 40-ounce (HBBD40) – the hammers can be used for a variety of repair jobs, including brake rotors, brake drum removal, ball joints, tie rod removal, tires, seal installations and loosening oil pans and covers.
According to Snap-on, features of the hammers include:
The polished steel head has a large, tough striking surface and a torpedo-shaped peening surface;
The compact head design is engineered for concentrated power delivery;
The microcellular grip conforms to hand shape and reduces vibration;
The thumb rest allows users to choke up in a tighter work area;
The flared end helps prevent the hammer from slipping;
The internal steel canister features a free-flowing steel shot design to improve dead blow action and reduce rebound; and
The composite handle shank is lightweight and strong as steel, and offers improved balance while defusing shock, dampening vibration and flexing back into shape.
Snap-on Tools
Visit tpsdigital.com/info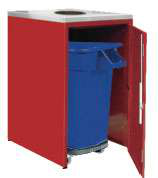 New Recycling Cabinets
Shure Manufacturing introduced a new lineup of cabinets to house recycling receptacles. The cabinets have large, swing-out doors that can contain a 40-gallon plastic receptacle and dolly, not included with the cabinet.
According to Shure, customers can "close the steel door to conceal unsightly containers, making your service area look clean and more organized, while helping the environment."
Cabinet features include:
Stainless steel top with 12-inch recycle receptacle hole;
Leg levelers;
Heavy-duty steel construction;
Choice of 22 Shure Signature Powder Coat Paint colors; and
Single, double or triple cabinet configurations.
Shure Manufacturing
Visit tpsdigital.com/info
Snap-on Offers Two-mode Refrigerant Gas Leak Detector
Snap-on announced a new refrigerant gas leak detector, the ACT795UV, that it said will help technicians find leaks quicker and more efficiently.
"There is so much opportunity for increased business in air-conditioning service," said Dan Batassa, category manager for Snap-on. "Our new refrigerant gas leak detector is a perfect example of a Snap-on tool that will help service technicians improve productivity and help them grow their business. The Snap-on ACT795UV detector is easy-to-use and features two detection modes: heated electronic sensor and our patented UV mode. If you are performing any A/C work in your shop, you should have this tool."
According to Snap-on, features of the ACT795UV include:
Patented three LED UV Light 395-415 nm wavelength for optimum air-conditioning dye fluorescence;
No UV enhancement eye glasses required;
Digital alarm with numeric leak-size indicator, and mute function;
Long life, stable sensor;
Three adjustable sensitivity levels with automatic calibration and reset to ambient levels;
A true mechanical pump;
Low battery indicator;
SAE J2791, EN14624 and CE certified; and
Three-year warranty on the detector and two-year warranty on the sensor.
Snap-on Tools
Visit tpsdigital.com/info
Stud Extractor Saves Time
Tire Service Equipment Manufacturing Co.'s Cheetah Stud Extractor Kit removes broken axle studs without harming the other studs or the axle hub. Using the kit, technicians have the ability to drill a hole precisely in the center of the broken stud, saving time and eliminating the need to replace entire axle hubs with broken studs or to re-tap broken axle stud holes damaged by other removal methods.
The kit covers the eight most popular truck axle hubs on the road.
Tire Service Equipment
Manufacturing Co.
www.removestuds.com
Visit tpsdigital.com/info
Bendix Automatic Slack Adjuster
Bendix Spicer Foundation Brake announced it will introduce a new automatic slack adjuster with "industry-leading durability and an extended warranty in the field" during the third quarter. Called the Bendix Versajust, it will ease upgrades and replacement of all link-style adjusters, including the Bendix ASA-5 model, according to the announcement.
"In designing the Versajust slack, we preserved all of the outstanding engineering elements of the ASA-5, while engineering new features to make it best in class," said Mark Kromer, engineering manager for Bendix Spicer Foundation Brake (BSFB). "Among the capabilities we maintained was the infinite adjustment rate, which is unique in the industry and makes this slack adjuster less sensitive to varying temperatures and duty cycles than comparable designs. This advanced design was developed to combat the extreme corrosive environment seen by today's vehicle undercarriage. Plus the slack's design features industry-standard clevis pin dimensions, making it easy to install as a replacement part in the aftermarket."
Ease of installation is improved with a design which eliminates the need for templates, special brackets, attachments or tools.
BSFB said features of the Versajust include:
Patented bronze friction rings;
Increased corrosion resistance and stronger seals, making it more robust, longer lasting and conducive to severe environments and duty cycles;
Optimized adjustment rate for modern friction material and foundation brake designs; and
Simple replacement of competitive models through a design that accommodates welded yokes or link-style yokes already installed on air chambers with 1.3-inch pin-to-pin dimensions.
The company said the product comes with an extended six-year warranty.
Bendix Spicer Foundation Brake LLC
Visit tpsdigital.com/info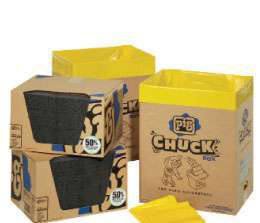 New Pig Mat Storage, Disposal Box
New Pig Corporation introduced PIG Universal Mats with Chuck Boxes that it said is a simple way to dispense absorbent mats and store used mats before disposal.
The Chuck Box includes heavy-weight Universal PIG Mat pads, a mat dispenser, disposal bags and storage container in one convenient product. The mats are constructed from 100 percent polypropylene and are said to absorb and retain oils, coolants and water without leaving trapped liquids or fiber residue behind. The dispenser box provides easy storage of and access to the mats while protecting them from dirt and moisture.
The chuck box stores used absorbents until they can be disposed of properly.
New Pig Corporation
Visit tpsdigital.com/info
Alliance Adds EZ-Assist Clutches
Alliance Parts announced a new product line for the heavy-duty truck market with the addition of EZ-Assist clutches. The company said the new clutches require 35 percent less pedal effort versus a standard angle spring clutch, improving operator comfort and reducing leg fatigue.
EZ-Assist clutches are available in three torque ratings from 1,400 ft-lb to 1,850 ft-lb, and manufactured with 100 percent new components. Additionally, the company said, the clutches feature superior dampers designed for 2002 and older engines, and fit all makes and models of commercial vehicles.
"Alliance EZ-Assist clutches provide a unique balance between performance and price," said Todd Hooper, director of Parts and Service Marketing for Daimler Trucks North America. "Alliance clutches are designed for trucks and owners needing a good quality clutch product at a price that makes sense. We are pleased to be able to offer a host of products that fill a real need and offer very good value for heavy-duty truck owners."
The new clutches have a one-year, unlimited mile warranty and are available at more than 1,000 retail locations across the U.S. and Canada.
Alliance Parts
Visit tpsdigital.com/info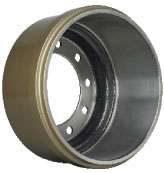 Accuride Offers Gunite Lightweight Drums
Accuride Corporation announced two new sizes of its Gunite Optimum Lightweight Drums (GOLD) that the company said will support the revised stopping distance regulations for standard three-axle tractors which go into effect August 1, 2011.
"The new 16.5 x 8 inch (9020X) and 16.5 x 8-5⁄8 inch (9019X) GOLD drum sizes complement Gunite's existing 16.5 x 5 inch steer axle GOLD brake drum (9002X)," said Tony Pape, Accuride's vice president of marketing. "Adding the new GOLD drums for the larger high performance drum brake systems that will be coming out in August 2011 can save fleets an additional 76 pounds over full-cast drums, offsetting weight penalties of the larger front and rear brakes."
GOLD brake drums are designed to be an optimum balance between durability and thermal capability, providing the performance of Gunite's standard full-cast drums, yet saving as much as 170 pounds versus standard full-cast drums on a typical tractor-trailer combination, according to the company.
"During two years of GOLD drum field testing on standard 15 x 4 inch steer axle brakes and 16.5 x 7 inch drive and trailer axle brakes, fleets reported longer drum life without increased lining wear," added Pape. "Collectively, drum life expectancy was reported to increase in front (steer) axle applications by 50-75 percent, rear (drive) axle applications by 20-50 percent and trailer axle applications by 20-40 percent. Gunite field-testing also is showing that GOLD brake drums are effective in reducing brake drum 'squeal' versus lightweight steel shell composite brake drums."
Accuride Corporation
http://www.tpsdigital.com/info
Visit tpsdigital.com/info