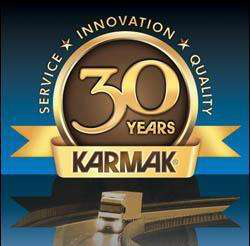 Karmak, Inc. is celebrating its 30th anniversary in the heavy-duty trucking industry in 2011. Founded by Richard Schien in Carlinville, Ill. in 1981, Karmak began producing the industry's first all-inclusive computer systems for heavy-duty businesses. In 1997, Karmak purchased competitor, RINFO, Inc., and currently, Karmak supports 500 customers at approximately 1,800 locations throughout the United States, Canada, and Latin America.
The company currently has more than 200 employees and has been employee owned since 2004. The company specializes in inventory control, service shop management, accounting, new and used truck sales, information technology and systems engineering. Karmak products are used by heavy-duty truck dealers, parts distributors, manufacturers, service shops, lease/rental facilities, trailer dealers and fleets.
Karmak says it constantly monitor trends in technology and the transportation industry, and company executives continue to look for ways to meet and exceed industry expectations. The company's executives attribute the Karmak's longevity to one simple philosophy: the optimal industry solution.
"Customers are always going to purchase the software that is the best business solution. Our goal is to always be that best solution in the industry," says Schien, Karmak's chairman of the board.
Karmak has many goals looking forward. According to Bill Healy, Karmak president and CEO, one immediate focus of the company is "to further improve customer relationships by providing tools that assist in improving their relationships with their customers."
Karmak will celebrate its 30th anniversary with a celebratory open house later this year. Additional anniversary events are planned at the annual Karmak Technology Conference & Expo for customers in St. Louis.