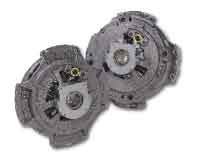 Eaton Expands Aftermarket Portfolio
Eaton Corp. launched a new brand of drivetrain components engineered specifically for the aftermarket. The new lineup, known as EverTough, provides aftermarket customers with the balance of price and performance to meet their replacement part needs, the company says. The initial EverTough offering is a new line of heavy-duty clutches.
To ensure the EverTough clutches have reliability and durability at a competitive aftermarket price, Eaton has designed the clutch with an aftermarket-specific facing, a release system with standard dual zerk fittings and dampeners to meet the torsional vibration needs of the aftermarket. In addition, lube intervals are set at 25,000 miles to reduce maintenance costs.
With torque ratings available up to 2,050 ft-lb the clutches are available in both 14-in. and 15.5-in. heavy-­duty designs for all makes of diesel-­powered commercial trucks. Additionally, the clutches include a one-year unlimited mileage warranty.
Eaton Corporation
Visit tpsdigital.com/info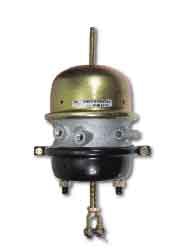 Bendix Launches EverSure Spring Brake
Bendix Spicer Foundation Brake LLC announces a new, next-generation double-diaphragm spring brake for drum brakes that is said to offer the lightest weight in the industry while delivering best-in-class durability and performance.
The new Bendix EverSure spring brake with No Touch technology is now in production. It is designed to industry-standard dimensions, making it easy to install as a replacement part in the aftermarket.
The EverSure spring brake is said to be more than two pounds lighter than competitive spring brakes. The product's lighter weight also is said to lead to the best vibration resistance in the industry. Lower vibration levels help prolong the life of the spring brake and supporting components.
Another key advancement in the new spring brake is the elimination of contact between compressed power spring coils, allowing the protective coating to remain intact and resulting in significantly better corrosion resistance than competitive products, the company says.
According to the company, the power spring was designed to avoid coil contact damage, which leads to corrosion, and ultimately spring brake failure.
BSFB also says it optimized the diaphragm geometry of the EverSure spring brake. While it is also available in the aftermarket, the EverSure spring brake exceeds all compliance requirements for performance and durability in original equipment use.
Bendix Spicer
Visit tpsdigital.com/info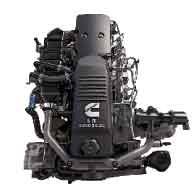 High Output 6.7L Turbo Diesel
Cummins Inc. announced the release of its high output 6.7L turbo diesel for Ram heavy-duty pickup trucks. This new high-output rating produces more torque to a peak of 800 lb-ft (1,085 N•m).
With 800 lb-ft of torque at 1600 rpm, power is increased across a wide speed range of 1200-2700 rpm. This delivers up to 46 additional hp at typical highway cruising speeds while maintaining 350 horsepower at 3000 rpm, the company says.
Cummins will begin producing its new engines at its Columbus MidRange Engine Plant in the second quarter of this year. The engines will be available in Ram heavy-duty pickup trucks with the automatic transmission option.
Along with the new 800 lb-ft torque rating, the Cummins 6.7L turbo diesel offers an integrated exhaust brake, with a full 222 braking horsepower at the wheel.
Cummins Inc.
Visit tpsdigital.com/info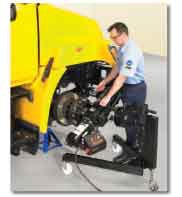 New Heavy-Duty Rotor Lathe
Hunter's new OCL430HD rotor lathe is said to improve medium- and heavy-duty service by machining the rotor on the vehicle. Hub-mounted service eliminates the need to disassemble the hub to remove the rotor, saving time and effort. Machining the rotor on the hub also reduces runout, providing a more precise cut and extending the life of expensive rotors, the company says.
The OCL430HD includes all of the operational features of Hunter's OCL410 light-vehicle brake lathe, yet adds more robust lathe components to handle larger rotors.
With a reinforced cutting arm and rugged tool holders, the OCL430HD resurfaces rotors up to 17.5 in. in diameter and up to 3.5-in. thick. A 1.5-hp, 230 VAC motor provides the additional torque required for medium- and heavy-duty trucks.
The patented ServoDrive system enables technicians to vary the spindle speed and rotational torque of the lathe while in operation. This ability is said to allow the technician to adjust the speed "on the fly" without compromising the final surface finish.
ServoDrive also provides the capabilities needed to activate other patented features including computerized compensation and anti-chatter safeguards.
Pro-Comp computerized compensation adjusts for lateral runout with a push of a button and a single-point adjustment, allowing the technician to complete the machining of the rotor within OEM specifications.
ACT (Anti-Chatter Technology) minimizes machining problems by virtually eliminating chatter, the company says. ACT oscillates the speed of the lathe while machining the rotor to prevent the buildup of vibration that can occur on any fixed-speed lathe, requiring extra time to install chatter-dampening accessories.
Hunter
Visit tpsdigital.com/info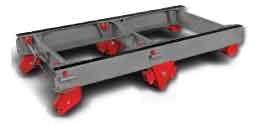 Slider With Upgraded Features And 10-Year Warranty
The new Hutch Series 10 Slider is said to be a lighter-weight, extremely durable subframe developed for dry van and refrigerated trailers. It also combines newer design concepts with lighter materials and Hutchens' advanced welding capabilities.
Production of this slider is maintained through the controls of Hutchens' UL-registered ISO 9001:2008 quality system. The Series 10 Slider is designed for van/refrigerated trailers requiring a 48-in. nominal frame width and 49-in. axle centers.
It uses a frame structure with redesigned hangers that still accommodate the most popular Hutchens steel leaf springs and suspension options, and it works with all current Hutchens van slider body rails. It can be used in place of the H9801 spring slider since it produces the same mounting height.
The Series 10 Slider is backed by a 10-year warranty and features the following improvements:
* 9-in. deep frame made from high-strength, 76 KSI minimal-yield steel;
* C-channel side rails with optimized flange contours;
* Corrosion-resistant individual hanger towers;
* Full depth crossmembers;
* Maintenance-free Huck fastened rocker connection;
* Large diameter lock pins and heavy-duty hold down clips;
*1/2-in. thick wear pads at spring contact points; and
* Patented EZ-Pull pin release system.
Hutchens
Visit tpsdigital.com/info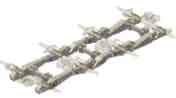 New Suspensions Released
Ridewell recently released RWB-QUAD, a new series of rigid walking beam (RWB) suspensions. The new four-axle RWB suspensions are available in 120,000 lb. and 200,000 lb. capacities using 5-in. and 5¾-in. axles.
Axle spacing is available in 50 in. and 56 in., and beam spacing can be customized to customer requirements. Part numbers will be generated upon customer request.
The company also introduces the RAR-260 trailer suspension family. Tall mounting height 25K capacity overslung RAR-260 suspensions now are available with weld-on and bolt-on hangers. The bolt pattern for these suspensions is compatible with industry standard bolt-on patterns.
RAR-260 also now offers tall mounting height 30K weld-ons, and a full line of 30K bolt-on overslung suspensions. Bolt patterns for these suspensions also are compatible with industry standard bolt-on patterns. These suspensions are available in mounting heights ranging from 15 in. to 24 in.
Also released into the RAR-260 family is a high-travel 30K overslung. This suspesion has a new hanger that allows for up-travel at a 17-in. mounting height. At this mounting height, the travels are 4.2-in. up-travel and 3.0-in. down-travel.
Ridewell
Visit tpsdigital.com/info
Volvo Trucks Introduces Lightweight Fifth Wheel System
Working in conjunction with Fontaine Fifth Wheel, Volvo Trucks North America developed a new lower assembly that supports both the fifth wheel and the truck frame. This design allowed engineers to reconfigure the fifth wheel top plate as well, without sacrificing stability, strength or durability, the company says. The cast steel top plate weighs just 165 pounds.
The integrated frame-mount system incorporates Fontaine's top plate lock design that prevents high hitching of the trailer kingpin, as well as a secondary lock. Air actuation with in-cab release — operable only when the parking brake is engaged — is an available option. The new fifth wheel can handle a vertical load of 50,000 lbs. and a drawbar pull of 150,000 lbs, which is typical for on-highway applications.
Volvo Trucks North America
Visit tpsdigital.com/info