New Gladhand Products
Phillips Industries has added new shut-off gladhand products for double trailers to its product line. The products are two zinc die-cast surface mount gladhands and two new bulkhead mounts. According to Phillips, the composite-made gladhands are designed to keep debris out of a vehicle's air system, and protect against magnesium, chloride, road salts and chemicals.
Phillips' new products also included dust flap seals and filter screens, and are color-coded blue for service and red for emergency.
Phillips Industries
Visit tpsdigital.com/info

HVAC seat-based system introduced
Delphi has released a new HVAC seat-based system. The system is part of Delphi's E3 seat, and combines Delphi's Diavia application capability with the Cobo group's steering column, seat, lighting and electronic devices.
According to Delphi, the E3 HVAC system has a cooling capacity of 6.2 kW and a heating capacity of 5.8 kW and can provide climate controls for the cab only or cab and seat cushion. The E3's control unit is located inside the seat arm.
Delphi
Visit tpsdigital.com/info

Improved commercial tire lineup
Toyo Tire USA Corporation has added three new sizes to its commercial medium-truck tire lineup. The new tires are available in a broad range of sizes, and are said to work for all applications, including all-position, drive-axle, free rolling and on/off road.
The three new sizes are the M122 size 285/75R24.5 and the M608Z sizes 215/75R17.5 and 265/70R19.5. The new M122 is designed for steer and trailer applications. The M608Z is said to provide traction in the drive position and can be used year round.
Toyo Tires
Visit tpsdigital.com/info

Auxiliary Electric Heaters Introduced
Dometic has introduced a new auxiliary electric heater for vehicles needing extra heat in very cold climates. The new electric modules are available in 2.5 or 4.0 kW sizes, and each module uses multiple heater coils with a two-stage heating control to provide temperature control and energy efficiency. The heaters also comes with a Qt electronic control, which the company says automatically throttles back heat and power consumption as inside air approaches set-point temperature.
Dometic
Visit tpsdigital.com/info
Steerable Drive Axles Come To Market
The Fabco Division of the Accuride Corporation has released a new steerable drive axle. The FSD-23 steerable drive axle is designed to provide a lighter weight and lower height solution for heavy-duty all-wheel drive vehicles, the company says.
The FSD-23 is the fourth generation 18,000 to 23,000 lbs. product from Fabco.
According to the company, improvements to this model from previous iterations include:
* Low-profile design for reduced vehicle cab and frame height;
* Approximately 100 lb. weight savings over previous SDA-series;
* Optional driver-controlled differential locks;
* High volume S-cam brakes with automatic slack adjusters; and
* Inclined spherical bearing king pins for steering performance and easy maintenance.
Accuride
Visit tpsdigital.com/info
New Engine Coolant Tool Introduced
K-Line Industries has released its new Coolant Management Tool. According to K-Line, the new tool drains, pressure tests and refills coolant systems cleanly and efficiently, saving time and minimizing costs. The K-Line tool is said to eliminate coolant air pockets, prevent the mixing of unwanted coolants and contribute to green shop initiatives.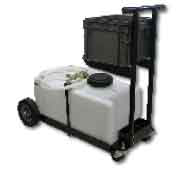 The Coolant Management Tool has a 20-gallon tank and cart assembly on wheels, a coolant reservoir cap adapter, a vacuum module and a pressure module.
To use the tool attach it to the truck cooling system. Cean, dry shop air is used to "blow" coolant out of system and into the 20-gallon tank. With the system empty, the necessary repairs can be made and pressure checked before the cooling system is refilled.
The coolant is then replaced into the system using the vacuum module to draw coolant back into the tank reducing or eliminating air pockets. With the coolant captured within the Coolant Management Tool throughout the procedure, K-Line says there are virtually no spills, no waste and no chance of mixing coolant types.
K-Line Industries
Visit tpsdigital.com/info