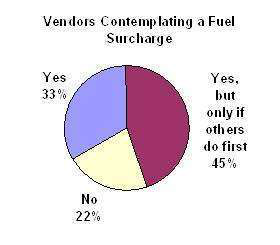 Although fuel prices have started to fall, the trucking industry may begin to see distributors implementing fuel surcharge fees to compensate for higher operating costs, in particular delivery expenses, says the business strategy consulting company nxtMove.
At present, 25 percent of heavy-duty truck parts consumers already are paying a fuel surcharge to at least one vendor. Slightly more than half of these (13 percent) are paying a fuel surcharge to a local OE dealer for delivery of purchased product to the customer's facility.
According to nxtMove, vendors typically charge a flat rate of $2 to $4 per delivery, but some suppliers are charging customers up to $9 per delivery. Rates may fluctuate depending upon size of the customer, distance to vendor facility and frequency of purchases. A small group of vendors have implemented "percent of purchase order" fuel surcharge programs that increase the cost of the purchase by 5 percent, on average, nxtMove adds.
According to a nxtMove study, almost 40 percent of heavy-duty truck parts customers expect a fuel surcharge will be imposed by their part suppliers within the next few months.
Some part suppliers already have developed fuel surcharge programs, but are waiting for the competition to introduce their program. The company says with the introduction of fuel surcharge programs by OE dealers and regional aftermarket parts suppliers, these programs should become more widespread over the next few months.