A Look at Brakes
Remanufactured brakes shoes play an important role in the commercial vehicle aftermarket.
Remanufacturing is a vital part of the truck parts aftermarket. Truck Parts & Service is launching a year-long series on the subject of remanufacturing. We kick off the series with an exclusive interview with Doug Wolma, general manager remanufacturing (aftermarket) for Meritor.
TPS: Are there any new developments in the area of brake remanufacturing?
Wolma: We all need to continue to improve on the coating process. That is what everybody needs to continue to be focused on.
Another item that comes to mind is with the influx of very inexpensive steel coming from low cost countries it continues to be a significant challenge to keep the remanufactured shoe costs at a level that can be competitive. And we won't talk about quality here, but strictly on price those low cost countries can produce brake shoes very economically.
One of the things that those of us in the brake shoe reman business have to continue to do is develop core recovery processes, salvaging shoes, creating shoes that are in specification instead of scraping them.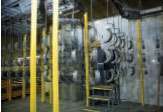 Shoes that we maybe historically scrapped we are looking at today and saying, "How do we recover these? How do we repair them? How do we create a shoe that meets original specifications so we don't have to buy new to supplement or so our costs don't continue to creep up?"
Thing like table corrosion is always one of the biggest issues that causes you to scrap brake shoes. One of the things we are evaluating is how can we cost effectively remove the table from a core shoe and use the webs from the core shoe and attach them to a new table.
TPS: How does a remanufactured brake fit into a distributor's parts strategy?
Wolma: We have a triangle and at the very top of the triangle is warranty replacement, it is new part replacement, it is high cost part replacement.
When you start getting into the bottom two parts of that triangle you are talking about distributor work. Those are components and parts that need to have some cost competitiveness to them.
Vehicles in that part of the triangle are getting older and their value is a little bit lower. It does not make economic sense to put on components that are very, very high value. As vehicles get older that is when guys are looking for lower costs components, and remanufactured component is your opportunity to get a very high-quality part for a lower cost to keep your cost of ownership and maintenance down.
I don't think remanufacturing fills a niche. Remanufacturing fills a significant portion of the aftermarket need because there are so many trucks on the road that have aged, where it just does not make sense to use new components. Remanufacturing has got to fill that void.
TPS: With the age of the nation's truck fleet higher than it has been for some time, does that present opportunities for reman?

Wolma: As truck fleets age, you are looking for the lowest cost component to maintain those trucks and remanufacturing provides that. Today you are getting a remanufactured part that is going to last the same life as the new and you are getting a lot better quality than a new product coming from offshore in a lot of cases.
TPS: Is there going to be any impact on remanufacturing when the new stopping distance regulations are finalized?
Wolma: No, because the reduced stopping distance is all related to the friction material. We reline shoes with new friction material so there really is no impact.
However, one thing that is yet to be completely be understood is does this reduced stopping distance cause friction to wear quicker than the current friction that is out on the road.
And if that is the case, that is going to drive a higher aftermarket demand for shoes and obviously therefore a higher demand for reman shoes. But that is a question mark at this point. We will have to see how that develops.