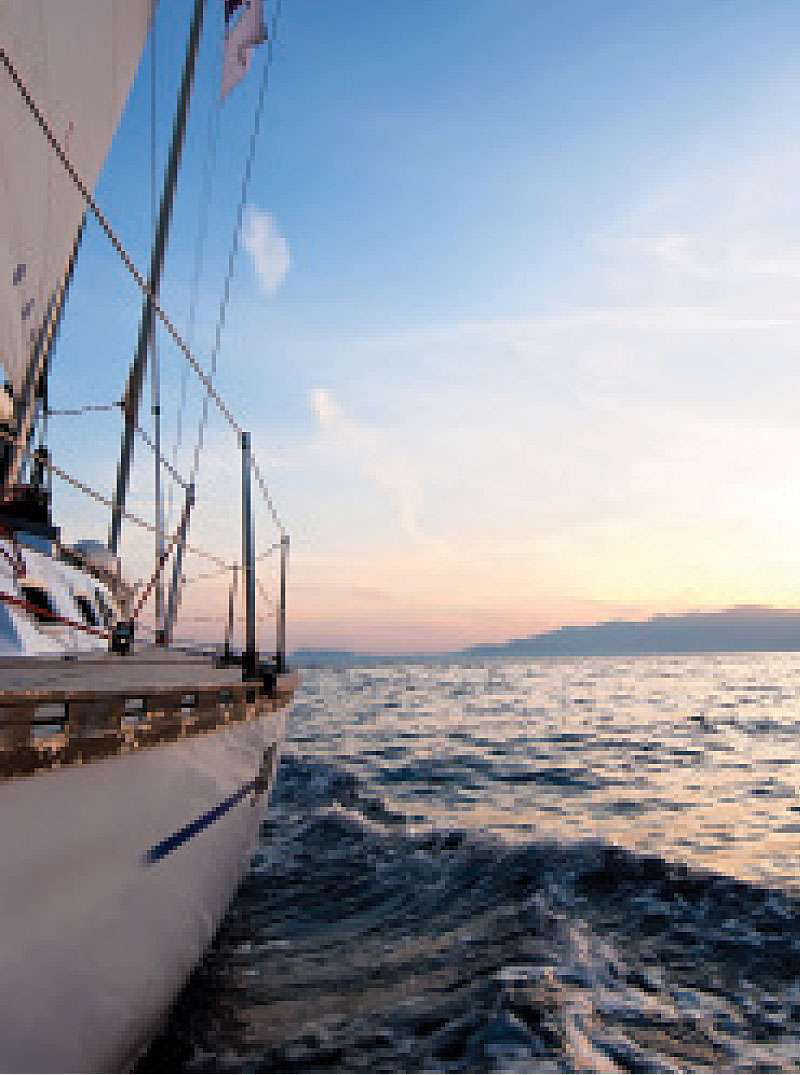 After two years of growth, things still look good for the aftermarket. There are plenty of opportunities, however there are a few potential obstacles.
Last year proved to be a fairly good one for most heavy-duty distributors, dealers and repair garages. In fact, 93 percent of Truck Parts & Service readers responding to a December 2011 survey say they expected to be profitable in 2011.
Part of the reason most aftermarket firms did well is that "the average age of heavy-duty trucks on the road has crept up over the past few years, and many pre-2007 vehicles are beginning to hit their prime years for major component replacement and repairs," says Tim Kraus, president of the Heavy Duty Manufacturers Association.
He adds, "Mileage on trucks causes parts to wear and those parts need to be replaced, or the truck is replaced." In 2011 many fleets chose to do repairs rather than replace their vehicles.
As a result, Kraus says HDMA members saw a 10 to 15 percent increase in their aftermarket sales.
Vehicle utilization rates also were up, according to Tom Otter, vice president of OE sales, Bendix Commercial Vehicle Systems. "As utilization rates go up, there is going to be the need for replacement components in the marketplace."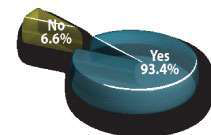 However, according to VIPAR Heavy Duty's CEO Steve Crowley, there was some regional weakness. "Construction-based economies like Florida, Arizona and Nevada, especially Las Vegas, have been hurt by the lack of development."
Bill Wade, partner, Wade & Partners, concurs. "I talk to as many guys who say, 'We had the best October ever' as I do to guys who say 'Our October was a disaster.' Looking into that further, what comes out is the entirely local nature of the heavy-duty parts distribution business."
Positioned Well For 2012
Don Purcell, partner, Stone Truck Parts, believes distributors are facing 2012 with "more optimism and with our eyes on the ever-changing customer base."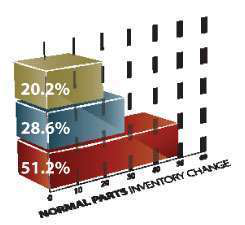 Don Reimondo, CEO of HDA Truck Pride, expects solid growth in 2012 of five to six points. "We are anticipating GDP to be 2.5 to 3 percent and that consumption will grow another 2.5 to 3 percent."
The age of the truck fleets is one of the reasons Terry Livingston, Meritor's general manager, aftermarket for the U.S. and Canada, sees distributors and repair garages well-positioned for success in 2012.
"They are very well set to get that second and third generation vehicle owner," he says. "As long as they are able to pass along commodity price increases and keep their margins up, they should do well."
Surviving the recent recession has left distributors strong, according to Tina Alread, director of sales and marketing for HDA Truck Pride. "Those who survived came out stronger. They have more efficient operations and have figured out how to do things differently," she says.
"The folks who survived are on very solid ground going forward. They have learned how to either expand the services or products they supply or hold their margins," she adds.
But it is still a buyer's market, says Dave McCleave, director of aftermarket/technical services for Hendrickson International. "If you go back a few years fleets were saying 'I don't care what it takes, get me going.' Today it is their marketplace and they can pick and choose who they do business with, so there is still going to be some pressure on margins."
Opportunities Abound
The recurrence of the technician shortage may bode well for the service side of the aftermarket, according to Purcell. "Fleets are not looking to set up repair and service facilities especially with it getting harder to find service technicians."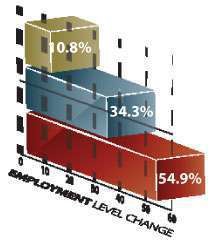 Livingston says Meritor has seen a trend of more fleets outsourcing their service work and not adding technicians. "This is a strategic opportunity for the independent service garage and warehouse distributors who offer repair to talk to fleets about outsourcing."
For distributors adding some kind of repair service to their operation can be a way to grow. For service operations having locations close to fleets can be a bonus. According to Stu MacKay, president, MacKay & Co., a recent study of 1,500 fleets indicated they want to spend less time or drive fewer miles to get service work done.
"The limit used to be about one hour for paint and body and engine overhaul," he says. But MacKay's most recent fleet survey shows a 20 percent reduction in that figure. "Fleets are looking for more readily accessible, closer and easier to get to service points," he says.
Technology also brings some opportunities to the market, according to Bill Gryzenia, vice president, aftermarket for Dana Corp. "The distributors, even the small and medium-sized companies, who are customers of Dana are starting to explore e-commerce opportunities."
He says they are doing this as they look for ways to compete with bigger companies. "I think we are going to see interesting things happen with regard to e-commerce in the coming year."
Duff Bell, software applications specialist at Karmak, says his company is seeing a lot of its customers move in the direction of parts sales over the Internet.
"If you can make it easier for customers to buy parts from you without calling in and waiting on hold, if you can make it so they just go click, click, click, you can make a sale before your competitor even knows there was a sale to be made."
Taking a close look at basic aspects of their business also can yield some benefits. According to Bell, a distributor's inventory strategy is one area that can be improved.
"Distributors need to look at their turn and earn report, which is just shorthand for gross margin return on inventory," he says.
"The distributor needs to find out that for every dollar he invested in a company did he get $1 back or did he get $1.10 or did he only get 90 cents?" Bell says.
McCleave says distributors who have the proper inventory are positioned best. "Inventory was king during the downturn and that is even more true now," he says.
"Everyone wants to makes cuts and get their working capital back out of inventory and put it into cash. The people with parts on the shelves are the ones who will win," he adds.
It is not often in the trucking industry that regulation provides an opportunity; however CSA may do just that. "CSA could present opportunities for more maintenance activity to ensure the vehicles are in compliance from a safety standpoint," Otter says.
Another way to grow is to branch into ancillary businesses.
"There are guys out there who have figured out that the standard approach is not going to work," Wade says, citing Midwest Wheel as one company that has taken an alternate route to growth by building a significant business in light-truck accessories.
He says the company realized that many of its customers used pickup trucks when coming to the distributorship to pick up parts, so it added items like tool boxes, bed liners, running boards and auxiliary lighting to its product mix.
Beware Of Lurking Threats
While most industry experts expect 2012 to be a good year, there are a few areas that are causing some concern.
The growth of large fleets may be troubling to many independents, Kraus says. "The independent's typical sweet spot is with the smaller fleets and owner-operators," he says.
"While the growth in the number of large fleets is troubling, the number of small fleets still is a substantial percentage of vehicles on the road."
The uncertainty of economic activity and government regulation may be preventing expansion by a lot of small distribution businesses, not just independent truck parts distributors, Crowley says.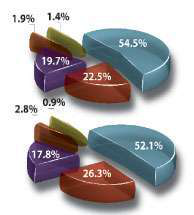 "There is hardly a week that goes by that something is not popping up in some form of regulation — either on the customer base or on small business — or there is the threat of a new tax. This really keeps people's money in the bank," he says.
Crowley believes there are opportunities for expansion, but that everyone is approaching them cautiously.
There also is some concern over the economic situation in Europe and its potential impact on the U.S. market, according to Dave Schultz, director of marketing and strategic planning for Bendix.
"Europe has had a big impact on our financial markets, but I don't see a European impact on our freight movement," he says. "However, consumer confidence could be affected."
Europe's economic situation is not the only way the aftermarket can be impacted by other countries.
"There always is the specter of offshore parts," says John O'Leary, senior vice president of service and part for Daimler Trucks North America. "People still care about quality, and the quality of offshore parts is still suspect — especially with things like engine parts. It is not a huge issue, but it certainly is looming and is making inroads in certain areas."
On the repair shop side, MacKay says in certain areas of the country there has been a proliferation of service businesses that are operating under the radar. "There are little shops that do work on a cash basis. The labor is cheap, the parts are cheap and the work is acceptable."
He adds, "It is not a recognized channel, but it is starting to bite into the business that the recognized channel enjoys."
Another potential threat is the encroachment of companies from the passenger car and light-truck markets into heavy-duty parts distribution.
"As it gets tougher to make margins on the passenger car and light-truck side, we think those folks are going to come more into the commercial vehicle marketplace," Reimondo says.
Alread says diversification is a way to combat that threat. "If you are not servicing medium-duty trucks, perhaps you should be. If you are not doing transmissions, should you get into that?"
Reimondo says, "If they are a wheel-end specialist that doesn't do batteries and wiper blades there is an opportunity for them by adding those products."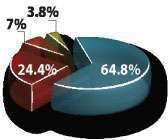 He adds that most independent distributors view truck dealers as their competitors. "Tell me what dealer does not install parts? We think this is a tremendous upside for the independent distributor to solidify, diversify and grow their business through the expansion into service."
Market erosion is made worse by the growth of Internet only parts sellers, according to Wade. "These Internet guys can scrape the cream off of any territory without the expense of a physical presence," he says. "And because the suppliers have done a good job of cataloging and instructing on how parts work, the expertise of the counterman is not in as great a demand as it used to be."
On the service side, however, Wade does not think there will be margin pressure. "As the technician shortage continues to build, the margin on service will continue to go up. It is simple supply and demand," he says.
For the independent service garage the challenge is on the technology side, according to MacKay.
He believes they are going to have to make a significant investment in technology-related items in order to be competitive with truck dealers.
Keys To Success
The first step to success in 2012 is to understand your customer base. "If the distributors and repair centers take a deep look into their market area and understand their market area, customers, customers' equipment and what their equipment specifications are, and then calibrate themselves so they have the correct inventory and resources, they will be successful," McCleave says.
One way to do that, according to O'Leary, is to have the proper breadth and depth of inventory. "Today with all the information at your fingertips, if you want a part you usually can find it. The density of parts distribution is quite high in most areas, so if a business does not have a part, the customer will go down the street or across town to get it," he says.
Crowley says this means distributors need to focus on inventory utilization. "There is a move by large distributors and larger suppliers to vendor-managed inventory."
He says, "It takes most of the guesswork out of the process and a lot of the emotion. VMI helps distributors utilize their assets better. An uptick in utilization of inventory certainly is welcome by any independent distribution point."
The complexity and sophistication of today's vehicles makes a trained staff more important than ever. "Trucks today have robust electronics so being able to troubleshoot and work on them is critical," O'Leary says.
This complexity will continue to put pressure on dealers, distributors and repair garages to be solutions providers, according to Livingston. "If a customer has an issue you have to be the person he goes to for information. This means you have to be up to speed on technology, you have to understand product features and benefits and you have to be seen as adding value."
He adds, "It is not just the price of what is in the box. Value added is going to make the difference. That is how customers choose who to do business with. They look at who can provide the greatest value — the total value — not just the piece price of the part."
Bell believes customers are looking for business partners. "They want someone who is going to go into the trenches with them to share not only their gain but their pain as well."
Ultimately, Otter says aftermarket companies need to stay the course. "They have to continue to add value to fleets and repair garages." This could include inventory breadth, on-time delivery or technical services. "Whatever they use to differentiate themselves in the marketplace is what they need to sharpen and continue to improve."
For Wade, the addition of service is critical for success. "Right now I can go online and buy a part without interacting with a distributor. To compete you have to put in some kind of service. I don't care if it is hydraulics or drivelines, bench service, vehicle service or mobile service, distributors have got to find a way to get a service component into their businesses."
Driver Shortage Will Cap Fleets' Growth
By Avery Vise, executive director, trucking, research and analysis for Randall-Reilly Business Media and Information avise@randallreilly.com
Trucking analysts believe that growth in freight demand during 2012 will be good but not great assuming nothing truly bad happens.
Unfortunately, there's plenty of bad stuff that could happen. The good news for the trucking industry, however, is that barring a true recession, capacity probably will lag freight volume, keeping freight rates healthy.
A shortage of qualified drivers is by far the top challenge facing trucking companies today. In November, 57 percent of trucking executives declared driver availability to be their top concern, according to the monthly Randall-Reilly MarketPulse survey.
More than 67 percent expect driver availability to be their biggest challenge in 2012, far eclipsing No. 2, freight pricing, at 9 percent.
Trucking companies face multiple labor challenges. For starters, they slashed more than 225,000 primarily driver jobs most of them drivers between the peak in January 2007 and the bottom in March 2010. Many of those drivers moved on or were marginal to begin with.
Then carriers faced new regulatory and enforcement challenges, such as the Compliance, Safety, Accountability program, that forced them to raise minimum qualification standards for drivers. Meanwhile, the flow of new commercial driver's license holders shriveled to a trickle during the downturn.
So it's hard to get good drivers, but is this situation really holding trucking companies back?
Apparently so. In the same MarketPulse survey, just 42 percent said they are consistently able to hire and retain enough drivers to haul all the freight available to them.
Trucking companies generally are optimistic. Business already is pretty good, and most think business conditions will be even better in six months.
Many carriers would like to grow, but about 45 percent expect to settle for replacing aging equipment. Although 57 percent of carriers say they will add trucks in 2012, the reality is that there just won't be drivers available to do so.
Changing Relationships
By Denise L. Rondini, Executive Editor, drondini@randallreilly.com
No relationship is more important than the one between suppliers and their channels of distribution.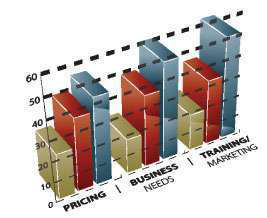 Suppliers are beginning to feel pressure from private label programs, according to Tim Kraus, president of the Heavy Duty Manufacturers Association.
"Brands need to be supported, but branding also can include the reseller's identity (private label programs)," he says. He thinks suppliers needs to do a better job of selling their overall value and distributors need to support suppliers that provide "great products, support, service and value."
Terry Livingston, general manager, aftermarket U.S. and Canada for Meritor, thinks loyalty is going to be a key issue. "We are moving toward wanting loyalty. We do not want to rent the business," he says.
Dave Schultz, director of marketing and strategic planning for Bendix, believes suppliers have a responsibility to improve their value back to the distribution network. "That includes providing appropriate data and training to keep people up to speed," he says.
Bill Gryzenia, Dana's vice president, aftermarket, says there is a lower tolerance for unacceptable operational performance "that includes availability, service levels and product offering. A lot of companies are offering not only the traditional genuine products, but a second tier product that focuses more on the second and third owner of the vehicle."
Another trend is distributors buying directly in low-cost countries.
"Suppliers can't sit idle and watch distributors pursue the highest volume components directly from low-cost overseas suppliers and only purchase the low-volume items from their current supply base."
He adds, "At some point, suppliers will have to start addressing this. I think we are going to start seeing this happen in 2012."
Dave McCleave, director of aftermarket sales/technical service at Hendrickson International, is seeing some niche suppliers trying to break into the market by-passing the traditional distribution model. "When you pass up traditional channels of distribution that means there is potential for margin collapse."
Shrinkage Across The Chain
By Denise L. Rondini, Executive Editor, drondini@randallreilly.com
Consolidation has become a way of life in the heavy-duty aftermarket and most think that will continue in 2012 and may be aided by outside sources.
"There is a lot of interest by investors and well-heeled private equity groups in this industry," Tim Kraus, president of the Heavy Duty Manufacturers Association, says. "This is mainly due to the value seen in this market. It is an historically profitable business."
Bill Gryzenia, Dana's vice president, aftermarket, says there is a great deal of talk about private equity and the aftermarket. "The saying 'the aftermarket is an afterthought' is not true today. As a result we will continue to see private equity companies try to enter the market."
John O'Leary, senior vice president of service and parts for Daimler Trucks North America, says consolidation will continue because "it takes a significant investment in infrastructure to stay in the game these days. As a result, spreading that investment across multiple locations is critical.
Don Reimondo, CEO of HDA Truck Pride, shares this belief. "There is an enormous amount of money piled up in the marketplace and I think people are just waiting for it to break loose."
He adds, "We are an aging community at least on the distribution side. From a market demand standpoint, you will continue to see strategic alliances because footprint is critical."
According to Dave McCleave, director of aftermarket/technical service for Hendrickson International, the market has a need for consolidation. "Fleets are looking for national parts and service contracts. They are dictating that the market move, so consolidation will continue," he says.