With careful planning and organization, service providers can make their parts departments successful.
When it comes to managing a parts department's inventory, there's always room for improvement. A well run department can be a great asset, while a disorganized department can become a financial burden and customer relations nightmare.

Service providers who consider their parts departments an asset say it takes constant improvement and attention to detail to keep things from becoming the latter.
KNOW YOUR CUSTOMERS
The first step to creating an effective parts department is understanding your customer base, says John Wilson, operations manager for Empire Truck Sales.
Having an understanding of your customers when operating a parts and service business can help you predict what your common repairs and parts requirements will be, he says, and will give you the foresight necessary to stock parts to fit your customers' needs.
"When it comes to your parts department, you have to be proactive in planning your inventory," Wilson says.
"Market demand drives your inventory, so you want to try to look at your customer base and know what they are going to need."
Wilson says you have to look at your customers' equipment, the parts and components they are using in that equipment, their hauling schedules and other factors when creating an inventory management plan.
"We want to provide that just-in-time delivery to customers every time they need it. Helping our (customers) helps their customers, and that's good for everyone."
Mark Willis, business development manager for HDA Truck Pride
You likely will never see two repairs that are truly identical, but with research and constant record keeping, you can identify trends and common problems. Once you start seeing developments in what your customers need, you can start to see what you should stock to fills those needs.
"When we opened this facility, we did a study of the demographics of the trucks in this area so we knew what types of problems were common to our potential customers," Wilson says, referring to Empire's Brookhaven, Miss. location. "We wanted to know what to expect."
After completing the study, Empire created a list of "mission critical parts" that are a priority to stock and re-order on a consistent basis. Wilson says the list was designed to speed up the process of completing common repairs and provide the service center with an adequate amount of inventory for a wide range of problems.
Sue Platt, parts manager for Frame Service, says her parts department takes a similar approach with its inventory and ordering procedures.
"We don't want techs too involved with ordering parts. The best way for our shop to be productive is for our technicians to be working on trucks."
John Wilson, operations manager for Empire Truck Sales
At Frame Service, Platt has a computer software system that logs all parts sold and used in repairs. The system is designed to reorder stocked parts automatically once they leave the shelf to keep the inventory up to date.
The system allows Platt to see what is coming off the shelves quickest, but it also reveals what isn't selling and isn't moving.
Platt uses that information to gain a better understanding of her customers and their needs.
"The program does a great job, but it doesn't see everything," she says. "It can't look into the future and see a customer is planning to bring in several trucks, or see that the weather is changing or that a new part has made another one obsolete.
"You still need the human element for that sort of thing."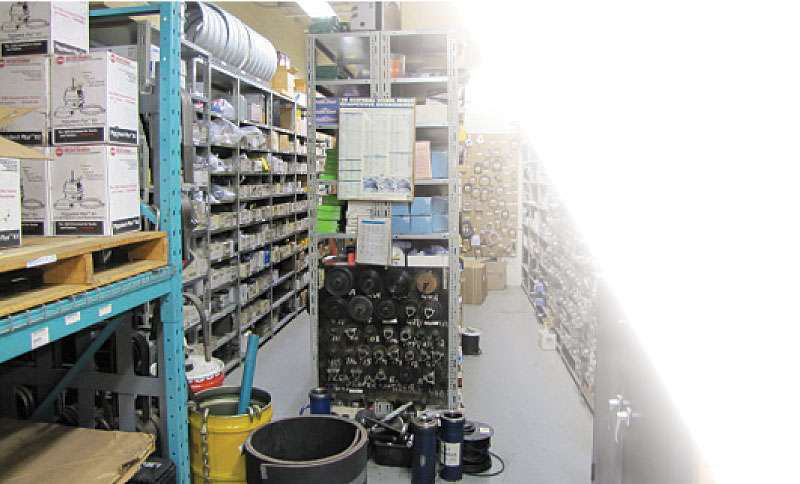 That's why before any stock orders at Frame Service are finalized, someone on staff checks the computer-generated order against consumer trends, customer information and other outside factors (such as weather changes). This way, Platt says she can be sure to order a suitable quantity of any part at any given time.
"If we are having a run on something we will be aware of that," she says. "The computer will know we are out of what we had on the shelf, and it will order parts automatically to refill the shelf. But it doesn't realize we may need to order more than (what we used)."
Wilson says doing anything you can to understand your customers and prepare for their needs is good for business. The more parts you have on hand when their trucks reach your service bays, the quicker you can have them back on the road.
KNOW YOUR DISTRIBUTORS
Having an idea of when your parts will be delivered from suppliers helps, too.
The number of parts shipments a service provider receives on a weekly basis varies depending on whether the facility is part of a dealer network or an independent business.
According to Joe Kory, vice president of global distribution operations for Navistar, the majority of parts delivered to an International dealership come through daily stock orders.
These orders are made by fax or online through a retail inventory management system, and the parts will reach a dealership in two to five days.
Kory says this schedule gives a dealership the chance to stock parts it may need in the near term, and helps control the flow of fast-moving parts.
Daily stock replenishment also helps from a customer service perspective, because it allows a parts manager to notify a customer of exactly when a part will arrive once it's been ordered. If a part hasn't been ordered and isn't in stock but is needed immediately, the dealership can request a rush order.
Rush orders can be sent to a service provider in a number of ways.
Allan Parrott, president of Tidewater Fleet Supply, says his company provides parts delivery to its customers on an hourly basis, meaning every order is expedited whether necessary or not.
With nine delivery runs per day, Parrott says his customers can receive a stock order and a rush order in the same workday.
Tidewater doesn't differentiate between the types of orders, either.
Once something is ordered it's loaded onto the next truck, whether the part is needed to replenish inventory or to complete an open RO.
"We stock a truck and send it out on the hour," Parrott says. "We can serve a customer with an order at 9 a.m., and then have them call needing another part a few hours later and get that part to them the same day."
Another way to provide a rush order to a service provider is through specific deliveries. John Wensel, owner and CEO of Wensel Truck Centers, says his company's three locations receive stock orders from a variety of different vendors.
When one of those locations needs a rush delivery for a non-stocked part, Wensel says they will contact their distributor and request a rush order. Sometimes the part is delivered through a third-party logistics company, and other times the delivery will be made by the distributor.
But how it gets there doesn't matter as much as when it gets there, he says.
Wensel claims his locations try to stock 90-95 percent of parts needed for any repair order, so when one isn't in stock, it's imperative that it gets shipped quickly. Wensel says it doesn't do his service center or a customer any good to wait days for a part to arrive.
"Once we know what we don't have (on the shelf), we immediately order it to complete the RO," he says. "Usually, if we order something around lunch we can get it by 4 p.m."
Mark Willis, business development manager for HDA Truck Pride, says his distributors are aware of their customers' needs for rush parts, too. He says HDA Truck Pride members take pride in delivering rush orders to customers because it maintains healthy relationships.
The quicker a distributor helps a service provider, the quicker that service provider can get its customer's truck on the road.
"We want to provide that just-in-time delivery to them every time they need it," Willis says. "Helping our customers helps their customers, and that's good for everyone."
In most cases, rush orders are limited to slow-moving, rarely needed or expensive parts. By ordering them on a need-only basis, Wensel says his service centers save money and precious space in their part warehouses.
ORGANIZE YOUR PARTS INVENTORY
When it comes to a parts warehouse, saving space is extremely important. No service provider can stock everything, so having an organized and efficient warehouse layout can maximize a department's inventory.
At Frame Service, Platt says her company's parts inventory is constantly evolving.
When extra parts are added to a stock order due to projected sales, she has to make space for them. Frame Service's warehouse is a fixed size, so the addition of two large parts may mean the reorganization of a shelf or entire wing of the department.
"If we start carrying more of something we have to know where we can stock it," she says. "We try to move the things we sell less of to the back of the shop so we have space up front for the things that are moving."
Navistar recommends a similar protocol to its dealer network, and offers new members a buy-back system for non-moving parts to help clear inventory and maximize available warehouse space.
"When a new member first comes on, we offer a one-time clean-up and buy-back program they can use to get rid of those non-moving parts," says Thom Meehan, director of supply chain inventory control for Navistar. "The program is designed to let them reinvest. It rids the dealer of the parts he isn't selling and lets him stock up on what he is (selling)."
Wensel also tries to purge non-moving parts at his service centers. Once a year, he says his company tries to clear extra inventory from its warehouses and send it back to distributors. The removals give him the opportunity to catalog and reorganize his inventory in the most efficient manner.
CREATE A PLAN FOR YOUR TECHNICIANS
One of the last steps in keeping a profitable parts inventory is standardizing a way to shuttle parts and parts requests from technicians to the parts department and vice versa.
Wilson has implemented an electronic requisition form for Empire's technicians, which allows them to request parts from the warehouse without having to learn their service bays.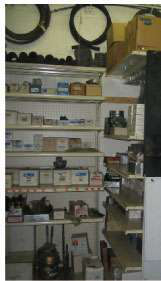 Wilson says his parts employees then fill the requests and bring the parts to the technicians.
Once a part has been provided to a technician, it is added to the RO and reordered for the next incoming stock order. Parts requested by the technician but not in stock are ordered by the parts department, and then the computerized system notifies the technician of the rush order.
Wilson says the system has many benefits, but the biggest advantages he sees is that it keeps the parts department in charge of actual parts ordering and inventory, and allows the technicians to focus their attention on the repairs in their bays.
Wensel uses a similar method at his locations with the same goal. At Wensel Service Centers, all technicians fill out a parts request form manually, which they provide to the parts department. From there, it is the job of the counter staff to find which parts are on the shelves and which parts need to be ordered.
"Sometimes the techs will speak with the counterpeople to show them what they need so the counter guys know exactly what to get, but we don't want them too involved with ordering parts," he says. "The best way for our shop to be productive is for our technicians to be working on trucks."
That focus gives the right employees control of the right departments.
Operating an efficient and prosperous parts department is difficult enough; there's no need to make it harder with miscommunication.