A Look At Differentials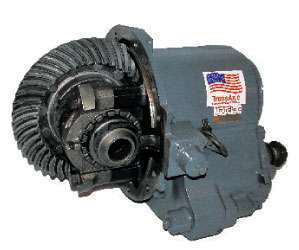 Vertical integration and technology are impacting remanufacturing.
Remanufacturing is a vital part of the truck parts aftermarket. Truck Parts & Service has launched a year-long series on the subject of remanufacturing. This issue's installment contains an interview with Dave Olsen, CEO of TransAxle.
TPS: What are the key issues impacting differential remanufacturing?
Olsen: The differential is a critical part of transferring the energy from the transmission out to the wheel end. With that comes a lot of different ratios and gearing.
What you ended up with is a lot of variety and a part number explosion over the last 10 years as fleets have tried to work to maximize fuel economy. This has put a lot of pressure on people that remanufacture to keep up with all those changes.
The other thing you have is a lot of vertical integration. If you go back 20 years ago there were two to three principle players. Now you have a lot of vertical integration with Daimler doing their own thing and Paccar and Volvo doing their own thing and that has made for a much more diverse product offering than what it used to be.
The ramification of that is there are fewer people remanufacturing. Where you used to have 12 choices in a market, you might have four or five now. There are more national players rather than regional or local players in that market, and that is a function of the product becoming more diverse.
TPS: How does a reman differential fit into a distributor's parts strategy?
Olsen: We all are looking to be a better more complete service to customers, so if you have customers who are looking to you as their parts solution, certainly drivetrain is a critical part of that.
It is a logical extension of your existing relationship with your fleet customers.
As distributors continue to fight the OE channel — which is viewed as a complete supplier of drivetrain components — it is imperative that distributors match that perception.
They can't be viewed as the guy I buy my brakes from. They need to be viewed as my component sourcing preference. To do that, they need to have a broader range of products.
They already have invested in the relationship. They can add benefit to that relationship by having a broader portfolio of products. Drivetrain in general represents about 25 percent of the total parts aftermarket, so you have to ask yourself if you really want to walk past that opportunity or do you want to invest in it.
TPS: What are the bigger picture implications of remanufacturing?
Olsen: Remanufacturing is becoming a significant buzzword across all industries, whether it is ink jet cartridges or office furniture or anything else. But if you look back, the one market that it has been a mainstay in for decades has been automotive and heavy truck components.
It is interesting for us in the industry to watch how popular remanufacturing has become. One of the reasons it is becoming popular is because of the environmental aspect of it, which has been ignored for many years.
The economic benefits have been pretty well understood in the automotive world, but now the environmental impacts are becoming more and more prevalent.
There have been studies done by Rochester Institute of Technology that suggests that a remanufactured differential consumes 85 percent less energy than a newly produced unit. That is similar for transmissions, rotating electrical, etc.
It is logical. There is a lot of cast iron; a differential weighs 350 lbs. Transportation costs and everything else associated with that get tremendously reduced when you remanufacture. And while the economic benefits still are there, you really have three segments.
First you have the economic benefit. A well remanufactured product might be two-thirds the cost of a new one.
Today you have the increasing focus on the environmental aspect. And the third leg is quality. I think the goal of all high-quality remanufacturers is that the quality of the remanufactured product is the same as or better than the new product.
People might question how can you be better than the original, but the reality of it is that infant mortality in new products is higher than it is in remanufactured products because they have been worn in. They have been tested.
The typical remanufacturer is going to have dynamometer testing in the area of differentials. Those of us that are in the remanufacturing area are identifying design failures that have been common in products that have been out there for years, and we are addressing them.
TPS: What do you see in the future for remanufacturing?
Olsen: One thing that is going to create some change in the market is the advent of electronics and electronic controls, and the integration of them into what has historically been mechanical gearing related components.
The implication of that is it is going to thin the field a little bit in terms of remanufacturers. We already have seen this in some regard over the last five or six years.
A lot of smaller remanufacturers have exited the business or have decided they will remanufacture up until a certain model year, but then they are not going to do the new products.
A great example of that would be Allison transmissions. They introduced an electronically controlled transmissions about nine or 10 years ago.
You have many folks who say, "I will rebuild the old stuff, but I am not touching the new stuff." They really have pre-determined they are going to exit the business over time.
You are going to see that in manual transmissions and in differentials as well. The growth of the larger national or large regional remanufacturers — Mascot, Weller, Transaxle, people like this — that have the wherewithal to invest in the new technology are going to benefit from that complexity. The smaller local guys are going to perhaps have a bigger challenge in keeping up with that because they just don't have the volume to justify the investment.