A Look at Transmissions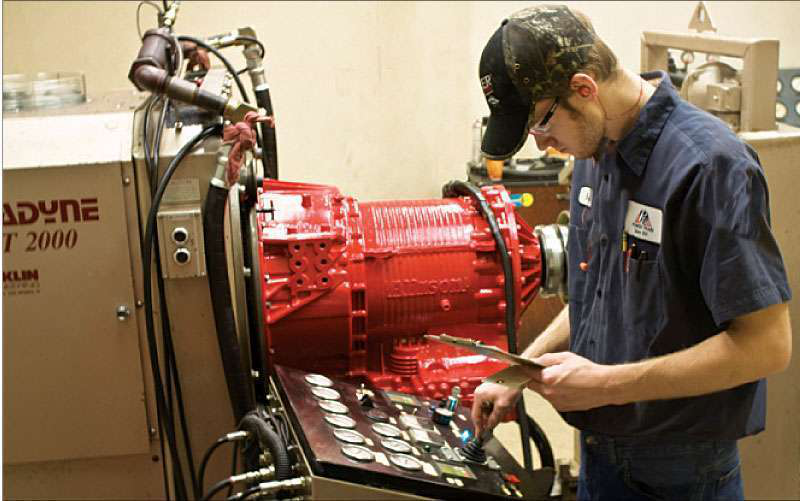 Remanufactured transmissions can reduce downtime while helping the environment.
Remanufacturing is a vital part of the truck parts aftermarket. Truck Parts & Service has launched a year-long series on the subject of remanufacturing.
This issue's installment contains excerpts from interviews with Matt Colwell, global product strategy manager for Eaton Corporation's Vehicle Group, and Larry Higashi, vice president of remanufacturing at The Power Train Companies.
TPS: Are there any new developments in transmission remanufacturing?
Higashi: As far as general building techniques or parts sourcing, I would say no. User demands have changed little. You're always going to have struggling fleets that will opt to have their transmissions repaired as inexpensively as possible. But true cost conscious fleets are looking for things like minimum downtime, quality remanufacturing and longer warranty periods.
TPS: Are there differences in the way manual, automated and automatic transmission are remanufactured?
Colwell: The process for transmission remanufacturing of manual, automated and automatic transmissions is very similar. Each process begins with receiving the core for disassembly and component salvage. The reusable material is assembled into a kit to preserve gear alignment and ensure optimum shift profiles with reduced noise, vibration and harshness shift characteristics.
Then the transmission is assembled and tested on a dynamometer.
Higashi: Caring for and processing the hard parts (gears, shafts, cases, etc.) are all handled in similar ways.
Proper cleaning, drying and protecting pre-assembled parts are both critical and challenging.
Then there is the area of reusing certain components. This highly subjective area can make or break a remanufacturing operation. The use of equipment that can identify stress fractures and defects can help eliminate premature failures.
The introduction of electronics to the typical "box of gears" has created its own set of rules for remanufacturing. Critical decisions need to be made when evaluating electrical components. A remanufacturer has to research and understand the operation and anticipated life expectancy of electronic components.
TPS: How do remanufactured transmissions fit into a distributor's parts strategy?
Colwell: Transmissions are a high-dollar replacement item that distributors avoid carrying to reduce inventory carrying costs and to free up working capital.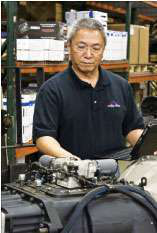 However, in the past decade more fleets and independent operators are turning to replacing transmissions to minimize downtime.
A distributor who ignores stocking finished transmission assemblies can miss out on a market segment that prefers a reduced downtime over a higher replacement cost transmission. Some customers are willing to pay more if you have the unit available.
TPS: Does the aging truck population present opportunities for remanufactured transmissions?
Colwell: As trade cycles have lengthened and fleets and owner-operators squeeze every mile out of trucks, remanufactured transmissions offer a tremendous value.
TPS: What are some of the big picture benefits of remanufacturing?
Higashi: Remanufacturing is the ultimate green. Green saves fleets money.
A remanufactured part reuses the core components and saves in the manufacturing of a new one. Remanufacturers figure out what it takes to make a unit as good as new, provide technical support and offer outstanding warranty programs.
Colwell: Remanufacturing enables sustainability by taking a product at the end of its usable life and enabling it to live on. This reduces the need to harvest additional natural resources to make new products. Remanufacturing consumes fewer resources than what is required to produce a new item.
Remanufacturing also reduces the total life-cycle cost of a product or system. Remanufactured products, that are built to meet OE specifications, cost less than new replacement units and have lower total cost of ownership.
Remanufacturing lives on when new products no longer are financially feasible. When new products cannot be manufactured because new parts are no longer available, remanufacturing finds suitable used parts from cores that allow a service product to be produced.
Finally, remanufacturing allows OEMs to continue to meet production needs when capacity can't keep up with demand. By recycling components in suitable remanufactured replacement items, an aftermarket and production product offering can be maintained.
TPS: What do you see in the future for remanufactured transmissions?
Colwell: Eaton sees an increase in the amount of electro-mechanical automation that will require higher levels of training and testing to produce an efficient, durable remanufactured transmission.