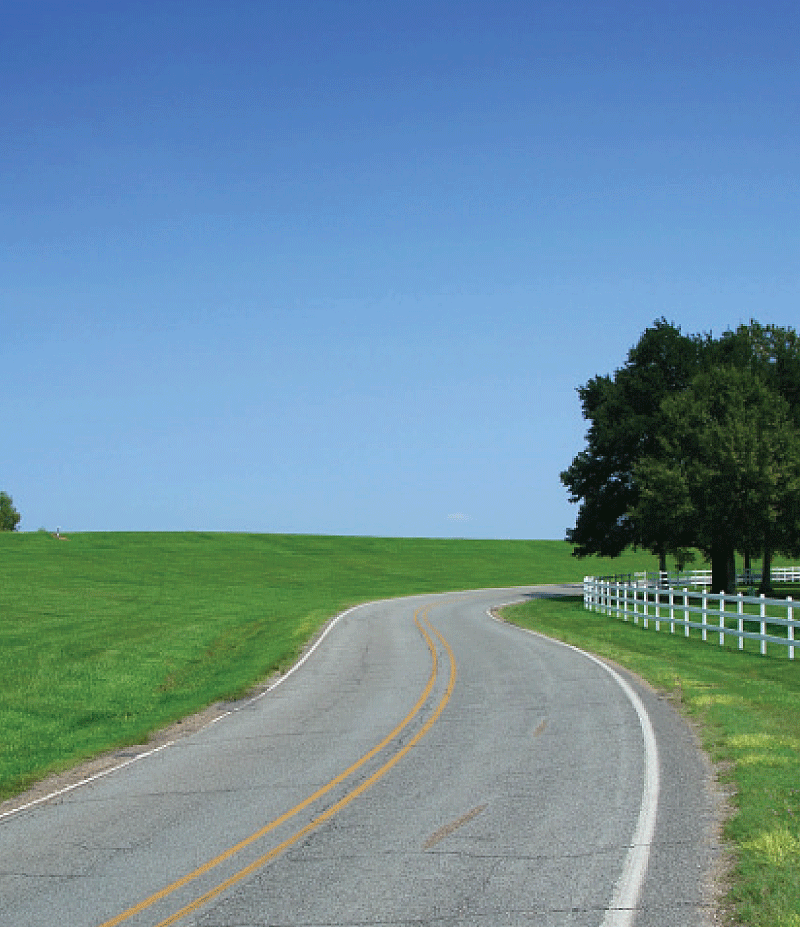 The aftermarket is seeing some growth, but it is happening at a slow pace. The economy and politics may play a role in what's coming up around the bend.
While everyone in the aftermarket will take today's market conditions over those of just a few years ago, no one is jumping for joy over the current situation.
Conditions in the U.S. economy, the economic situation in Europe and the upcoming elections are all casting a pall over the industry.
Still more than half of the respondents to a recent Truck Parts & Service survey say aftermarket sales are higher than they were in 2011. This is down from 63.2 percent of respondents who participated in a similar survey in May of 2011 and felt 2011 sales would be higher than 2010 sales.
Current Conditions
The year started out on a high note for many in the aftermarket, with distributors, dealers and repair garages seeing strong sales in the first quarter. However, many business owners saw sales fall off in the second quarter.
"It's been spotty," says Tom Stewart, president of Carolina Rim & Wheel and 2011 Truck Parts Distributor Of The Year. "We had good runs in certain things and then it would fall off. There just does not seem to be a lot of rhyme or reason for it."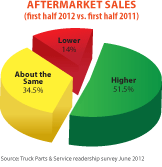 He adds, "You start a month off and everything looks great and then the last week it kind of falls off and you wonder why or what you did. You know you did not do anything different; it is just the way the market is right now."
Many cite the unseasonably mild winter as one of the causes for the drop-off in sales.
"Those breakdowns that don't happen, don't repeat," says Don Reimondo, CEO of HDA Truck Pride. "Cold temperatures, freezing roads, ice, sleet, they ruin our surfaces and they cause wrecks. Cold weather breaks things, and when you don't have it, things don't break. They are not repeatable so it has a profound impact on consumption," he says.
Reimondo explains that it is not as if those purchases have been delayed — they did not occur and they will not occur later.
Walt Sherbourne, director, field sales, Meritor, Aftermarket, says, "The lack of a winter season not only impacted winter product sales, but it eliminated the spurt in the spring brake season (shoes, hardware, slacks). Fleets were able to perform regular maintenance in the winter, which would normally have been held off until spring."
Overall, the market has seen growth, although not at the rate experienced in 2011, according to Terry Livingston, general manager, Aftermarket U.S and Canada for Meritor.
"We have noticed that growth is not spread evenly over all markets and vocations. We see some markets performing well — refuse and construction — and others that are sluggish — linehaul and pickup and delivery," he says.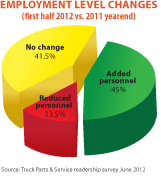 Stu MacKay, president, MacKay & Company, says, "The brightest geographic spots are where they are drilling for natural gas, whether it is in North Dakota, Ohio, Pennsylvania or wherever. I think that probably is the strongest area of performance at this point simply because there is so much brand new economic activity and brand new truck activity."
Keith McLemore, owner of Stone Truck Parts and 2010 Truck Parts & Service Distributor Of The Year, says bright spots for Stone have been with municipalities and government contracts. "We've been able to focus quite a bit on that, and it has really paid off for us. We've also been able to diversify our customer base somewhat."
Additionally, since most aftermarket businesses cut costs during the recession, they have been able to see higher operating margins even if their sales have not gone up, according to Kumar Saha, industry analyst, automotive and transportation for Frost & Sullivan.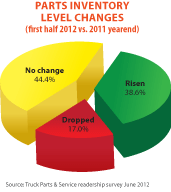 Several factors can be used to gauge the state of business in the aftermarket — employment levels, inventory levels, expansion of product lines and addition of locations.
Forty-five percent of survey respondents have added personnel so far this year. That number is down slightly from 51.6 percent who said they did so in the second half of 2011. Comments from survey respondents indicate that much of the hiring has been adding technicians to the staff.
Balancing inventory also is a challenge for distributors as they try to stock the right parts to meet customer demand in a market that one survey respondent described as "somewhat of a roller coaster ride."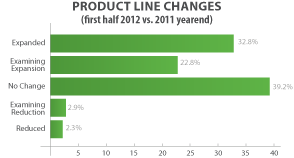 "It is very difficult [to manage inventory] because you get runs on stuff and you are scrambling to get product," Stewart says. "Then you get product in and sales fall off and you are sitting with product on your shelf. We crystal ball gaze as best we can and sometimes we are good and sometimes we are not so good so we run out of product or we look around and say 'Why do I have so many of that?' "
Another survey respondent summed up the struggle many distributors face, "We have been evaluating our parts inventories and find that we have over six turns per year with just a minimal growth in parts sales. This indicates to us that we do not have a high enough inventory level and we are having to order parts too often to complete orders."
Nearly 40 percent of survey respondents indicated they have increased their normal inventory levels so far in 2012. This compares to nearly 50 percent who indicated in the 2011 survey that they added inventory.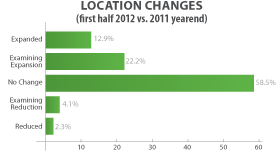 The amount of product carried is not the only important factor when it comes to inventory management. Distributors also need to review the product mix they offer.
Nearly one-third of survey respondents indicated they have expanded their product lines. This is just a bit lower than the 37.8 percent who said they added product lines in 2011. Another 22 percent of the survey respondents indicated they are considering product line expansion. Only 2.3 percent indicated they have reduced the number of product lines they carry.
"We are trying to purchase more wisely," says one survey respondent, "which has meant we have had to shop for better pricing for the same or similar items."
While the first half of 2012 saw 22.4 percent of survey respondents add locations, only 12.9 percent of the respondents to this year's survey indicated they have added locations. However, 22.2 percent say they are examining expansion.
Looking To Year's End
Trying to understand how the second half of 2012 will look as well as how aftermarket businesses will end the year, the survey asked respondents about their expectations for sales results in the second half and for year-end numbers.
Not quite half of the respondents expect second half 2012 sales to be higher than sales for the first half of the year. In 2011, 62.8 percent of survey respondents expected the second half of the year to be better than the first half.
Tim Bauer, director, Undercarriage Products, Meritor, Aftermarket, says the company remains "optimistic based on the indexes for the fourth quarter, but many distributors are pulling back on inventory and conserving cash as the expectation is the market will not perform as forecasted.
Aftermarket sales expectations
(second half of 2012 vs. first half of 2012)
Higher — 44.4%
Lower — 9.4%
About the Same — 46.2%
"Based on conversations and input from distributors and dealers, the aftermarket will be slightly softer for the remainder of 2012," he says.
One of the factors that may be tempering optimism for the balance of 2012 is the upcoming elections and the uncertainty they brings.
"I think one of our biggest risks is political right now," says Dave Clark, manager of business consulting for Karmak. "The direction Washington takes, the cooperation level out of Washington certainly can impact our industry as well as the market in general."
Reimondo does not expect things to change dramatically in the second half of the year.
"I think it is going to be flat. We don't see anything gangbusters and it being an election year I think there is a lot of anticipation of what is going to happen. I don't think things are going to change dramatically."
Expected overall annual Sales For 2012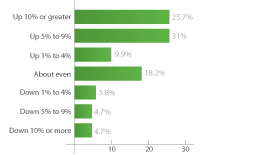 MacKay says his firm's forecast for 2012 is for the aftermarket to be up between 5 and 6 percent. "What we are seeing through the first three or four months parallels what we forecast, and I don't think we are going to be above that through the balance of the year."
He adds, "My perspective is there is an awful lot of uncertainty out there driven by things as far away as Greece and as close as what is going on in Washington. The fact that the economy is not really rebounding significantly, that unemployment still is high, I don't think the basic characteristics are going to change that much over the next seven or eight months."
But Tom Tecklenburg, director of global aftermarket for Timken Co., says his company remains bullish about the remainder of the year.
"There are a few economic indicators of housing starts being up year over year although still not back to the high trends of the mid-2000s. In addition, if unemployment goes down modestly and we can hold on to some manufacturing output, then we see this being a positive second half of 2012."
Bill Gryzenia, vice president and general manager, aftermarket for Dana Holding Corp., expects the second half to look much like the first half. However, he says, "We are experiencing a couple of slight up ticks here and there.
"With the [nation's] fleet being older than it's ever been, this will create the need for continued service and parts," he adds.
When asked where they expected overall 2012 sales to be compared to 2011, 25.7 percent of the respondents said up 10 percent , another 31 percent said up 5 to 9 percent and 9.9 percent said up 1 to 4 percent. In the May 2011 survey, a higher percentage of respondents saw larger sales increases.
An Action Plan
To remain profitable for the balance of the year and to position themselves for 2013, distributors, dealers and repair garages must continue to focus on business basics but also look at making some changes to the way they operate.
"They have to continue to be customer focused," Clark says. "They have to continue to improve the customer experience. And then the basics like cash management, asset utilization, profit margin improvement are going to be critical. Areas like training, process improvement, system improvements and upgrades also are going to continue to be critical."
One of those basics is inventory, Gryzenia says. "Product on the shelf continues to be extremely important. He who has the product available will win the business."
Livingston agrees, "All three segments — independent service garages, distributors and dealers — have to focus on inventory utilization. There are many options today for a fleet to purchase parts so if the distributor, repair garage or dealer does not have the part on the shelf that day or moment, the fleet will try the next one on its list and usually it will find the part or service it needs."
Reimondo also says there are things aftermarket companies need to do that are more strategic. "We continue to stress product line diversification. [They need to] look at product lines they are not currently in, look at product categories they are not currently in, look at expanding the basket of goods they provide to the market."
He adds, "In addition, we continue to talk to our guys about expanding into the service end of the business or expanding their service operations because we really do believe that down the road being someone who hangs parts on the vehicle is going to be a strategic advantage."
MacKay too is a proponent of adding service to a distribution operation. "We think service drives everything. Those businesses that are really putting the emphasis on service probably are going to be the companies that should have what I would describe as above average performance over the balance of the year."
Mastering technology is another key factor for success, according to Tecklenburg. "We have increased technology in the vehicles and the capabilities and personnel [of aftermarket businesses] need to be able to adapt."
Ultimately Livingston says the three segments "should create the best differentiating value for the fleet to 'win the business.' The segments must be complete solution providers for end users, because [fleets of all sizes] want answers and solutions to their problems, not excuses."
Saha agrees and says, "Independent shops need to become one-stop shops where they are expanding their service coverage so they can get more of the fleet maintenance market.
"One of the things we hear from fleets is they do not want to have 10 contracts in 10 different shops. They want to go to one place. It makes their billing easier; it makes everything easier to go to one place and make sure that one place is taking care of all their needs."
"If the three segments provide value-added services such as fast easy access, speedy delivery, and prove lowest cost of ownership (savings), they'll ultimately win business over the price seller every time," Livingston says.
Starting A New Year
A new year brings new hopes and new challenges, and 2013 will be no different. While no one can say with certainty what will happen next year, some were willing to hazard a guess.
"I am real hopeful that after the elections and after Congress decides what it is going to do with regard to the Bush-era tax cuts and capital gains taxes and stuff like that, [I hope] they keep everything in place," Stewart says. "[If they do that], I think 2013 might start off pretty well and might really be a good year."
MacKay explains that Bob Dieli, who does economic forecasting for MacKay & Company, does not see anything negative in terms of the economy for at least 12 months. "That puts us into the second quarter of 2013," MacKay says. "So I don't think there is any negative over the first part of 2013 that might be driven by a downshift in the economy."
Saha says the economy presents a bit of a slippery slope for 2013.
"I don't think the U.S. economy is going to go through any kind of major downturn, but there will be certain impacts from Europe and India. However, it will not be anywhere near as bad as it was in 2008 or 2009," he says.
Tecklenburg is more upbeat and says, "The positive sign is there still is a prediction for modest growth in the economy in 2013. That is an upside," he says. "If the economy grows, unemployment generally comes down. There continues to be more manufacturing increases going on versus the declines we had especially during the recession."
McLemore, however, feels there is uncertainty going into 2013, "It's so difficult to predict how much the economic conflicts in Europe will impact our economy and if so, by how much and when."
Livingston does not think the New Year will bring market expansion. "Opportunities will be in capturing a greater share of new and innovative products."
For not only the first six months of 2013, but for the foreseeable future, Stewart says "you just have to keep business going and keep products on the shelves so the customers will be served. It certainly is not as much fun as it used to be. It is a lot more like work, but that is what you have got to do today."
But he is quick to add, "None of us needs more than an 8, 9 or 10 percent increase in sales outside of inflationary increases. That would make the difference. It is not that we all need a lot; we don't need a 20 or 30 percent increase in sales for righting the ship. Anywhere between 8 and 15 percent would make a big difference."
Reimondo says the aftermarket is light years from where it was in 2009 and the industry has recovered well.
"If, in fact, the economy will stabilize and show some signs of real growth, our guys have made the adjustments necessary to not only survive but will jump on it and benefit from it as we move forward. We just need a break in the economy," he says.
However, MacKay is predicting what he calls a solid unspectacular recovery for the aftermarket and that might not be enough of a break.
"[The aftermarket] did not drop off anywhere near the way the truck and trailer business did. Utilization rates for the truck operators themselves are up," MacKay says.
The most recent MacKay data shows a 2.5 to 3 percent increase in overall Class 8 utilization through March. There was a small uptick in medium-duty utilization as well as trailer utilization being up a point and half.
"It is simply not a spectacular recovery, but I don't know that we've ever had a spectacular rebound in the aftermarket. But it is solid and it moving in the right direction."
EXPANSION OPPORTUNITIES
It seems as if new technology springs up every day in the trucking industry, and with that comes opportunity for distributors, dealers and repair garages to differentiate themselves if they can master the changes.
According to Bill Wade of Wade & Partners, there are several areas that are ripe for parts and service leadership, including natural gas vehicles, security solutions, owner-operator accessories, hybrids, under-hood exhaust, aerodynamics, telematics and light truck accessories.
Increasingly we are seeing growth of natural gas — either compressed natural gas or liquefied natural gas — in trucks of all sizes. Shell recently announced that it will be offering LNG at TA truckstops across the U.S., which is one step in addressing concerns about fuel availability.
"New parts and service opportunities arise from the difficulty of servicing these 'gas bombs' in a traditional shop setup and in sourcing vacuum sealed, cryogenic LNG storage tanks," he says.
Truck owners concerned about security may not have confidence in local alarm shops or locksmiths to meet their needs. "Selling and installing commercial service van locks, high security padlocks, GPS tracking systems and accessories, data exchange devices, Garmin FMI, video event data recorders and data collection terminals can put a distributor or shop in a whole new relationship with nearly every customer," Wade says.
He says he recently saw a leading truckstop expeditor at a distributor group meeting offering mobile electronic accessories, CB radios and accessories, in addition to general travel merchandise. He suggests distributors consider expanding their retail space to include items designed to enhance the convenience, safety and comfort of their customers' work environments.
Like natural gas powered vehicles, hybrid trucks are gaining popularity.
Pike Research forecasts sales will exceed 100,000 vehicles annually by 2017.
"Different drivetrains and battery technologies will be key drivers of market growth, as will global government regulations regarding diesel emissions," Wade says. And he reminds distributors to be aware of the fact there are government vehicle purchase incentives that can help spur growth in this market.
Emissions regulations also have created a whole new product category, under-hood exhaust, according to Wade. Many OEM designs include stainless steel pipes and pipes coated with a ceramic barrier inside and out, and DEF fluids and parts also present new opportunities.
With an increased focus on fuel economy, many fleets are looking more closely at aerodynamic devices on trailers and they represent the greatest area for improvement on the tractor-trailer combination. "All kinds of side and under trailer fairings and 'boat tails' offer a great profit opportunity," Wade says.
There also has been a surge of activity in the area of telematics with a broad range of products and services available. Safety is likely to be the key telematics business driver, according to Wade.
"Heavy truck-specific navigation, remote diagnostics, prognostics and electronic on-board recorders are the fastest growing product technologies," he says.
Some distributors already have realized that in addition to owning heavy-duty vehicles, their customers also have pickup trucks. These distributors have added parts like spark plugs, brakes and filters that fit those smaller vehicles.
"They also have found real profit opportunity in bull bars, floor mats, grille guards, headache racks, ladder racks, loading ramps and side bed boxes/storage drawers," Wade says.
While all of these areas may not be right for you, it is at least worth considering adding some of them to improve your margins or attract new customers.
AN UNUSUAL THREAT
Truck parts distributors always have had to deal with competition, but according to Don Reimondo, CEO of HDA Truck Pride, the competitive landscape for truck parts distribution is changing dramatically.
"AutoZone now has committed to bringing in 25 or 26 commercial stand-alone stores," he says. In fact one opened in Pontiac, Mich. earlier this year.
"This is not your traditional competition to the commercial vehicle aftermarket. The way we compete with these guys will have to be different than the way we have competed with our traditional commercial vehicle peer competitor.
"[This new form of competition] is much more savvy. They probably are going to concentrate on only the high-volume piece of the commercial vehicle market. They will touch it all the way from passenger car and light truck to medium-duty and Class 8. It is changing the face of competition. And our guys are going to have to adapt."
Reimondo believes it will require a different skill set to compete. "We are going to have to be very conscious of what [these new players] do. They have a much broader offering, and that is why we keep pressing expansion or broadening the width of the product offering we bring to the market."
He adds, "The question is, if you lose those fast-moving parts can you generate enough revenue and enough margin to keep yourself going? If the competition takes the low-hanging fruit at a significantly lower margin — because that is the value proposition they have — then it will be tough for us to compete."