Eleven years ago Truck Parts & Service embarked on a program to recognize the best in heavy-duty truck parts distribution. The award continues to stand as the independent aftermarket's most respected and highest honor.
This year's nominees for Distributor of the Year are the top performing distributors, as chosen by their peers, representatives from parts suppliers and manufacturers and other industry leaders.
For the first time in the award's history, this year's finalists include some previous winners. All five nominees have demonstrated mastery in key areas of their businesses including: training, information technology, new product launches, facilities, EDI, marketing and business fundamentals.
Beginning in the June issue and running through the October issue, Truck Parts & Service has revealed one finalist each month through question-and-answer style articles, which are available online at www.truckpartsandservice.com.
In this issue, we profile all five distributorships taking a more in-depth look what makes them unique. We also explore their best practices and what they do to keep their competitive edge.
Please join us in congratulating this year's finalists:
Dave Scheer, president and CEO, Inland Truck Parts Company, Overland Park, Kan.
Mike Callison, president, and John Minor, executive vice-president and COO, Midwest Wheel Companies, Des Moines, Iowa
Paul Raymond, president, and Andy Raymond, vice president, administration, Parts for Trucks, Dartmouth, Nova Scotia, Canada
Bill Ryan, CEO, Point Spring & Driveshaft Company, Pittsburgh, Pa.
Andy Robbles, president, Six Robbles Inc.', Seattle, Wash.
The winner of the 2012 Truck Parts & Service Distributor of the Year Award will be announced during Heavy Duty Aftermarket Week in Las Vegas, Jan. 21-24. 2013.
Inland Truck Parts Focuses On Its 'A' Game

Technology, information and training rule.
By Denise L. Rondini, Executive Editor
Today's aftermarket is a very different one than the one Dave Scheer, president and CEO, Inland Truck Parts Co. competed in when he was named Truck Parts & Service Distributor of the Year in 2002. One thing that hasn't changed is Scheer's desire to have Inland Truck Parts always strive to be its best.
Making Information Available
Information is a vital component in the company's success. Scheer is actively involved in trying to get Right To Repair legislation enacted, but his efforts do not stop there. Recently he assigned a staff member the task of making sure component information was available at the fingertips of all Inland employees.

"We are consolidating information into one knowledge database so that at the click of a button the user can get the information he needs about any component we sell," he says.
For example, if a customer calls about a differential, the system will prompt the counterman to ask the customer additional questions about ancillary items he might need such as gaskets, and to give technical information such as required torque specifications.
"We plan to have everything the inside or outside salesperson needs to do a complete job for the customer in our database," Scheer says.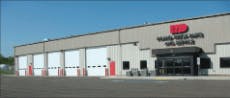 He adds, "One of the main things we sell is the knowledge we have. When a customer calls us we need to provide knowledge and solutions for his product. We always have done this but now we need to leverage that electronically."
Laser Focus On Training
Training is so important at Inland Truck Parts that Scheer invested in having a training facility built. It will have six remanufacturing stations and work stands for differentials, manual transmissions and Allison automatic transmissions. There also will be two drive-in service bays and a driveline training areas.
"Technicians are difficult to find and we find them with different skill levels, so to enhance a person and improve his skill set you need to provide training."
However training does not just focus on improving technical skills. "We have a myriad of other people who are supervisors and managers who need soft skills training. How do you discipline? How do you communicate? How do you resolve conflict? We have provided and will continue soft skills training," Scheer says.
Leveraging Technology
To help improve overall efficiency and support the company's focus on providing complete information to its employees and customers, Inland is moving from a character-based software system to a graphical system. "This will ensure that we have the right computer software to grow and the capability and scale to meet the growing needs of our company," Scheer says.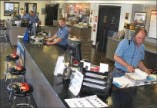 Part of the impetus for the switch was that most manufacturers are no longer producing printed catalogs but rather are relying on electronic versions.
"Their information is on a website that has links, diagrams, photos and videos. You can't effectively use those with a character-based system but with a graphical user interface system you can," he says.
While Scheer believes Inland could have continued to use its current system for another 10 years, he felt the business would keep getting further behind. "We felt we had to invest in this system so we are prepared to provide customers the information they need moving forward."
He adds, "The software package that we are buying is not a canned system. It is an open system so we can implement what we want. Our philosophy is that we want our computer system to be a tool to augment or facilitate the way we want to do business. We don't want to shape the way we do business around the capabilities of our computer system."
Facilities Reflect Capabilities
Another area where Scheer has made an investment is in his company's facilities. "We are two-thirds of the way to be being done upgrading all our facilities. They are nice, well-lit, professional looking facilities. We look a lot like a dealership," Scheer says.
Professional looking facilities is only part of what Scheer is striving for in terms of the company's image. "It is a number of other things. It is our vehicles, it is the way our people look, the way they dress, the way they answer the phone, the way we interact with the customers."
Scheer says Inland has been working for the past 15 years on elevating its image in the marketplace. 'We have been in the situation where you had a dealer and an independent [in the same market] and the dealer always was perceived to be the best," he says.
"We wanted to do something to change the market perception of us as an independent to show we are as qualified as the dealer," he says.
Scheer recognizes that since customers are paying upwards of $100,000 for their vehicles, "they want to go to a place they believe is willing to invest in the tools and systems to correctly fix their vehicles. That is where we had to go.
"As trucks become more complex it become more difficult for anybody to work on them and we wanted to be in the position where we would be considered to be qualified and as good as the dealer."
Getting The Fundamentals Right
Given the competitive nature of the aftermarket, Scheer says it is important to make sure Inland does all the fundamental things correctly. "You have to buy right, you have to maximize your margins, you have to be efficient in the way you run your business," he says. "You can't have waste in staffing and expenses, or inefficiency in managing your business. You have to correctly manage your inventories."
One way the company manages its inventory is to involve the executive management team in the decision to carry a particular product or brand.
"A brand change would first go to the executive team to talk about why we prefer one brand over another and look at what they have to offer," he explains. "If it looks promising we take it to our managers and work with the vendor to develop a new product brand change implementation plan," he says.
"We look at how are we going to train our people, how we are going to market the product, what will be the vendor's role in the training, how much will we inventory?
"Then when we go to market with a new product we are equipped from a knowledge standpoint and from an inventory standpoint to sell the product effectively," Scheer says.
Decentralized Marketing
While Scheer sees his facilities and staff as part of the overall plan to market the business, Inland does other types of marketing as well. "We develop marketing plans by location. We have a decentralized model where we treat each store as an individual store that is serving in the market where it is located," he says.
This gives some autonomy within each market and recognizes that there are differences in the various markets that Inland serves. "Many things are similar from market to market, but also there are some differences. There are differences in timing for instance of when harvest is. If you are south harvest is at a different time than if you are north so that drives somewhat the marketing efforts for each store."
Each year each store manager develops a twofold marketing plan. A portion of it drives what is done operationally in the store and the other part is marketing and advertising. "The marketing agency will develop its side of the plan and the managers will develop the operational side. Then we marry the two together for an overall location business plan for the year," he says
Part of the plan includes open houses and working with vendors. "We will go to a vendor and ask if they would like to promote their products. It could be through clinics, assisted field visits or it could be messaging through print ads, billboards or radio," Scheer says.
Providing It All
Scheer believes that one of the things that sets Inland apart is all the different things it provides. "We provide parts of course, but we also do remanufacturing and we do drive-in service all in one facility. There are very few people like that," he says.
"You go to dealers and they do drive-in service, but they don't do reman. We can bring a person into one of our facilities and we can basically work on their vehicle from bumper to bumper. We have control of the entire process. We have all the parts available for them in the same facility. If they need a transmission rebuilt we have it right here in our own facility," Scheer says.
Providing it all is part of the company's commitment to customer service. "If we want to command the kinds of prices we do, we have to really make [the customer's] buying experience exceptional. We used to be able to differentiate ourselves by the products we carried, but that is not true anymore. So we have to do something else to make the buying experience unique and memorable and give the person a reason to come back."
The fact that since 2002 Inland has been 100 percent employee owned (the employee ownership process first began in 1982), also factors into its customer service focus, Scheer believes.
"Our employees are invested emotionally [it what happens here] because they have some skin in the game," he says.
Midwest Wheel Growing In New Directions
People, processes and marketing support are important keys.

By Denise L. Rondini, Executive Editor
A lot has changed since 2004 when Midwest Wheel Companies was named the Truck Parts & Service Distributor of The Year. According to Mike Callison, president, perhaps the biggest change has been consolidation. "For one thing there were more independent distributors back in 2004," he says. "And there probably were more choices in suppliers."
All this consolidation has forced Midwest Wheel to be better at what it does, Callison says, because customers also have become more demanding.
"You have to drill deeper and keep your processes in line. Everyone talks about customer service, and that always is a given. You have got to reduce mistakes. People today will put up with fewer shortfalls than they used to and I don't think that is ever going to change," he says.
New Directions
One thing that has changed at Midwest Wheel is the type of products that are offered. "Midwest Wheel has added products over the years to be more of a supplier to our customers," says John Minor, executive vice president and COO.

Callison explains that in 2004 when they considered adding a product line it had to fit with what the company was already doing. "Now it can be something completely different. It can be a totally new product," he says.
As a result of this change in philosophy, Midwest Wheel now carries automotive accessories, and products for transmissions and hydraulic systems. "We also are doing a bit more in industrial-type distribution," Minor says. "It is not a large part of our business, but it is a growing part of it."
Midwest Wheel's customers can expect to get most of their shop supplies/equipment, tractor/truck and trailer parts delivered daily, according to Minor. "We feel we have the system in place to market and deliver products of any kind that fit our customers' needs. To be successful doing all of those things requires accurate, on-time, professional delivery," he says.
"Our customers can make one call or order online, and get one delivery, one invoice and consistently talk to the same person year after year."

While the type of products carried may have changed, the process used to add products has stayed the same. "We get together as a team and analyze products that are offered to us," Callison says. "We try to figure out what the volume is going to be. We like the products we add either to be a natural transition from what we already have or something we feel there is a need for in our market."
Once the decision is made to bring a new product on board, it initially is brought in on a small scale and tested in several branch locations to see how it performs before being added at all locations.
Training Is A Constant
To make sure its staff is well informed, Midwest Wheel keeps a training checklist on its calendar.
"We review it from year to year," Callison says. "Every year we do the same training seminars about our main product lines just to get people up to speed and to keep the veterans sharp on their skills."
The company holds an average of two to three product training or skill training sessions a month. These trainings often are conducted via webinars. "We are working toward more of a skill training curriculum for employees on things like how to answer phones, how to improve customer service, that type of thing," Minor says.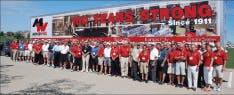 Mike Callison Jr., marketing specialist/training coordinator, is responsible for the company's training and safety programs because, according to Minor "they go hand in hand."
Twice a year there are company-wide meetings "where everyone comes off the road and meets in one place with a variety of different manufacturers over two to two-and-a-half days," Callison explains.
In addition, every other Friday Midwest Wheel holds a business review webinar for all its managers and salespeople. "We cover any customer service issues, marketing, changes in programs, prices changes, new products that have occurred," he says. "It is kind of a state of what is going on in the business."
EDI, VMI & Technology
Midwest Wheel uses EDI with most of its vendors and has been using vendor managed inventory for the last 12 years.
"We have close to 20 percent of our products purchased using VMI," Callison says. "And although we have almost twice the volume as we had in 2004, we have not added any product managers since that time, and VMI is the explanation for that."
Midwest Wheel was one of the pioneers of HDeXchange. "It has been a long road trying to get critical mass on both sides — the member side and the supplier side."
Steve McEnany, vice president of marketing and technology, is responsible for the company's website and intranet, which is used to disseminate information to Midwest Wheel employees.
Growth Impacts Facilities
Growth at Midwest Wheel has occurred faster than the company's ability to expand physically, but "we are running trying to catch up," Callison says. "We are very proud of the store we developed in Davenport, which we refer to as our SuperStore, along the lines of a Lowe's or Costco.
At this facility the warehouse is partially a display area. "About half of our store in Davenport is devoted to display, and it has been very successful," he says.
Currently, the company is in the process of expanding its Cedar Rapids location and since 2004 also has expanded its Kansas City location. "We are in a fairly new facility of 35,000 sq.-ft.," Minor says. Cedar Rapids is getting a new warehouse, which is being attached to the existing warehouse.
"We are constantly moving things around," he says. "We added 30,000 sq.- ft. in Des Moines in the last few years, so we have expanded quite a bit."
The Importance Of Marketing
A four-person marketing department is kept busy promoting the capabilities of Midwest Wheel.
"I have been gone for two weeks and I have approximately three inches of marketing material, which has been produced mostly in house, waiting for my review," Callison says. "That is about right, we produce two to three inches of [marketing material] each month."
Minor says that about 90 percent of all of Midwest Wheels' marketing pieces are produced in house. "We use very little manufacturer or supplier literature," he says. "Obviously we glean information from them, but the idea is when we go into the marketplace we want our name first. That has been our philosophy for as long as I can remember."
TQM Is Not A Buzzword
Callison and the management team at Midwest Wheel embraced Total Quality Management a long time ago and still are adhering to its principals. "We meet periodically with the steering committee to review the processes we put in place," he says. A team is assigned to each process in order to eliminate things like errors in transfers between branches, with customers, and to improve overall efficiency.
There currently is a team assigned to review the work product of the other teams. "The work product from five years ago probably is no longer as valid as it was," Callison says. "This is our first time trying to review it all. It is a huge job just because we have had so many teams. The processes tend to leak away from what they were when they started so we need to bring them back toward the standard."
People Make The Difference
Callison and Minor attribute most of the reason for Midwest Wheel's success to its employees.
"Our success and stability in the marketplace comes from the hard work of our veteran team," Minor says.
"Our management, sales, counter, delivery and warehouse teams know what it takes to give consistent service every day. We have team members who understand and are experts in this industry."
Callison adds, "Our people are very intelligent, highly motivated and quite talented. Our job [as managers] is to give them the tools they need to do the job they want to do. The motivation and intelligence comes from them, and we do a good job of finding those kinds of people."
Because of its expansion, Midwest Wheel is faced with having to look for new employees. "It has never been easy if you are looking for the top 5 percent," Callison says. "While it has never been easy, it is getting a little more difficult."
One way the company has dealt with the personnel issue is to focus on bringing in people with no industry experience and mentoring them. "It seems to me the people we bring up within the company work out best and certainly add value long term," Minor says.
Fortunately, there are people within the organization who are willing to step into the role of mentor.
"A lot of our people really lend a helping hand to our newer employees to get them up to speed and help to develop their full potential quickly. I think this happens because everyone understands their role and what needs to be done," Minor says.
Perhaps the process is aided by the fact that in 2009 the shareholders of the company opted to create an ESOP.
"Each and every individuals here within a year becomes a shareholder of the company," Callison says.
"I don't know that we have been at it long enough to show concrete results, but I do know that it does add an esprit de corps that is hard to gain any other way."
Diversity Still Rules At Parts For Trucks
A combination of innovation, investing in facilities and a focus on inventory management has led to long-term success.
By Denise L. Rondini, Executive Editor
Continuing to expand its product line, markets served and customer base has allowed Parts for Trucks to continue to grow even when market conditions are soft. "When things get tough, having a diversified product range and diversified customer base really makes a difference, and I think was a big part of us getting through the recession," says Paul Raymond, president.

Andy Raymond, vice president, administration, explains the Canadian distributorship has locations in both cities and rural environments.
"The urban environments have a heavy emphasis on construction, while the rural economies are more resource based."
In addition, Parts for Trucks' customers encompass small fleets, large fleets, construction companies, government fleets and utility companies.
Emphasis On Facilities
Parts for Trucks has moved to a number of new facilities in the past year and most recently moved into a new store in Newfoundland.
"We have a couple of other projects on the drawing board, which gives us momentum to continually improve what we offer to customers," Paul says.
In fact, Andy believes Parts for Truck facilities have become part of the company's brand. "A store that is pleasant to walk into, pleasant to do business in and that is a nice place to work is part of who we are," he says.
Investing In IT
Facilities are not the only place where Parts for Trucks has made an investment. The distributorship has long invested in technology that helps it operate efficiently.
"We have invested well in our IT," Andy says. "We haven't really made any steps we regret. We have put a lot of money into our IT structure to develop it, and we still are developing it."
Parts for Trucks invested in a variety of technologies before many of its peers did, and currently is working on implanting a mobile application that will be accessible through tablet devices. "We think we are quite progressive in terms of what we do [in the area of IT]," Andy says.
He is quick to add that they spend their money wisely. "It is important to spend the money well, but we don't stand pat. We continue to keep up. We have a small IT staff, but they are very well trained and are a key part of our success."
Product Mix
Relying on its product management team, reviewing its sales and working closely with manufacturers is how Parts for Trucks determines which new products to add to its inventory. Andy says the distributorship is seen by suppliers as an attractive place to market products so they are approached regularly to consider a new product.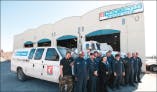 Through participation in VIPAR Heavy Duty as well as attending HDAW, CVSN and HDDC, the Raymonds say they can keep up to date on product developments.
"Our customers want to hear about new products from us," Andy says. Part of the reason for the warehouse expansions was to allow more parts to be stocked.
"Much of the growth we have experienced in the past 15 years has been from expansion of our product lines," he adds. "There are some key products in lubrication, electrical and fuel that we weren't selling much of 10 or 15 years ago that have become key product areas for us today."
Paul says the distributorship has worked hard at addressing obsolete inventory. "As lines are identified as no longer making sense, we try to return what we can. Rarely do we drop a line entirely; some just wither away. The key for us it make sure we get that inventory out [of our warehouses] so it does not become obsolete."
Andy sees proper inventory management as a key issue for all distributors and adds, "We endeavor not to make any inventory decisions by accident. When we stock something, we stock it deliberately."
Parts for Trucks uses what the Raymonds call a highly sophisticated inventory software package to set ordering levels, but also does a fair amount of non-stock business to satisfy customer requests.
The company also uses a central warehouse for many of its products, and some products with limited demand may not be stocked at an individual store, but they will be in the warehouse where they can be shipped overnight to the location that needs them. The 30,000-sq. ft. warehouse was set up in 2009, and work is processed with bar codes and wireless input devices.
Keeping Them Trained
While the size of its territory complicates the training process for Parts for Trucks, Andy says, "We use every opportunity we get to train people."
Training can either be vendor supplied or conducted by Parts for Trucks own in-house experts in areas such as suspensions, wheels and truck-mounted equipment.
The Raymonds say training has changed in the past few years as the employee pool has changed. In the past, many employees came to Parts for Trucks in their 20s with limited knowledge. Today they are finding people who may have worked in the automotive industry for part of their career.
"It is a different kind of training," Andy says. "We are filling in the gaps rather than starting from scratch. We are more sensitive to filling in the gaps and accelerating the training to people who come to our company with a mixed background and a mixed set of knowledge and skills."
However, Paul says that while in the past computer literacy was a problem, today's prospective employees "are very comfortable with a keyboard and mouse.
"By and large today's young people have worked in fast food restaurants so they understand some basics of customer service, how to smile at a customer and how to talk to them. So while they may be lacking in some areas, they have knowledge in others."
Spreading The Word
Parts for Trucks relies on its team of road salespeople to get the word out to the market about the products and services it offers. "We invest heavily in them and the training they get. They are regularly calling on a good portion of our customers," Andy says.
To supplement its sales staff, monthly flyers outlining parts and service specials are sent out to customers.
One unusual way Parts for Trucks promotes itself is by sponsoring a local stock car circuit. "We sponsor the tour so drivers in our part of Canada compete during the season for the Parts for Trucks Cup," Andy explains.
The Raymonds also see the stores themselves as part of the company's marketing efforts. A large LCD screen behind each parts counter is used to stream information on the various products the company carries. "While the customer is waiting he can look up and we are telling him about the next special we might have or highlighting a new product we are carrying," Andy says.
Building Relationships
One business fundamental that Parts for Trucks adheres to is taking a long-term view of its place in the market and its goals. "We want long-term growth," Andy says, "so we want to build long-term relationships with our customers and with our employees. And we want to keep investing in the company.
"We continually want to offer a better place for customers to shop, better service and a better place for our employees to work. That is our core philosophy."
Paul says that while all distributors work hard to service their customers "sometimes it gets forgotten that you are a business owner and you have certain expectations as to your return on investment. It is about running your business properly in terms of cash, profit, investment, etc. You have to maintain attention on those fundamentals."
It's Place
Location plays a key role for Parts for Trucks. "We are in a special place in Canada," Andy says. "We are in a relatively sparsely populated part of Canada."
Paul says the territory Parts for Trucks serves is geographically the size of North Carolina, South Carolina and Georgia but its population is barely over two million. "We have 6 percent of the population of Canada, and Canada is about one-tenth of the population of the United States and yet we do some significant volume. We have a very strong marketplace and a good market share."
He adds, "We have done this by adding branches, keeping those branches looking smart and keeping our people on the street calling on customers."
Paul also thinks the fact that Parts for Trucks has service at some of its locations has helped it grow. "We have about 80 technicians and we think that is a significant part of what we are doing. [Having service] gives us better insight into what our fleet customers are going through. We work hard at it and it presents a whole set of challenges that are different from the parts business, but it is another thing we do to part of the industry and to grow our business."
Point Spring & Driveshaft Builds On The Fundamentals
The right people, technology and service have starring roles.
By Denise L. Rondini, Executive Editor
drondini@randallreilly.com
Bill Ryan, CEO of Point Spring & Driveshaft Co., is very adamant about one thing: mastering business fundamentals is essential for business success, growth and longevity.

"I think people try to get fancy and try to go after the next trend," he says. "We have been a business that has tried to really stick with the fundamentals because if you are not doing the basics correctly, you don't have a foundation to build on. If you try to build on a weak foundation, you just don't go anywhere."
As a result, he adds, "Managing inventories is absolutely imperative. Managing our cash flow is absolutely critical, going after receivables, making sure our managers' bonuses are based on income and sales and their inventory management and how they collect money, these things are important. This is what it is all about."
Surviving The Bubble & Looking Beyond
Market conditions have changed dramatically since 2005 when Point Spring & Driveshaft was named the Truck Parts & Service Distributor of the Year, yet relying on the fundamentals allowed the business to make it through relatively unscathed.

"We really did not cutback on services and we made a conscious effort not to cut back on people," Ryan says. He met with his managers and told them that expenses needed to be reduced and anything that was not necessary needed to be cut.
"Obviously we eliminated overtime, but we made a concerted effort not to let anybody go because we know this is a cyclical business and that it would come back. We did not want to lose good people. We had established a pretty good team and we did not want to cut somebody good who is on the team if we didn't have to," he says.
Having the right people in place contributed to Point Spring not only weathering the storm but continuing to thrive.
However, Ryan says one of the biggest challenges he faces is finding people who can step into leadership positions in the future.
"This industry has been one where you had some good people come in, work a lot of their career and get moved into key management positions," he says. That system has worked for Point Spring, but now means the business is a little short on business school graduates.
"We probably are lacking in MBA-types that I really think we are going to need over the next 10 to 20 years. That is something we are trying to address. We will be looking at more people — not necessarily younger people — who have the MBA-type background to help us get to the next level."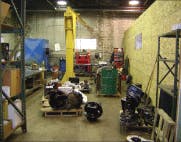 To reach this goal, Ryan has made investments in "people who have been in competitive situations who we thought brought talents and expertise we were lacking, people who could grow into another position." But he is quick to acknowledge that that is a short-term solution.
Beyond that Point Spring is recruiting at colleges, "and we have an eye on some younger people to develop over the next five years," he says.
Focus On Training & Marketing
Point Spring takes full advantage of any available technical training to help ensure that "our people are good product people," Ryan says. In addition to that, Adam Diecks, marketing director, in conjunction with Point Spring's sales manager, has put together a program to train the sales organization.
"If you look at what we are," Ryan says, "we don't manufacture things; we are a sales organization so we focus on that."
The training began with the outside sales force. "But then we brought training in with the idea of building a team. So the inside salespeople now are getting trained and then there is a component for the delivery drivers that is being developed. If you look at those three groups of people, that is probably 65 percent of our organization," Ryan says.
"When they finish, we will be reaping the benefits of it. It keeps everyone focused and looking the same way. It allows us to help people develop their strengths."
According to Diecks, Point Spring's outside sales force is one of its best marketing tools. "We have 15 to 20 guys who are out on the street every day seeing their current customers and seeing new customers. We do a lot of training with our guys — sales training and product training. One of the things we tell them is not only are they selling a product but they are selling the same product as a competitor."
He adds, "If we train them in how to sell themselves and how to sell the features and benefits of Point Spring that the competition doesn't have, then it does not come down to a difference of a quarter on the part we are selling."
Point Spring does not do a lot of mailings to promote itself, but it does partner with key suppliers who go out in the field with the sales staff. "This shows customers that if they have a problem and our guys can't solve it, we will bring in manufacturers to help out," Diecks says.
Technology's Place
Ryan says he relies on Diecks to look at technologies that need to come into the business. "We are not a telecommunications business, but we need to bring those kinds of technologies into the business to facilitate what we are doing," Ryan says.
Point Spring uses a homegrown software program. "We make sure it does whatever we need. We really are nimble with it. If we see something that has happened in the field in the way of sales or getting back to basics, we can program it and make it happen. That is a real strength for us."
Point Spring also has a technology committee that is looking at what the sales force will need over the next five years and how it will help them be more effective in the field.
EDI and VMI also play a big role at Point Spring. "That has been one of our biggest initiatives over the last 10 years," Ryan says. "We have really pushed it." So much so that Point Spring has been a beta site for at least one manufacturer's online ordering system.
"VMI just made sense for us so we made a full-court press for VMI and that has made a difference for us. Whenever we can we utilize EDI in the way of advanced shipments, information from vendors to us, from us to vendors and from customers to us," he says.
"We have online ordering for our customers. Where ever we can put EDI or some electronic thing in place, we try to do it," he adds.
Fitting In New Products
Point Spring uses a select roll out option when it adds new products, picking one or two stores as test sites.
"If you are going to bring in something new that people are not familiar with, they tend to shy away from it," Ryan says.
"If we have a location where they are having some success, it is much easier to migrate [the product] to other locations."
John Rader, vice president, is constantly reviewing products. In addition, staff members attend HDAW and Point Spring is a member of HDA Truck Pride.
"Those are times we really are kicking tires and finding out what is out there and doing an analysis to see if it makes sense to bring a product in," Ryan says.
As an 87-year-old company, Point Spring has taken on numerous product lines, too many in Ryan's estimation.
As a result, one of the things the company currently is doing is consolidating some of its product lines.
"That is something you continually have to do. There is obsolescence, there are some product lines that don't make sense in the market anymore," he says.
Future Growth & Service
In the past most of Point Spring's growth has come from both greenfield operations and purchasing companies.
"Right now unless someone brings us an opportunity that we believe is good fitting and makes sense for us geographically, we probably would go with more of a satellite location," Ryan says.
"That way we do not have a commitment in brick and mortar, tons of inventory or personnel. That will allow us to get a good feel for what a market requires and how it is going to grow. We will have a presence in the market but we may not [initially] have a facility."
All but one of Point Spring's locations have service and Ryan sees service as vital to the company's success.
"Going forward to be able to service what we sell — and we prefer to do it without [an OEM] nameplate on the door — makes us different," he says.
"Obviously we view the competition as the dealer network so we have to be more nimble and have better relationships. That seems to be working for us."
At Six Robblees, Careful Choices Pay Off
A shared vision and thoughtful evaluation of options have served well.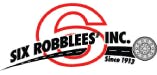 By Denise L. Rondini, Executive Editor
After seeing some of his customers close up in 2009, Andy Robblee, president of Six Robblees' Inc., says his business is starting to have some growing pains. "We have to add services, add people and add inventory as the market has started to come back," he says.
Communicating The Vision
Robblee has a clear vision of not only how he wants to deal with these current growing pains but for the business overall. His challenge is to communicate that vision to the other 170 people who work at Six Robblees.
"I [have to] communicate the direction I see the company needing to go in. I have to make the employees passionate about it so they can communicate back up stream and see that we want to go in this direction but we need to make a couple of changes. If we do this, I see opportunities for us."

The communication process can be encumbered by the geographic distance between the company's locations. "We have branches in Billings, Seattle, Oakland and Fairbanks," Robblee says. "So geographically the distance is huge, and the problem is you can't cover that distance in a short period of time."
Hiring & Training
Robblee believes that people are his most important asset.
"Often we hire people who are good, quality people with tons of ability but who might not know the particulars of our business," he says. Robblee says it can take many years to develop all the aspects of how to be a good counterperson, salesperson or manager.
Plus there has to be an understanding of customers, vendor relationships, employee-to-employee relationships and teamwork. "So training in all aspects is necessary," Robblee says.
"We all need refresher courses; we continually have to provide education and not get too confident that we got this last year and we are good for a while."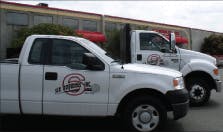 Robblee says he is fortunate to have a good team to help with training. "We have a very strong management team at the branches and in Seattle. There are many people working on different aspects of training, which is great because it gives us a constant reminder that we can't expect employees to know everything. We have to coach them, teach them, encourage them and be supportive of them," he says.
Weighing IT Solutions
Technology is important in every business and Six Robblees is no exception. "We live right in the heart of Microsoft country," Robblee says, "and we stick out like a sore thumb."
He is quick to add that he sees value in technology but does not feel the need to be on the bleeding edge as some other area businesses do. "We may be the bleeding follower. We weigh our IT options and see what the value is. What is the technology going to bring? What is there to gain and the reason for doing it?"
Currently Robblee is working on getting computers to his outside sales force. "I see value in a salesperson being at an account where a question comes up about the availability of an item and how much it costs. Rather than making a phone call, he can just type on his tablet or laptop and be able to give an answer."
Moving forward, Robblee says he plans to invest in projects where he can see gains and efficiency improvements, but it is going to be technologies that already have been tested a little bit.
"We are going to make sure the technology fits who we are and then stick with it," he says.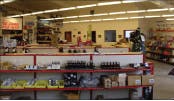 Six Robblees currently is using EDI to some extent. "We just transferred over to a new computer system and we are trying to get some of that back up to speed," he says.
The company also has started conversations with vendors about vendor managed inventory. "We learned what we need from our software to make that happen and that is something we will be pushing into more in the future," he says.
"In general, we are interested in anything that simplifies the [inventory] process."
All Or Nothing With New Products
New products get added most often if someone within the organization sees a reason they should be added. But suggestions also can come from vendor salespeople saying they see a potential for their product at Six Robblees. The impetus also may come from internal research or customers expressing a need.
"Basically it requires someone to champion it," Robblee says. "It needs someone to say 'I see potential in this' because there are a lot of hiccups along the way."
If there isn't someone willing to push through those obstacles, Robblee says the new product addition is going to stumble.
Once the decision has been made to take on a product, there is a process in place to ensure a smooth introduction. "We want to get everyone on board," he says. "A one man band is not going to make this work."
Robblee says the company has had several instances where a product was successful at only one or two branches. Over a longer term, he says, that product usually was not successful company-wide.
"It usually requires several branches to get us volume, to get it up to speed, keep it there and to keep us up to date with what is going on. If only one branch has knowledge, it is a bit tough for us as a company to make the product go."
As for removing products from inventory, Robblee says that is easier.
If a product has not had movement in a year, he questions why they are continuing to carry it. Before dropping the product, the company will look at factors that may be contributing to the drop in sales. "Are we not getting sales training? Are we not getting factory support? Are we not putting any effort into it? We look at all those things," he says.
Robblee reviews sales reports and can see quarterly data compared to prior year. "Then we can try to figure out what is going on if there is decline in sales. Is our price out of whack? Is it our competition getting more aggressive? Has the customer figured out another solution?
"These reports give us a heads-up about what products we need to start paying attention to and either cycle out or bring in the new updated model," he says.
Freshening Up Facilities
Six Robblees currently has an effort underway to dress up its show rooms. Earlier this year Robblee was at the Anchorage store and asked them to start some remodeling. "They did a fantastic job of freshening up the showroom," he says.
But then not long after the work was completed, Robblee got a call from another company looking to be acquired. "We did all this work on the branch, but then it looked like the best move for us was to [relocate] to this other facility."
However, he still is committed to improving the look of the showrooms while acknowledging the warehouses are in good shape. "We are about 50 percent there [with the showrooms], where we have some very nice looking showrooms, but we also have some that because of lack of space or lack of creativity still need to be dressed up to make them more of a sales tool," he says.
Robblee believes the showrooms can be used to display items customers might not know Six Robblees stocks, including accessory items like mirrors, load control devices and impulse items.
"When a person walks into your showroom, they are seeing what else you carry and then can see that you are the place they can come to for filters, lights or whatever," he says. "The showroom allows you to show off everything you have and also allows you to gain a little price bump for those accessory items where you are not on the street fighting price, price, price."
In addition to using its showroom to sell its products, Six Robblees relies on word of mouth.
"It is our salespeople going out and telling our story. We supplement that with flyers, catalogs and specials along with training by factory reps, but it really is our people going out face to face with customers telling our story," Robblee says.
Mastering The Basics
Robblee says it is critical for the company to execute well on business fundamentals. "You have to have someone who knows what they are doing and we have several. I feel I have a pretty decent grasp of it, but it is a challenge," he says.
During the 2009 downturn, he saw a significant drop in sales in the first four months. "I had to start to look at where we were going to trip and where we could get efficiencies."
He adds, "We survived the last four years very profitably and I think it came down to focusing on the fundamentals and not allowing us to get exuberant or go on a spending spree or jump into things that didn't make sense.
"Watching expenses, investing in the right opportunities is part of the challenge and something I enjoy."