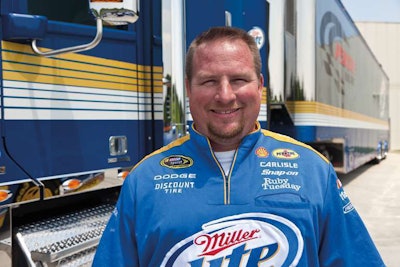 Dan "Barney" Collins may not be Penske Racing's most famous man behind the wheel, but he's arguably among its most important.
Newly minted NASCAR Sprint Cup Champion and driver of the Penske-owned Miller Lite Blue Deuce, Brad Keselowski, may attract the headlines, but it's Collins that drove (literally) both Keselowski and boss Roger Penske to the team's first Cup Championship.
Collins and his partner, Mike Williams, drove the transporter for Penske's No. 2 Dodge team that won five races this season and the 2012 Cup title last month.
"Everyone enjoys when you win a race or, in our case, a championship," Collins said. "It's a competition and, being on a team, you want to win. It's a cool experience."
Collins, a former U.S. Air Force aircraft mechanic, got his start in racing in 1995 hauling Indy Cars. He joined Richard Petty Motorsports' Nationwide team in 2002 before jumping to Penske four years later.
"I had a friend in college who was part of a race team," Collins said of his entry into the sport. "I worked around the shop and did whatever they needed me to, and I worked my way up from there."
Collins soon found himself trying to balance his studies with hauling IndyCars and equipment around the country.
With legends like Mario Andretti, Dario Franchitti, Richard Petty and Roger Penske, the list of talent Collins has worked with over the years reads like an auto racing hall of fame ballot.
This year, Collins finds himself associated with one of NASCAR's hottest rising young stars.
Mode of Transportation
On Sundays, Keselowski straps himself into the No. 2 Dodge machine for a three-hour, 200 mile per hour dash. Collins buckles himself behind the wheel of a 2012 Freightliner Coronado, which goes significantly slower, about four days earlier.
"We get new trucks about every two or three years," Collins, who has piloted a Coronado since 2002, said.
The miles add up on the Coronado at a rate comparable to other single-driver rigs – about 80,000 miles in a nine-month season.
"Depending on the schedule, we'll leave out late Wednesday or early Thursday," Collins said. "Usually, we'll get back late Sunday night."
Monday is generally a day off for the team, as is half of the day Tuesday. However, some stretches in the season can obliterate down time.
"Sonoma is our longest trip," he said of the haul from the team's Charlotte, N.C. garage to Northern California. "That's a 48 hour drive. We'll leave from the shop for Sonoma, come back to the shop and head straight to New Hampshire. It's coast-to-coast in about four or five day's time."
On extended west coast runs, Penske will send a six-car hauler for all its racing teams where teams can coordinate a swap of cars and replenish equipment.
Those trips will keep Collins and his team on the road for upwards of three consecutive weeks.
Race day
Fans pack the stands by the thousands for 36 races every year, but Collins – who's right in the middle of the action – watches very little of it.
"I barely watch any of it," he said, citing race day duties as his primary distraction. "Once we're unloaded and the race starts, Mike and I are back at the truck getting everything ready to get back out on the road."
If it's late in the race and Keselowski is challenging for the win, Collins said they'll generally turn to what's happening on the track.
"If we win, I know we'll have a few hours before we can leave the track," he said of the team's post-race Victory Lane obligations. "I can watch then because I know we'll be hanging around the track longer, and they'll have to tear down the car."
If the Miller Lite Racing Team doesn't make it to Victory Lane, or the car isn't picked for a random tear down inspection, Collins said he and his fully loaded team can be on the road approximately 45 minutes after the checked flag waves.
"Sometimes we can beat the fans out of the track," he said.
In the event the car has to come back to the garage for mechanical work, Collins often finds himself lending a hand in a variety of ways to get the car back on the track.
"Going to get parts, finding equipment, just whatever needs to be done to get the car back out there," he said. "A lot of people think all I do is drive the truck. That's actually the easiest part."
About the rig
Collins' Freightliner Coronado is one race-season old. With the transporter trailer, it's 75 feet long and is powered by a Detroit DD16. The engine delivers 2,050 foot-pounds of torque and 600-horsepower.
"I've been driving the Coronado since I left Petty," he said. "We had the first one that came out in 2002…It's comfortable to drive, and it's super quiet…I've never had any complaint with the power (it pulls 80,000 pounds) and climbs hills without any issues."
The interior is furnished with a refrigerator and other odds and ends that make cross-country treks more bearable.
The hauler itself, a standard 53-foot trailer, carries two race-ready cars (a primary and a backup), replacement gears and parts, transmissions, a spare engine and a small office is located in the nose.
"It's got everything the team could possibly need," he said. "Almost anything you'd find in a race shop is on there."
Penske's race teams will make a change in manufacturer from Dodge to Ford next season, and another – slightly smaller change – is planned for the trucking fleet the following year.
"In 2014, we'll get new Cascadias," Collins said.
Professional advice
If you love NASCAR and trucking, it's hard to argue that Collins doesn't have one of the coolest jobs in the world.
But if you're looking to join the ranks of NASCAR haulers it will take someone with a broad knowledge base who is willing to learn new things almost daily.
"You have to know a little bit about a lot of stuff," he said. "It's not just about driving the truck. The drivers joke that we're like the Team Mom. We make sure everyone has everything they need. You put in a lot of work that doesn't really have anything to do with actually driving."
Aside from the eagerness for on the job training, Collins said taking care of the obvious things are critical.
"Make sure you have a clean and good driving record," he said. "That's one of the most important things."
And if you're looking to get your foot in the door with a race team, Collins said be prepared to follow the same career path he did.
"A lot of it is knowing someone already in the business," he said, "but be prepared to work your way up, and you'll have to work hard to get there."