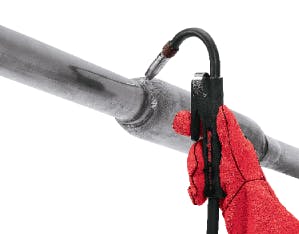 Flexible Neck Torch Product
Snap-on introduces the Flexible Neck MIG Torch, designed for welding on exhaust pipes without needing to lower the exhaust system.
With its flexible neck, the torch can be placed in an infinite number of positions, ­Snap-on says.
The torch product also includes the torch cable, and is designed to work only with the Snap-on welding machines: MM140SL, MM250SL, MM350XL, MIG140, MIG220, YA212AIND and FM140A.
Snap-on, Text INFO to 205-289-3544 or visit www.tpsdigital.com/info

Tire Repair Digest
Pressure Systems International (PSI) is now offering a full set of Volume VI Commercial Fleet Tire Digest issues, as a printed spiral bound book.
PSI says the Commercial Fleet Tire Digest is a guide to reducing tire expenditures, launched in 2007 and published eleven times a year.
In each issue Al Cohn, director of new market development and engineering support for PSI, discusses a subject of particular interest to those concerned with tire safety, wear and cost as well as how to enhance fuel economy through tire technology and use, PSI says.
PSI, Text INFO to 205-289-3544 or visit www.tpsdigital.com/info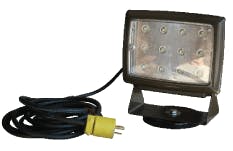 Magnetic LED Work Light
Larson Electronics' Magnalight.com has released a magnetic LED work light.
The light is designed to provide output comparable to 250-watt metal halide fixtures while improving reliability and reducing energy use, Larson says.
Lighter and producing less heat than comparable metal halide lamps, the Magnalight is ideal for a wide variety of applications, including technicians, automotive mechanics, racing, inspections and general shop work lighting, Larson says.
Larson Electronics, Text INFO to 205-289-3544
or visit www.tpsdigital.com/info

Electrical Technician Maintenance Set
IPA has announced its new product, a heavy-duty technician's electrical terminal maintenance set.
The set cleans and repairs most types of electrical connectors found on trucks and industrial equipment found in North America, IPA says.
Packaged in a custom holster, IPA says the set includes two sizes of flat male and female terminal cleaners, two gold 7-round pin socket  harness cleaners, one black ABS sensor/power connector cleaner, ten micro diamond round files, one trailer light bullet connector cleaner and one DeoxIT contact chemical cleaner.
IPA, Text INFO to 205-289-3544 or visit www.tpsdigital.com/info
New DPF Filter Introduced
Clean Diesel Technologies, Inc. announced in November the California Air Resources Board (CARB) issued an Executive Order that allows CDTI to sell its Purifilter(R) EGR diesel particulate filter in the state.
The Purifilter is a passively-regenerating DPF and is said to provide filtration and regeneration efficiency for the removal of particulate matter.
The product is said to address a significant number of EGR systems equipped on heavy-duty trucks currently subject to the California Truck and Bus Regulation, which requires diesel trucks and buses that operate in California to be upgraded to reduce emissions by various deadlines. CDTI says it received the Executive Order from CARB on Nov. 15, 2012.
CDTI, Text INFO to 205-289-3544 or visit www.tpsdigital.com/info

Fuel System Treatment
Royal Purple's Max-Clean is a fuel system treatment that is said to cleans injectors, restore fuel economy and reduce both engine buildup and tailpipe emissions, targeting both the intake system and combustion chamber.
According to tests done by the company, Max-Clean can improve fuel ­economy an average of 3.2 percent, increase horsepower an average of 2.6 percent and reduce hydrocarbon, NOx and CO emissions in as few as one treatment.
Max-Clean also can prevent rough idle, hesitation, stalling and reduce deposit-related engine knocking and pinging, the company says.
Royal Purple, Text INFO to 205-289-3544
or visit www.tpsdigital.com/info
Natural Gas Engine Oils
Phillips 66 Lubricants has introduced two new natural gas engine oils, Guardol NG and Kendall Super-D NG, both for use in compressed natural gas (CNG) or liquefied natural gas (LNG) heavy-duty trucks.
Phillips 66 Lubricants says the two oils replace the discontinued 76 Triton VGEO Plus, with the formulation remaining the same to meet the enhanced wear protection requirements of diesel-conversion natural gas engines.
With these engine oils now a part of the successful Guardol and Kendall Super-D product lines, Phillips says customers who have converted their engines to natural gas can see ­premium performance associated with these motor oils in diesel applications.
Phillips 66 Lubricants, Text INFO to
205-289-3544 or visit www.tpsdigital.com/info
Tire Lifting Product
InventHelp announces an inventor in Utah has created a product that speeds up the process of adding chains to a tractor tire.
According to InventHelp, the product works by lifting up an inner tire and keeping the outside tire up and off the ground. By doing that, InventHelp says chains can be quickly added to tires to get a truck back on the road.
InventHelp, Text INFO to 205-289-3544
or visit www.tpsdigital.com/info