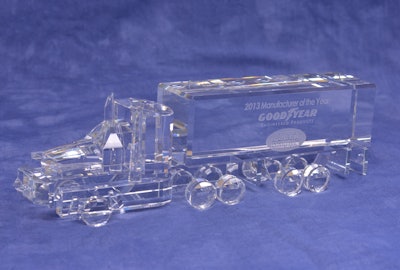 Fleet Brake has presented Veyance Technologies, Inc., manufacturer of Goodyear engineered products, with the 2013 Manufacturer of the Year award at its annual Stampede Trade Show & BBQ last month in Calgary, Alberta.
According to Fleet Brake, the award recognizes Veyance Technologies as a superior supplier and partner to Fleet Brake's growing business. Fleet Brake's leadership team and branch managers selected Veyance for the award because of the company's high- quality products, dedicated and knowledgeable sales representatives, extensive training resources and marketing support, the company says.
Veyance has supplied Fleet Brake with its line of Goodyear Engineered Products heavy-duty parts, including belts, hose, hydraulics, tensioners and air springs, for more than 10 years and recently helped the company optimize its inventory through its fleet survey program.
"Veyance Technologies has developed a valuable partnership with our team and we're happy to recognize them at our first-ever vendor awards," says Tim Douglas, Fleet Brake vice president. "Strong supplier relationships are very important as we continue to grow our business and we know that the Veyance team and parts will be there to support us every step of the way."
"We're greatly honored to be recognized by Fleet Brake as a valued partner," says Guy Enta, national sales manager at Veyance Technologies, Canada. "Fleet Brake is a wonderful company to work with, and we look forward to continuing to help drive its business."