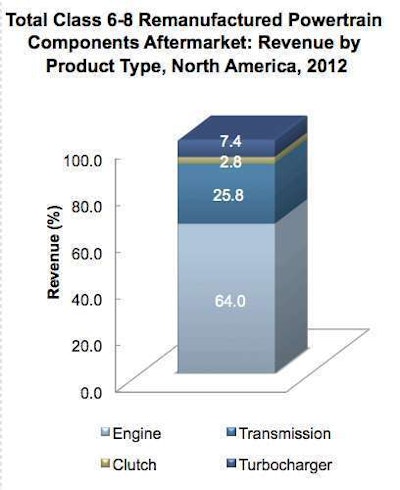 Over the next five years, fleet managers are expected to spend more dollars than ever before on remanufactured components, along with buying fewer parts thanks to improved quality.
A new Frost & Sullivan study suggests the entry of advanced Class 6-8 powertrain systems that comply with new emission regulations will drive revenues to record heights for the North American remanufactured replacement components market over the next five to seven years.
While intensifying competition from suppliers of new replacement parts will affect unit shipments for some products, the environmentally friendly image of remanufactured engines, transmissions, clutches and turbochargers will support ongoing demand among major truck fleet operators and product quality improvements will support long-term market growth.
"Increased sophistication in the functionality of heavy-duty engines and variable geometry turbochargers will raise the unit prices of remanufactured components," says Frost & Sullivan Automotive and Transportation Research Analyst Anuj Monga. "The enhanced reliability and availability of remanufactured components means that these products will continue to thrive in the face of stiff competition from new, non-original replacement parts."
Unit shipments of remanufactured engines, transmissions, and clutches will decline because of improving original equipment quality and increasing competition from new replacement parts, but sales of remanufactured turbochargers will rise by about 2.1 percent annually, according to the report.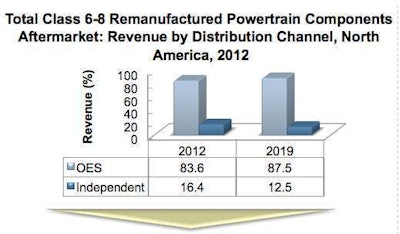 The addition of newer and refined components to the powertrain system could still pose a challenge, as the lack of cores will lead to the use of newer parts in component assemblies, thereby escalating final costs. North American parts buyers are expected to see an increase in unit pricing from 1.5 percent to 5.5 percent per year.
RELATED: Reman organizations applaud bill supporting use of reman parts
Unlike many independent remanufacturers that find it tough to gain momentum due to core availability issues, original equipment manufacturers (OEMs) can leverage their installed base and stand a better chance in the remanufacturing market, and the study says partnerships with OEMs will be vital for remanufacturers of enhanced powertrain components to not only access key proprietary information, but also capitalize on the installed base of different OEMs.
"Truck manufacturers are also interested in widening their participation in the remanufacturing industry, hence providing added opportunities for remanufacturers to partner with OEMs, keep pace with technological change, and offer differentiated products," Monga says. "The remanufactured powertrain components market will particularly see higher activity from truck manufacturers looking to vertically integrate into component remanufacturing."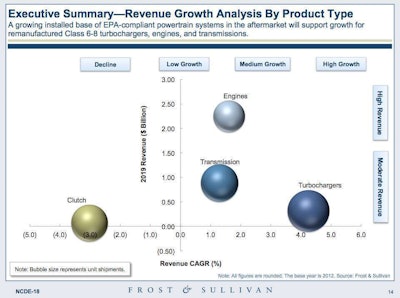 The threat of new competitors in today's market is low thanks to high entry barriers include increasing product complexity, making it more difficult for independent participants not aligned with the truck manufacturers to penetrate. Vertical integration and in-sourcing of remanufactured powertrain system components by Class 6-8 truck manufacturers will further intensify competition in the coming years.
In the distribution channel, OEs are positioned to lead in the aftermarket because of its strong core collection programs and technological expertise, making it harder for suppliers to independent channels to compete.
Over the next five years, "independent remanufacturers will enhance their competitive position as they develop their technological expertise and enjoy greater access to cores," the report says, which will also empower buying groups as their membership develops a wider access to replacement products.