Eighty percent of all tire related issues stem from air pressure Windel Brumfield, national account manager for Tire Centers, Inc., told a technician panel at the Technology & Maintenance Council (TMC) of American Trucking Associations Fall Meeting in Orlando, Fla. Wednesday.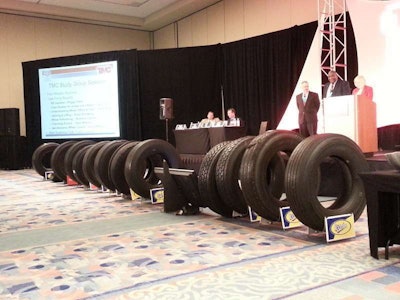 Brumfield's session covered some of the most common types of premature wear as well as the most common causes.
According to Brumfield, all major tire manufacturers make a wear poster detailing the most common wear conditions and likely causes. Brumfield suggests getting one from your manufacturer or sales rep to hang in your shop and refer to it with any driver complaints.
If a tire is too far gone to repair, Brumfield says fleets can still save money by being sure they turn faulty tires in to their manufacturer for credit in a timely manner.
"Adjustments and adjustment credits are probably the biggest area fleets miss," he says.
However, to keep tires rolling safely, Brumfield says it all comes back to air pressure.
"Keep proper air pressure in your tires," he says. "I've been saying that for 40 years that I've been in this business, and that's not going to change."
Brumfield suggest adjusting tire pressures based on the individual load, not necessarily following a standard pressure across the board.
Additional steps to ensure extended tire life include ensuring all PMs are done properly and replacing worn parts that could affect tire wear.