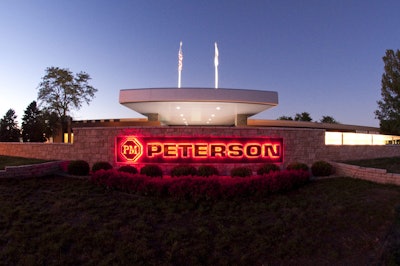 Peterson Manufacturing Company will celebrate its 70th year of keeping "Solutions on the Move" in the vehicle safety lighting industry this year.
Peterson president and CEO, Don Armacost, Jr., whose father bought the business in 1956, credits the company's success to its long history of square dealing with customers, suppliers and employees.
"That tradition has brought us a long way," he said. "We're not about to change it."
Today Peterson headquarters on a 44-acre corporate campus in Grandview, Missouri, housing its vertically integrated operations in a 670,000 square-foot facility staffed and equipped for state-of-the-art core manufacturing and marketing. That includes engineering and design, photometric and environmental testing, tool and die production, harness and wire manufacturing, plastic injection molding, final assembly, warehousing, sales and customer service.
"Peterson's history boasts an ever-growing list of innovative safety lighting solutions," says Steve Meagher, Vice President-Sales. "We have the focus, engineering skills and manufacturing capabilities that keep new products moving to the marketplace and bring real solutions to our customers. Since our last catalog release in 2013, we've launched over 300 new products — many unique to the industry."
According to Meagher, Peterson's aggressive support of the Automotive Aftermarket will continue while its focus on OE and Heavy-Duty sectors intensifies.
"We're geared to meet specific customer challenges with speed, automated precision and top quality," he says. "Customers find we can deliver at very attractive prices."
"We were the first North American lighting manufacturer to receive ISO 9001/QS-9000 certification," Meagher says. "We were also the first lighting supplier ever to receive Caterpillar's Supplier Quality Excellence award — an honor we've earned for several years running."
In addition to U.S. markets, Peterson's growing global footprint serves customers across Canada, Europe, Australia, New Zealand, Mexico, South America, China, and the Middle East.
Leadership on councils and task force committees of such organizations as AAIA, MEMA, TSEI, TTMA, TMC, ATA, NTEA and NATM prove Peterson's commitment to building the industry.
Looking back, Armacost is proud of Peterson's rise as one of America's top three safety lighting manufacturers.
"But as my father said, 'Our goal has never been to be the biggest…just the best.' I can assure our valued customers that we'll continue pursuing that goal as we move forward."