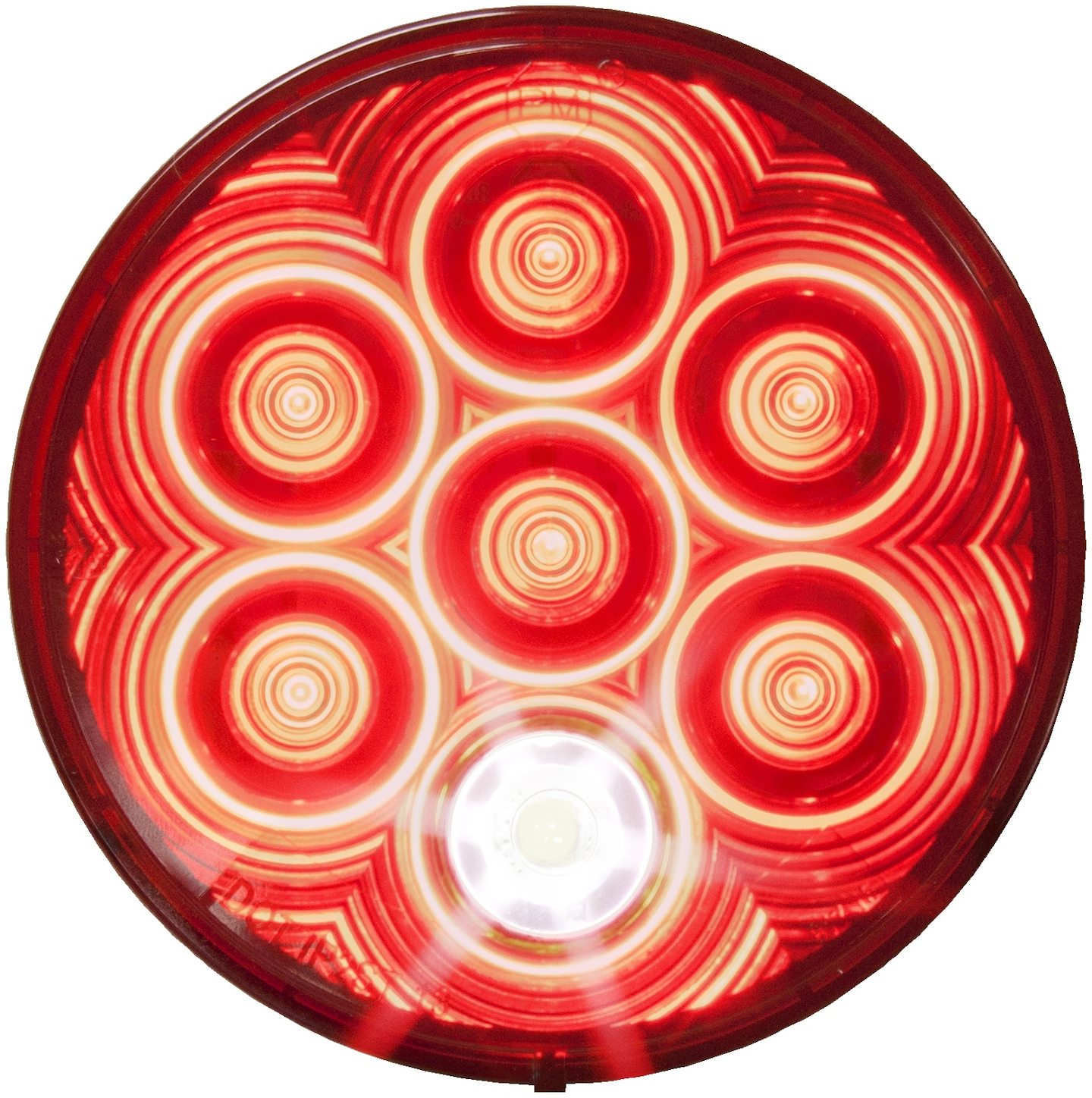 Peterson Manufacturing has expanded its LED product offering with the LumenX stop-turn-tail lamp featuring an integrated back-up lamp, and an interior lighting system for cargo vehicles.
Dubbed a "cyclops style" lamp by Peterson, the LumenX lamp embeds a small white lens within the main red LumenX lens, allowing one of the seven diodes to provide DOT-legal back-up functionality –– a true 2-in-1 lighting concept.
Peterson says all LumenX series lights from reds to ambers to back-ups feature the latest white-diode LEDs and breakthrough optics engineered to fully illuminate the entire lens –– no "hot spots" or "dead zones" regardless of viewing angle.
Like other models in Peterson's LumenX LED series, the new 2-in-1 lights are available in standard 4 in. round and 6 in. oval footprints, with grommet or flange mounting options. When used in pairs, the new 2-in-1 lights meet DOT requirements in any orientation, the company says.
Peterson Project Engineer John Hansen credits the cutting-edge LumenX design for making the new 2-in-1 footprint achievable.
"The idea of integrating a white back-up light into a red lamp was a feasible extension of the LumenX architecture," he says.
"We have the right team and all the right tools to design, engineer, test, tool and manufacture new products here at our 44-acre corporate campus in Grandview," says Steve Meagher, vice president of sales. "Constant collaboration allows us to bring new products like the LumenX line to market quickly."
Peterson says its interior lighting systems are listed as the 359 Series. The 1 in. by 18 in. bar lamps use high-output Great White LEDs, and offer a host of advantages over traditional recessed dome lamps, the company says.
Whether mounted horizontally and/or vertically, Peterson says the 359 series light requires no cutting into trailer ceilings or side walls to install heat-dissipating mounting pans and conduit, thus reducing material costs and eliminating loss of R-value in insulated cargo areas. Simple no-splice harness connections avoid wiring problems while saving even more on labor costs, the company says.
"Purchasing and installing these new lights is about half the cost of the old, recessed dome light models, and the 359's cost efficiencies are matched by its energy and lighting efficiencies," says Pat Clift, Peterson's director of OEM sales. "
Charged with Great White LEDs outputting 600 lumens per unit, the 359 series lights have substantially less amp demand compared to conventional LED ceiling units, the company says. Yet for sheer "bright box" illumination, photometric tests prove that the 359 series distributes light throughout the trailer more efficiently and evenly than traditional lighting.
"The 359's mounting versatility allows lights to be located strategically around the trailer interior," says Clift. "You can flood the entire trailer with bright light, banishing shadows and enhancing the convenience and safety of cargo handling, day or night."
Designed for use in any environment from -55˚F to higher temperatures, the 359 Series is ideal for a wide range of applications, the company says.
An interior control module/timer switch also is available as an option, Peterson says.