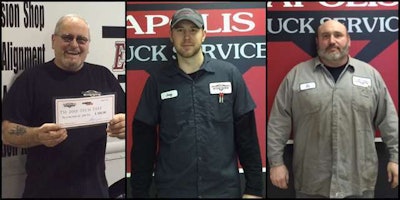 The Truck Service, Inc. named its top three technicians in its company-wide 2015 Technician Test Competition.
Jim Lee, EAB Truck Service in Cleveland, won first place and $500. Second Place was Joey Schanepp, Indianapolis Spring, who won $300. Third Place, Ed Adair, Indianapolis Spring, won $100.
Jim Lee topped all other TSI Technicians by scoring 100 percent correct answers on the test. This year's results yielded several scores of 100% correct answers, the company added.
The TSI Tech test is a 60 question exercise that covers a wide range of topics. It's primary focus is Commercial Vehicle Repair and Maintenance Technical Issues, but questions about Customer Service, DOT Regulations, OHSA Standards, Company History and Company Policy are also included. All TSI employees participate in the test.